The Prince of Wales met scientists on the front line in the war against poachers and traffickers threatening endangered species on his last day in Singapore.
The international black market in flora and fauna is estimated to be worth £16.35 billion a year and is said to be the world's fourth most lucrative illegal industry after human trafficking, drugs, and arms.
William, 41, went to Singapore's Centre for Wildlife Forensics to see how the country is using science and technology to challenge the smuggling gangs.
He was shown how scientists there are using DNA sequencing to trace the origins of elephant ivory and other animal parts seized by law enforcement agencies.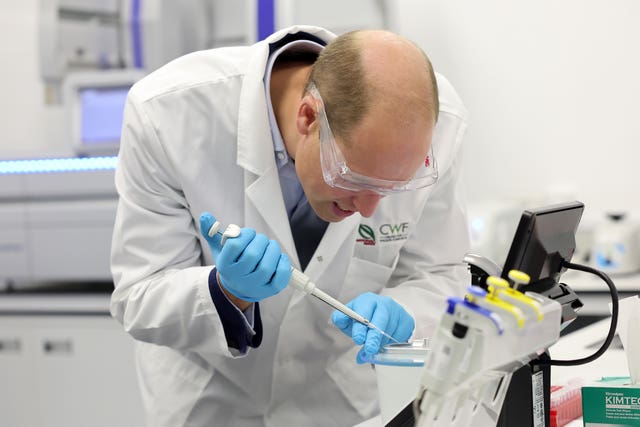 The prince, a geography graduate, admitted his brain has been "tested" by all of the science he has consumed in the past few days in Singapore but he had a go at injecting a sample of elephant ivory DNA on to a platform on a measuring machine known as a nanodrop spectrophotometer.
Donning goggles, blue plastic gloves and a white coat, he injected a tiny sample on to the machine after being shown how to do it by senior scientist Dr Hiong Kim Chew.
"He did it well. He has very steady hands," Dr Hiong said.
His hosts told him that DNA sequencing can identify the origins of ivory to within 300km (186 miles), helping to identify where the smuggled body parts were taken from.
William was shown shark fins, pangolin scales – which are used in traditional Chinese medicine – and elephant tusks seized in Singapore, a key transport hub in Asia and thus on smuggling routes.
Dr Charlene Judith Fernandez, director of the Centre for Animal and Vet Sciences and co-lead of the Centre for Wildlife Forensics, showed him pictures of Singapore's biggest seizure of illegal animal parts – 8.8 tonnes of elephant ivory and 11.9 tonnes of pangolin scales – in a joint operation with Chinese customs in July 2019.
The prince was shocked at the size of the haul in the photos.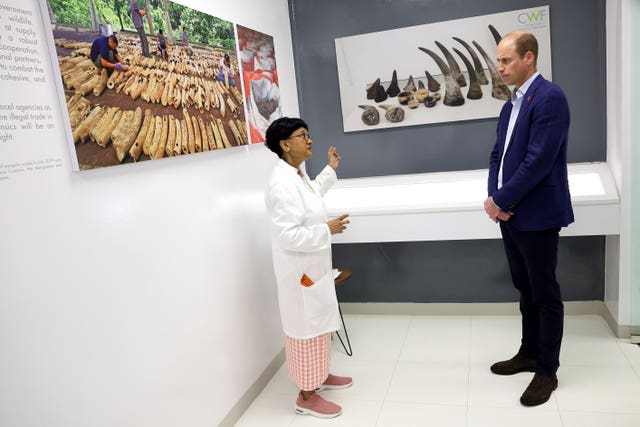 Dr Fernandez said she and her colleagues had initially been galvanised by the seizure but she added: "After a while it was horrible to us all there."
She told him the team want to help develop a freely accessible international database of animal DNA to help fight the smugglers. At the moment there is an elephant database in the US and a rhino database in South Africa, but both are proprietary.
William also learned that one of the uses of DNA sequencing is to differentiate between illegally traded modern ivory, fake ivory made from resin and crushed bone powder, and prehistoric woolly mammoth tusks.
He was surprised to be told that the telltale sign of a woolly mammoth tusk is the angle of the cross patterns, known as Schreger lines, on the tusk.
The Schreger lines in mammoth tusks are usually narrower than a 100-degree angle, and wider in elephants at more than 115 degrees.
"I didn't know that," William said.