The former school of a 15-year-old boy who died after he was stabbed has said it is "overwhelmed by the kindness and support" offered following the "tragic loss".
The teenager, named locally as Alfie Lewis, was attacked in the Horsforth area of Leeds on Tuesday afternoon as children were leaving two nearby schools.
On Wednesday morning, people began bringing flowers to the scene at the junction of Church Road and Church Lane, which remained cordoned off, as Alfie was described as "a lovely, kind, funny, mischievous, brave and generous young boy".
Prime Minister Rishi Sunak said his "heart goes out to the family and friends" of the boy and described the incident as "awful".
Horsforth School head Paul Bell said in a statement: "Horsforth School is overwhelmed by the kindness and support offered to us following the tragic loss of one of our former students yesterday.
"Everyone's thoughts and sympathies lie with the boy's family and friends.
"A tragedy like this is a huge shock to our school and local community, and we understand that people will be deeply affected by this rare incident.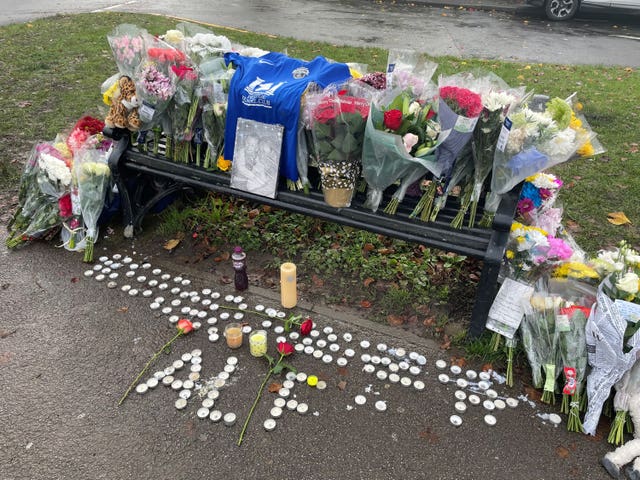 "However, we know the community will rally together to support each other during this very sad and difficult time.
"We are working with Leeds City Council and others agencies to support our students and staff who have been affected."
Police were also guarding a second sealed-off area at the junction of Town Street and Church Lane, where more flowers have been left.
The organisers of a fundraising site set up in Alfie's memory said he was "a lovely, kind, funny, mischievous, brave and generous young boy".
They said: "He was loving, mischievous, adventurous and, as such, extremely popular.
"He was everything a 15-year-old child should be and his life was senselessly taken from him before he had the chance to grow into it."
One tribute on the page said: "Working with Alfie was an absolute pleasure. His cheeky sense of humour and kind heart will be sorely missed. Absolutely heartbroken."
Another woman wrote: "My son knew Alfie when we lived in Horsforth. No child should be taken from us in such awful circumstances and my heart goes out to his family."
Mr Sunak was asked about the boy's death during a visit to a Lincolnshire school.
He said: "My heart goes out to the family and friends of the young person who was tragically killed.
"What I want to say is, we're doing everything we can to clamp down in particular on knife crime as it impacts young people."
On pupils at the victim's former school, Mr Sunak said: "My heart and sympathies go out to all of them. They've lost a friend and this is awful.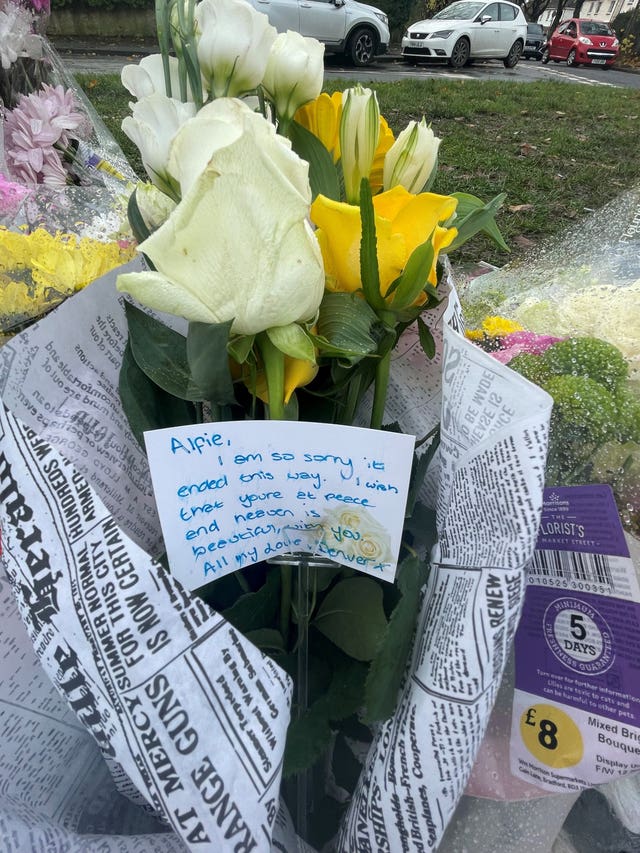 "I know that they will be shocked by what's happened.
"I want to make sure that in all communities across the country, we've got police officers that are giving people the reassurance they need that their communities are safe."
West Yorkshire Police said officers were called just before 3pm on Tuesday to reports of an assault, and witnesses said an air ambulance landed nearby.
The force said a teenage boy has been arrested over the incident.
The incident happened in an area near to both Horsforth School and St Margaret's Primary School.
Both schools were open on Wednesday and a message on the secondary school's website said: "School is open today. Support will be given to students."
Senior investigating officer Detective Chief Inspector Stacey Atkinson said: "Our investigation is at an early stage and we are carrying out extensive inquiries to establish exactly what led to this needless loss of a young man's life.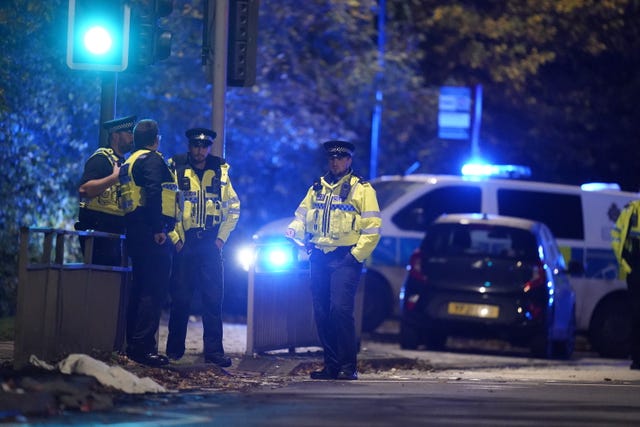 "We understand the immense impact and huge shock a tragic incident of this nature will have on the community locally.
"Our neighbourhood police team are working with partners, including schools in the area, to offer support and reassurance.
"We have already spoken to a number of witnesses and are keen to hear from anyone who has information about the incident."
Around half a mile from the police cordon on Church Road, about 50 young people gathered on Tuesday night for a candlelight vigil on Broadgate Lane.
People could be seen hugging each other, with some wiping away tears, as they stood around a bench covered in floral tributes.
A parent at the school, who did not wish to be named, said: "It's horrible. It's shocking because it's a nice area. You read about these things happening in London and you think it's dangerous to be a teenager there, but you don't think it would happen here.
"I just keep thinking about the parents. He probably went out this morning and they were expecting him to come home, and he's not there."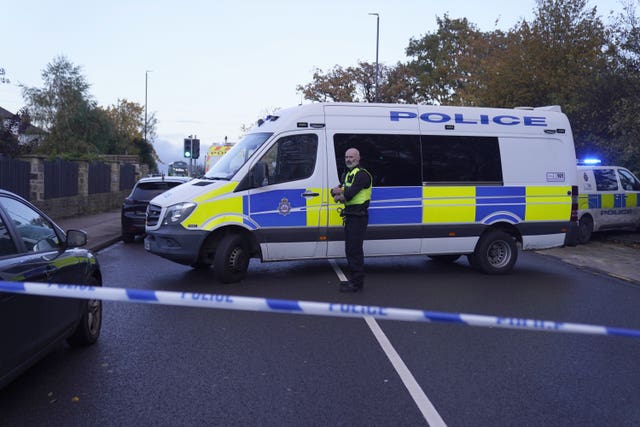 A nearby resident, who did not want to be named, was picking her grandchild up from school when she saw the police cars and ambulance.
She told the PA news agency: "I thought it was a car crash at first.
"The school was very good, they messaged us to say they were keeping the children safe inside.
"I was very sad when I heard what had happened, it sounds like it's a waste of two lives."
Jonathan Pryor, deputy leader of Leeds City Council, said on X, formerly Twitter: "Heartbroken to learn to (sic) of a serious event in Horsforth this afternoon.
"I know the distress and upset this will cause students and staff.
"While there isn't much we can say at this stage, an arrest has been made, and we will be supporting Horsforth School in every way we can."