It is virtually certain that 2023 will be the hottest year on record after four months of global temperature records being "obliterated", climate scientists have said.
October was the hottest ever recorded, following the hottest September, August and July, the latter of which may have seen temperatures higher than at any point in the last 120,000 years.
The month was 1.7C warmer than the pre-industrial average between 1850 and 1900 – the baseline against which scientists measure how much humans have warmed the Earth by emitting greenhouse gases.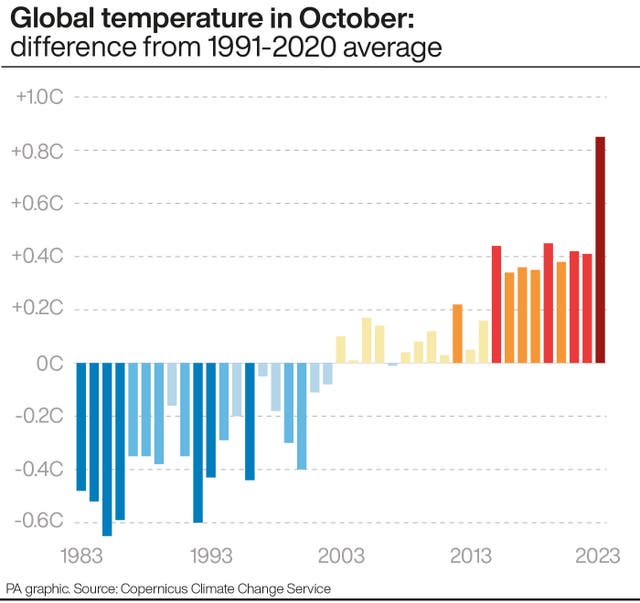 So far this year, the average temperature is 1.43C higher than this pre-industrial average, making it the hottest year on record.
With El Nino likely to continue into April 2024, according to the World Meteorological Organisation, it means the global average temperature will almost definitely remain at a record high over the next couple of months.
The Met Office said it would take a record-breaking cold November and December for 2023 to avoid becoming the hottest year, surpassing the record set in 2016.
They added that this year is unlikely to go beyond 1.5C but even if it did the Paris Agreement goals would not be lost as that measure is taken over an average of multiple years.
October's average surface air temperature was 15.30C, the Copernicus Climate Change Service (C3S) said, which is 0.85C above the 1991-2020 average and 0.4C above the previous warmest October in 2019.
Last month was also the sixth consecutive month of Antarctica experiencing its lowest ever amount of sea ice for this time of year – 11% below what it should be.
Samantha Burgess, deputy director of C3S: "October 2023 has seen exceptional temperature anomalies, following on from four months of global temperature records being obliterated.
"We can say with near certainty that 2023 will be the warmest year on record, and is currently 1.43C above the pre-industrial average.
"The sense of urgency for ambitious climate action going into Cop28 has never been higher."
Continued heat into the autumn has led to wildfires burning more than 2,500 hectares in the Spanish province of Valencia, forcing 850 people to leave their homes.
Fire seasons are becoming longer around the world as high temperatures persist after summer, adding extra strain on the emergency services tasked with saving life and property.
Dr Friederike Otto, senior lecturer in climate science at the Grantham Institute, Imperial College London, said: "I think the most important thing to highlight here is that this is not just another record or another big number that is statistically interesting.
"The fact that we're seeing this record hot year means record human suffering.
"Within this year, extreme heatwaves and droughts made much worse by these extreme temperatures have caused thousands of deaths, people losing their livelihoods, being displaced etc.
"These are the records that matter. That is why the Paris Agreement is a human rights treaty, and not keeping to the goals in it is violating human rights on a vast scale."
The UK had slightly higher than usual average temperatures in October, with southern England seeing between 1.5C and 2C above the 1991-2020 October average.
Eastern Scotland had its wettest month on record following Storm Babet, with many other parts of the UK experiencing similar conditions.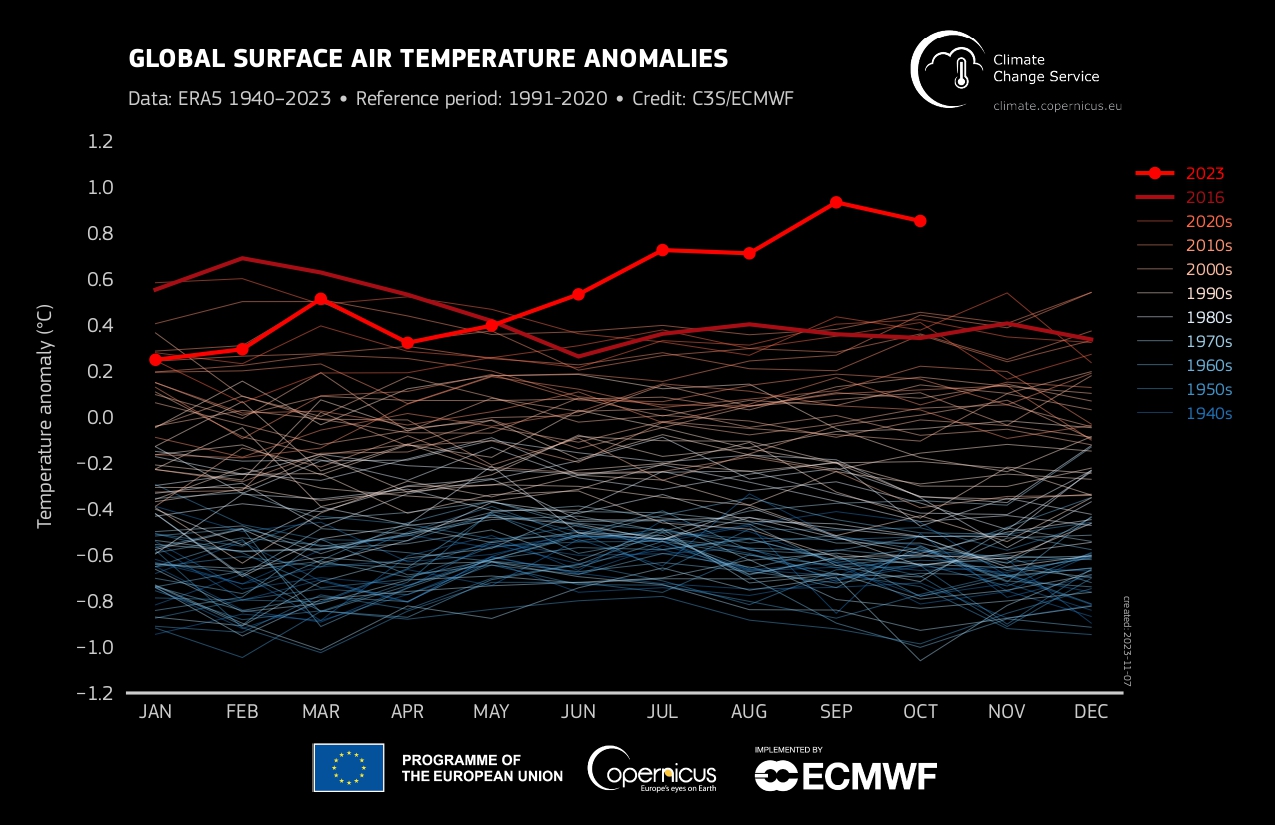 Scientists have said the UK will become warmer and wetter because of climate change as the atmosphere holds 7% more water with every degree of warming.
Grahame Madge, of the Met Office, said warming trends in the UK mirror that of global warming over the last 10 years although there can be strong variations in local weather.
He said: "What happens at a global scale doesn't necessarily mean that it's exactly mirrored by what happens on a local scale.
"If we were to get a cold period or a relatively mild period, that's independent of what happens globally, to some extent.
"Where there is a stronger connection is the fact that weather patterns generally, even cold extremes like the Beast from the East, were probably a little bit warmer than they would have been without the signal of climate change, because the fingerprint of climate change is now on most weather records and it just nudges them up by a bit."