Police and Just Stop Oil have accused each other of blocking an ambulance car during a slow march by climate activists on Waterloo Bridge in central London.
Around 55 protesters, who had travelled from South Wales and the North and South West of England, walked in the road on Wednesday as part of an ongoing JSO autumn campaign against fossil fuel licences.
The Metropolitan Police said on social media that one of the vehicles trapped in the traffic jam was an ambulance vehicle on blue lights that could not get past.
But JSO countered that it was in fact officers who had blocked that side of the road, and said it has a policy of moving out of the way for emergency services vehicles.
A spokesman said: "We have deep sympathy for anyone suffering a medical emergency at any time. Nobody's life or health is more valuable than others.
"In this case, Just Stop Oil supporters were on the other side of the road, and had never blocked the side of the road the ambulance was on.
"The picture shared by the Metropolitan Police indicates that it's only their officers who are blocking the road with the ambulance. Our own pictures confirm this."
The paramedic driving the ambulance car told the Telegraph: "I am responding to a life-and-death emergency – I am going to pick up a team from Guy's Hospital to save someone's life at another hospital but can't get through."
Wednesday's protest action came after more than 40 JSO supporters were charged over demonstrations on Monday, which saw two slow marches in Whitehall and the glass covering a painting at the National Gallery smashed.
Harrison Donnelly, 20, of Sillitoe Way, Nottingham, and Hanan Ameur, 22, of Hornsey Road, Islington, north London, were charged with criminal damage after the protective glass on Diego Velazquez's Rokeby Venus was damaged.
Another 42 JSO supporters have been charged with obstruction of the highway over the Whitehall marches.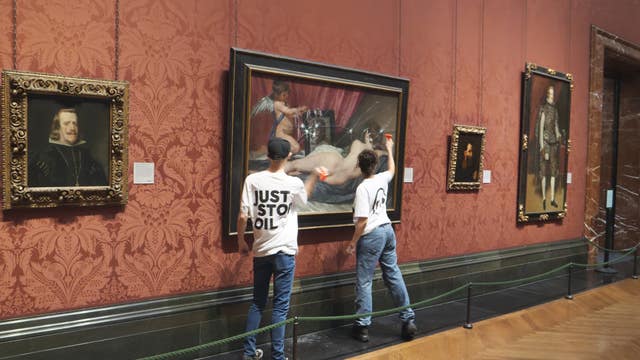 The demonstrations, part of JSO's ongoing protest action against the Government granting new fossil fuel licences, saw more than 100 people arrested on Monday alone.
The Metropolitan Police said: "Ultimately it is Londoners who are bearing the brunt and cost of Just Stop Oil's disruption."
The Rokeby Venus was previously slashed by suffragette Mary Richardson in 1914.