The parents of a critically ill baby girl have failed in a bid to get her home after losing a High Court life-support treatment fight.
Dean Gregory and Claire Staniforth want specialists to withdraw treatment from eight-month-old Indi Gregory at their home in Ilkeston, Derbyshire.
Specialists caring for Indi at the Queen's Medical Centre in Nottingham say treatment should be withdrawn in a hospice or hospital.
A judge on Wednesday ruled against Indi's parents and concluded that withdrawing treatment at home would be "too dangerous".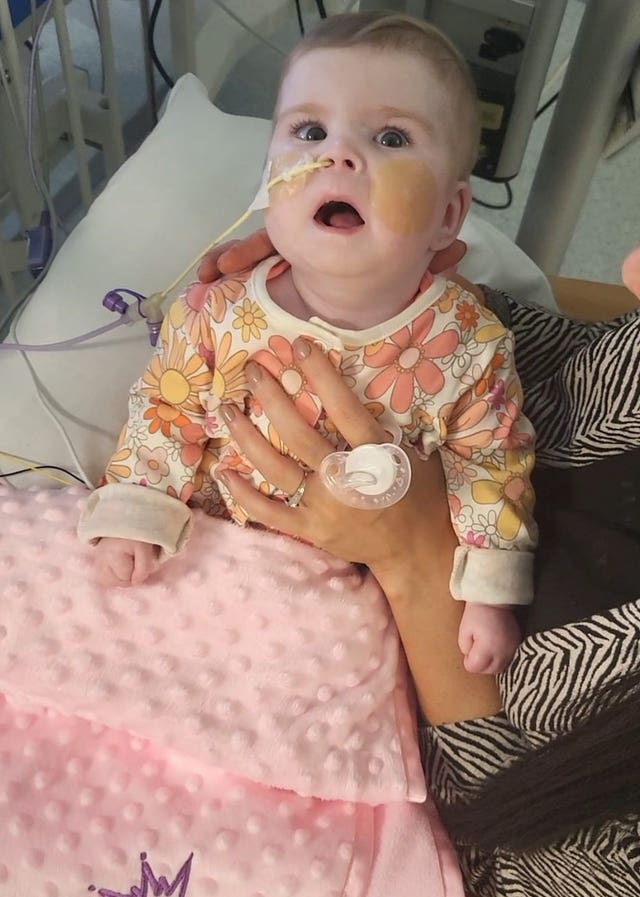 Mr Justice Peel considered arguments relating to Indi's end-of-life care at a private online hearing in the Family Division of the High Court on Tuesday.
In a written ruling, he said he accepted the evidence of specialists.
"There are a number of factors which render extubation and palliative care at the family home all but impossible, and certainly contrary to (Indi's) best interests," the judge said.
"It is too dangerous to do so given the clinical complications."
He added: "I consider it essential that (Indi) should continue to have clinical treatment of the highest quality, carried out in a safe and sustainable setting. That will not be available at home."
Indi's parents, in their 30s, want treatment to continue.
But the judge has already ruled that specialists can lawfully limit treatment.
He has concluded that such a move would be in Indi's best interests.
Indi's parents have failed to persuade Court of Appeal judges and judges at the European Court of Human Rights in Strasbourg, France, to overturn that treatment decision.
The couple, supported by campaign group Christian Concern and its sister organisation the Christian Legal Centre, have also failed in a bid to transfer Indi to a hospital in Rome.
Mr Justice Peel ruled that a move to Italy would not be in Indi's best interests and Court of Appeal judges backed that decision.
The Italian government recently intervened in Indi's case by granting her Italian citizenship.
That move came after Indi's parents failed in their bid to move her to the Rome hospital.
Mr Justice Peel said, in his ruling on Wednesday, that Indi's father has "acknowledged, correctly and properly", that his "decisions and orders" were "unaffected by this development".
Judges have heard that Indi, who was born on February 24, has mitochondrial disease – a genetic condition that saps energy.
Specialists say she is dying and bosses at the hospital asked for a ruling that doctors could lawfully limit treatment.
Medics say the treatment Indi receives causes pain and is futile.
Her parents disagree.
Mr Justice Peel has considered evidence at private hearings in the Family Division of the High Court in London.
He has allowed journalists to attend and said Indi can be identified in reports.
Dr Keith Girling, medical director at the Queen's Medical Centre's governing trust, the Nottingham University Hospitals NHS Trust, said: "This is an incredibly challenging time for Indi and her family, and our thoughts are with them today.
"Following today's High Court decision, our priority will remain to provide Indi specialised care appropriate to her condition and in line with the direction of the court, supporting her family in every way possible."