Northern Ireland's new chief constable has vowed to press to ensure policing in the region has the funding it needs.
Jon Boutcher was announced as the Police Service of Northern Ireland's sixth chief on Tuesday night.
On his first full day in office on Wednesday, he described the service's financial position as "really challenging", outlining a £52 million gap in funding this year.
"I will be lobbying at every single level to make sure this organisation gets the funding that it deserves," he said.
"Policing in Northern Ireland cannot fail. In this particular place, policing has to be funded in a way that we know will keep people safe. I will be making that argument to government, to the Treasury, to the Northern Ireland Office, Department of Justice and anybody and everybody who needs to listen to our business case to make sure we are properly funded."
With the Stormont Assembly remaining collapsed amid protest action by the DUP over post-Brexit trading arrangements, there remains no justice minister in post.
Talks remain ongoing between the DUP and the UK government over addressing concerns, and restarting the Stormont Assembly and Executive.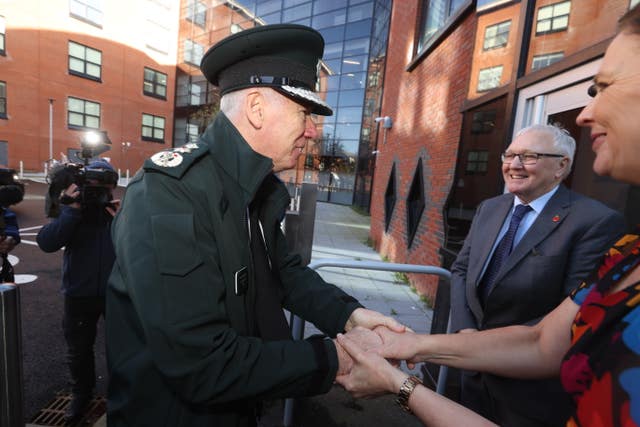 Mr Boutcher said he would hope if the Executive returned, there would be transformational funding for the PSNI.
But Mr Boutcher also said he believed there were things the PSNI could do to help itself.
Mr Boutcher had been serving as interim chief constable in recent weeks after the resignation of his predecessor in the role Simon Byrne in September following a string of controversies.
"In my few short weeks here I have become very alive to some of the things that we need to do to make sure that we're operating as effectively as we possibly can, and we have started some of those conversations now to make sure that going forward we have an operating model that is affordable, and provides for the priorities that we have to keep people safe in Northern Ireland," he said.
"What we're not going to do, I can assure you, because it's been done repeatedly in the past and we need to learn from failings, is salami slicing and cutting low-hanging fruit.
"What we need to do is understand the cost side of our business, where those costs sit, and how much we have to spend on the priorities that we need to deliver. This is a whole systems approach, this isn't about looking at removing 5% here and 10% there.
"We need to understand our business and every minute part of it, and that starts from today, so that we can have a business model next year, if we don't get the funding that we need, that means that we can provide a proper policing service for Northern Ireland."
Mr Boutcher said a number of "recent challenges" had distracted attention away from the PSNI's work.
"It's my job to get the focus back on the delivery of that exceptional work," he said.
Emphasising that the workforce had his "absolute support", he said there would be times when people got things wrong.
"I am alive to concerns of officers and staff who feel that sometimes they operate in fear of getting things wrong and the unfair consequences of doing that," he said.
"We are a professional service dealing with the most complex of issues every day, including dealing with people going through unimaginable personal crisis, violent interactions with people, protest – we are the emergency service that everyone calls, even our colleagues in professional roles when they can't cope with the situations.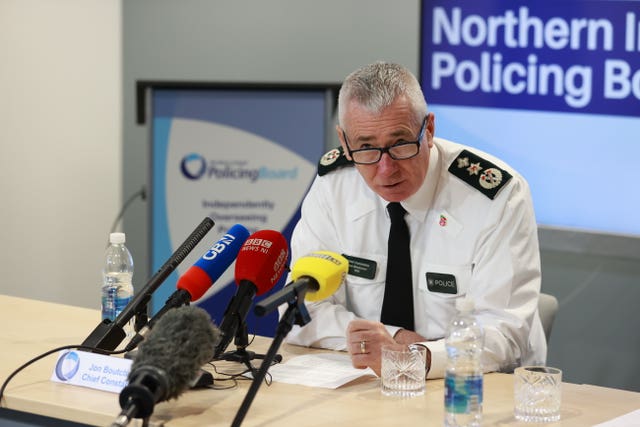 "We sometimes will get things wrong but when we do get things wrong, we will learn from those issues collectively.
"Everybody makes mistakes, we are not robots, we are human beings, but by and large the service provided by this organisation is best in class in this country."
Mr Boutcher said in the few weeks he had served as interim chief constable, he "thoroughly enjoyed meeting officers and staff and witnessing the outstanding work they are doing every day".
"This is an outstanding organisation and everybody in Northern Ireland should be very proud of the police service that we have," he added.
Policing Board vice chair Edgar Jardine said the appointment came after a "rigorous selection process based on the key principles of merit, fairness, openness and transparency".
He said there were "significant pieces of work to manage and mitigate serious financial pressures facing policing" as well as dealing with confidence and other issues arising from recent events.
"A new chief constable signals a new chapter in the life of the PSNI, which celebrated its 22nd birthday just a few days ago," he said.