The King spent time learning about K-pop music and Korean culture and cuisine before the state visit by the president of the Republic of Korea later this month.
Charles visited New Malden, south west London, which is home to one of the largest Korean communities in Europe, on Wednesday.
The area is nicknamed Koreatown and has around 20,000 South Koreans living there and in the surrounding areas.
Charles was greeted by the Republic of Korea's ambassador to the UK, Yeocheol Yoon, and the mayor of the Royal Borough of Kingston, Councillor Diane White.
The King met representatives from the Korean Residents Society, the Korean Restaurant and Supermarkets Association and local faith leaders inside New Malden Methodist Church.
He asked questions about Korea and listened to the London Korean Hummingbirds Choir sing a traditional song while a dancer performed.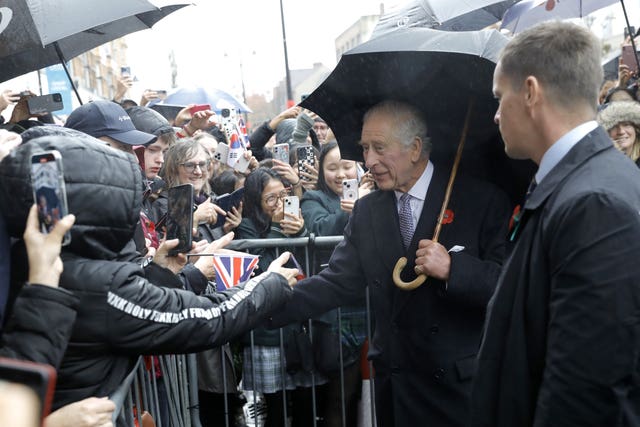 Charles also took an interest in how one man escaped North Korea and started a life in the UK.
Timothy Cho, 35, who moved to Manchester in 2008, said: "He asked me if I crossed the border to China. I told him I crossed the border twice and I was imprisoned four times during that journey.
"He looked very serious. He asked, 'How did you manage that?' He wanted to hear more. He took quite a long time with us before moving on."
The King was also given kimchi as a gift before his birthday on November 14 and joked: "Will it blow my head off?"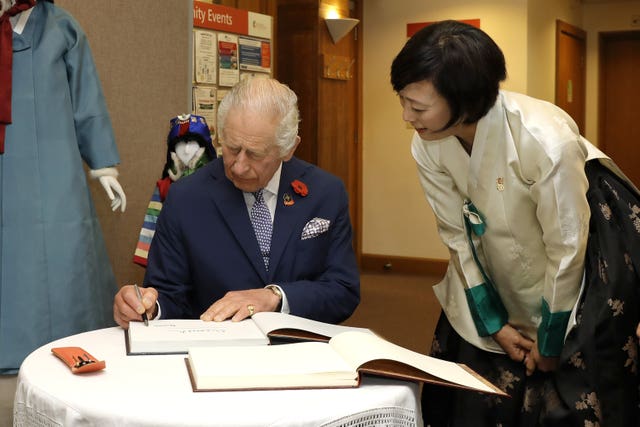 Charles also visited the nearby Cake & Bingsoo cafe, where he was given an Earl Grey tea-flavoured cake as an early birthday present.
While he was at cafe, the King asked about K-pop music and wanted to hear more about the genre.
Sunny Lee, 27, who met Charles, said: "He was saying how he got to see the traditional performance and that it was a shame that we didn't get to see a real K-pop performance live as well."
Before leaving the area, Charles also visited the New Malden War Memorial and met representatives from the Royal British Legion ahead of Remembrance Sunday.