Talks between the DUP and UK Government are ongoing, the Northern Ireland Secretary has confirmed.
Chris Heaton-Harris said he cannot guarantee when the Stormont Assembly may return but recent speculation the talks have concluded is "completely not correct".
Ireland's deputy premier Micheal Martin said last weekend that he believed the negotiations between the UK Government and DUP had "more or less come to a conclusion".
Speaking to media during a visit to Newry on Wednesday, Mr Heaton-Harris said: "Talks are ongoing. Progress is being made and I'd like to think we can get somewhere."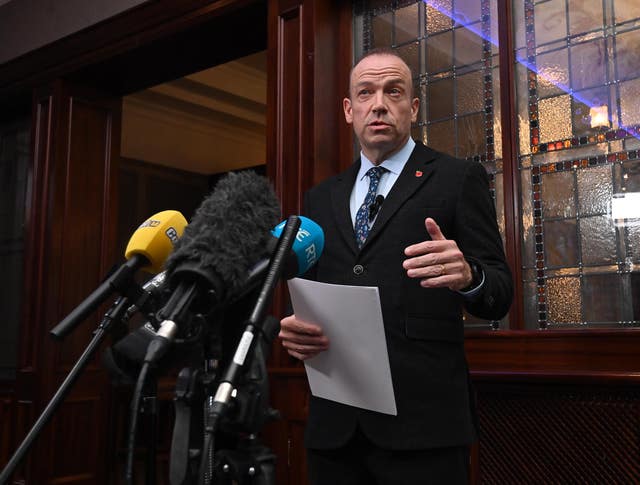 The DUP withdrew from the Stormont institutions last year in protest against the internal UK trade barriers created by the post-Brexit Northern Ireland Protocol.
Powersharing is unable to function in Northern Ireland without the support of the region's largest unionist and nationalist parties.
The UK and EU agreed the Windsor Framework earlier this year in a bid to address unionist concerns about the protocol, but the DUP has indicated it will not return to Stormont until the London Government provides further assurances over Northern Ireland's place in the UK.
On Monday, DUP leader Sir Jeffrey Donaldson said talks between the DUP and Government "to create the conditions for the restoration of the Stormont Assembly" have not ended.
He said his party was "working hard" on the gaps to secure "an agreement that unionists as well as nationalists can support", and a "sustainable basis for the restoration of cross-community consensus, which is critical to powersharing".