A statue of Northern Ireland goalkeeper Pat Jennings has been unveiled in his home city of Newry.
Jennings, 78, attended the unveiling on Wednesday despite falling ill at a match between Tottenham and Chelsea on Monday evening.
He was later released from hospital and given the green-light to travel back to Newry for the statue ceremony.
The event was attended by former Northern Ireland players Billy Hamilton and Gerry Armstrong, as well as ex-Tottenham star Ledley King.
Speaking at the unveiling, Jennings said he "couldn't believe" he was having a statue dedicated to him.
"I'd have seen people who are getting statues unveiled of them and never thought it would ever happen to me," he said.
"Having said that, I've had an unbelievable career in football from leaving here as a 17-year-old to join Watford I never dreamt that I'd be back 60 years later, over 60 years, unveiling a statue."
He added: "This is basically my home city, where I wouldn't want it anywhere else."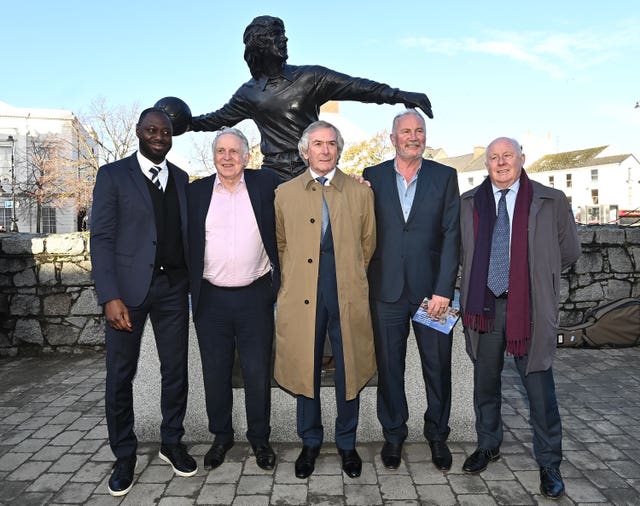 Jennings made 119 international appearances for Northern Ireland, making his international debut against Wales along with George Best in April 1964. He played in two World Cups in 1982 and 1986.
During his 23-year career, he played for Newry Town, Watford and won the FA Cup with both Tottenham Hotspur and Arsenal.
In 1973, Jennings was named the Football Writers' Association's footballer of the year and, despite being a goalkeeper, managed to score from play in the 1967 FA Charity shield against Manchester United.
Students from Jennings's former school, St Joseph's Boys' High School in Newry, formed a guard of honour for the footballer as he arrived.
Former Arsenal player Liam Brady told the crowds gathered to see Jennings that he was a "very special person".
"He's been a great friend down through the years, he is probably the best goalkeeper in the world at one time, without any doubt," he said.
"As you say, when he left Tottenham, he came to Arsenal and I wanted to be here today to tell everybody that he is an Arsenal player as well.
"And it's just unique because he's loved by both Tottenham and Arsenal supporters and I think he's the only one in the world that can say that."
Brady added: "Above all, he's a very, very special person and what he's done for charity, I totally agree with you that he should be knighted."
King also spoke at the unveiling and said that since his retirement 12 years ago, he had had the opportunity to get to know Jennings personally.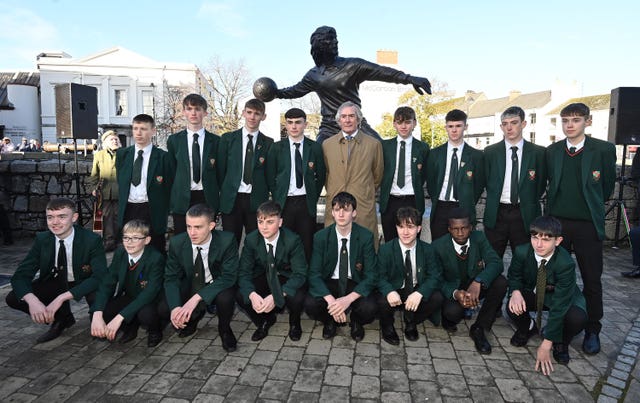 "First of all, what a gentleman and also an icon and a legend of the football club. I love hearing his stories about the great players that he's played with and against," he said.
"One of my favourites was when he represented his country at 41-years-old at a World Cup in his last cap against Brazil, which is amazing to hear.
"And it's a pleasure to be here and what this statue will hopefully do is inspire young people that no matter where you come from in the world, that you can achieve anything and go on to be the best.
"And that's a testament to Pat and to the hard work throughout the years he's put in."
Jennings's wife Eleanor and his children also attended the unveiling, where a song written for the footballer was performed by Tommy Sands.