Details of the reallocation of up to £15 million to help support businesses affected by severe flooding in Northern Ireland have been announced.
Northern Ireland Secretary Chris Heaton-Harris made the announcement that funds would be reallocated during a visit to Newry on Wednesday, which was among the areas worst hit following heavy rain last week.
The measures include rates relief for flooded business premises and one-off grant payments of £7,500 for affected business, according to information from the Northern Ireland Civil Service.
The Executive Office said measures will be funded through the "reallocation of existing NICS departmental funds".
It is estimated that up to 200 businesses will be eligible for the support, to assist with the immediate response, clean-up costs and making properties more resilient to future floods.
The grants will be administered by the local council and the first payments will be issued next week.
The rates relief measure will include 100% relief for non-domestic rates on flooded properties for the period between November 1 and March 31 next year.
In addition, any business that relocates to temporary premises while their flooded property is being repaired will be eligible for 100% rates relief on the new premises for three months.
Proposals for further schemes to support the longer term recovery of the affected towns are being considered by Government departments and local government.
More information on those schemes is due to be released in the coming weeks.
Scores of businesses in the Sugar Island area of Newry are attempting to revive their livelihoods after the bursting of the canal banks last week saw many properties left under water.
Mr Heaton-Harris said a devolved government in Northern Ireland "could have acted swiftly" to respond following the floods.
The Stormont Assembly remains collapsed amid DUP protest action over post-Brexit trading arrangements.
Senior civil servants, with limited powers, have been leading departments in the absence of locally elected ministers.
Mr Heaton-Harris said: "The floods have been devastating for all those who have suffered the destruction of their homes and businesses.
"Those who have suffered damage need reassurance that support will be available. This is rightly something which a devolved Executive should be able to deliver.
"However, in the absence of the Executive which could have acted swiftly, the UK Government will make available up to £15 million of support through the reallocation of existing Northern Ireland funding.
"This will help with clean-up costs and support businesses to resume trading."
He added: "We will continue to work closely with the Northern Ireland Civil Service and local councils to ensure that support gets to those who need it as quickly as possible."
However, political representatives had warned that the sum may not be enough support for businesses.
Sinn Fein MLA Conor Murphy criticised the funding as "not enough to assist with damage from last week's extreme flooding".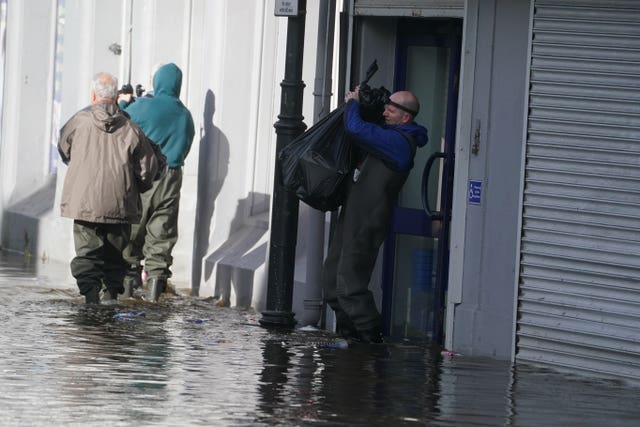 He added: "Unfortunately, the British Government has brought forward no new money, and today's announcement simply won't cover the financial cost homeowners and businesses are facing."
DUP MP Carla Lockhart described Mr Heaton-Harris's announcement as a "welcome step", but cautioned that it may not be enough.
"Businesses have been plunged into despair by the unprecedented flooding witnessed last week," she said.
"They have been crying out for help, and today should offer some hope that support is forthcoming and they will be given that assistance to start to get back to business again.
"This is good news, but it unlikely to be enough. That will become apparent soon, and if more is needed the Government may well have to step up again.
"Furthermore, we need funding to support alleviation schemes that allow significant capital investment in protecting businesses and households from future flooding."
Eamon Connolly, the manager of Newry Business Improvement District (BID), was one of the representatives that met with Mr Heaton-Harris on Wednesday.
Mr Connolly said the £15 million was "very welcome" but that more funding would need to come.
"It's a good start, we had a constructive, engaging meeting with him, but it's only the start and we certainly hope to see more money come from London," he said.
He added that Mr Heaton-Harris was "empathetic, supportive and listening".
"We would be optimistic that he will help us and we will continue to lobby for further support," he said.
Mr Connolly said their initial request had been more than double what the Secretary of State announced.
"Our initial ask was £37 million and that in itself is not finite. As we continue to work and clear up, we discover more losses as we go," he said.
Mr Connolly further stated that the clean-up bill for Newry would be in the "many millions".
"We had over 100 businesses in a room last week that were directly impacted in a physical state and we have other businesses that are impacted indirectly," he said.
"How much it is going to cost to return to where we were, at this stage I can't give you a figure, but it's in the many millions of pounds."
Mickey Brady, Sinn Fein MP for Newry and Armagh, said the £15 million reallocation was "absolutely not enough".
"It's totally inadequate and we're very disappointed in the Secretary of State's approach to the whole thing," he said.
"Because Newry needs a lot more, we need much more help, much more money.
"Probably a ballpark figure minimum would be about 38 to 40 million pounds."
Mr Brady said the shortfall would mean "extreme hardship" for businesses in the town.
"Because a lot of the businesses cannot get insurance and that's part of the problem," he said.
"Had they insurance, they could at least look forward, maybe it would take a while, but in the short term to have some restoration of hope with their businesses.
"If you don't have insurance, you're not getting help, then what else can you do? You may well have to close."