Ashling Murphy was a "humble", selfless, musical person who was "one in a million", her family and partner have said.
The 23-year-old schoolteacher, murdered along a canal path in Tullamore, Co Offaly last January, was described in court before her killer Jozef Puska was jailed.
Ms Murphy's mother Kathleen, older sister Amy and boyfriend Ryan Casey spoke of their heartache – while also paying tribute to her.
Ms Murphy loved to play traditional Irish music with her sister, was an avid camogie player with her club Kilcormac Killoughey, and led a busy life.
Mr Casey, who met Ms Murphy at a disco when they were 15, said even then he knew there was "something so special about her".
He said she had a "beautiful and warm personality" and they spoke for hours on the phone as they "simply couldn't get enough of each other".
They went their separate ways before becoming an official couple at the end of 2016, and he said that during their time together they did not have a "single disagreement or one single little argument".
He said they had planned to move to Dubai for a year or two, which he said was "Ashling's dream", before building a house in Ireland.
He said they had discussed getting married and Ms Murphy wanted Can You Feel The Love Tonight from The Lion King to be their wedding song.
"We often discussed how many kids we'd love to have and how they'd all be mighty little hurlers or camogie players and even better musicians," he said.
"One thing Ashling used to always say to me was that if we were lucky enough to have a little boy someday, she wanted to call him Rian, which is Irish for Ryan."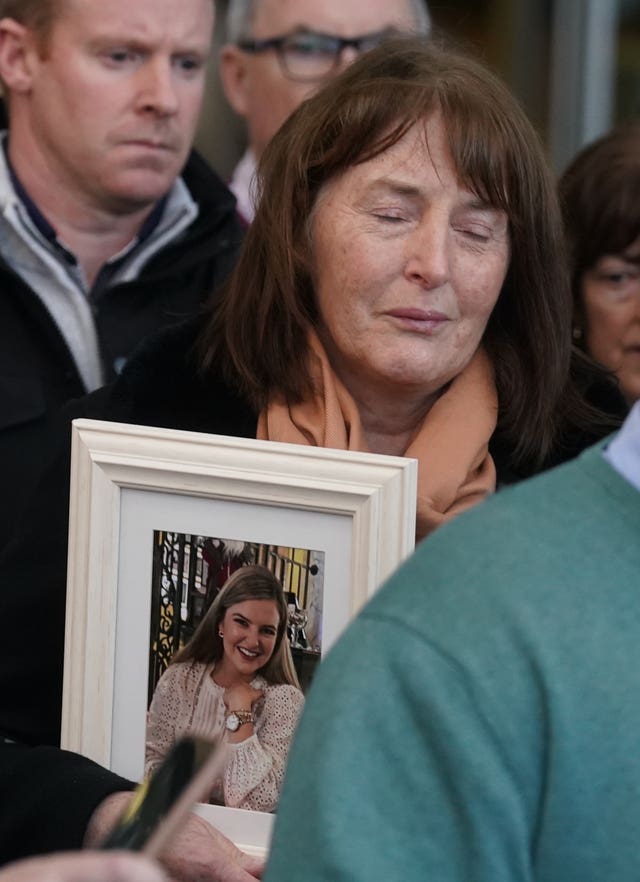 Kathleen Murphy said her daughter was "one in a million" and their house was "alive with music every night as she played her fiddle".
Mrs Murphy's statement, read in court by Garda Sergeant Lucy McLoughlin, described her daughter as someone who was "grounded and humble" though she had accomplished so much at such a young age.
"She always thought about everyone else before herself," she said.
She said she loved teaching music to younger students and playing music with her father and sister.
Mrs Murphy said Ms Murphy was the "chief organiser" of the family and the "thoughtful" one.
"She brought herself, Amy and myself on a day out at the spa. She brought us to see Westlife twice and booked a family day out to the Guinness Storehouse in Dublin as a Christmas present to us all a week before she was taken from us," she said.
She said Ms Murphy had a special relationship with her late grandfather Paddy, who had lived next door, and the red car she drove to the canal on the day she died had been his car.
Amy Murphy told the court her younger sibling had a "zest for life" and was "the glue that bound our tightly-knit family together".
She said her sister was generous with her time and her talents, with musicians of all ages welcomed into their home every week "to learn and absorb" her passion for music.
As a primary school teacher, Ms Murphy was sometimes late home as she thought of creative 'elf on the shelf' ideas for her first-class pupils and baked gingerbread men for them at Christmas.
Ms Murphy also loved shopping, Amy said, adding that there were multiple Zara deliveries to her house the week after her death that now lie unopened on her bed.
"Ashling was a vibrant, outgoing 23-year-old just merely starting out on her career as a primary school teacher," she said.
"She had just graduated less than three months previous and the world was her oyster. All her hard work up to this point had paid off and she was reaping the rewards of life."