The Dallas Cowboys sent a message to the competition in their opening game of the NFL season with a dominant 40-0 victory over the Giants in New York.
It was the Cowboys' 11th-straight win over the Giants and their biggest opening season victory when keeping the opposition to nil, breaking a record set back in 1978.
The defence from Dallas was their most impressive attribute, forcing three turnovers and sacking quarterback Daniel Jones seven times to keep their opponents scoreless.
The Cowboys scored two touchdowns in the first quarter through DaRon Bland and Noah Igbinoghene, running back Tony Pollard scored in both the second and third quarters and KaVontae Turpin scoring a touchdown in the last.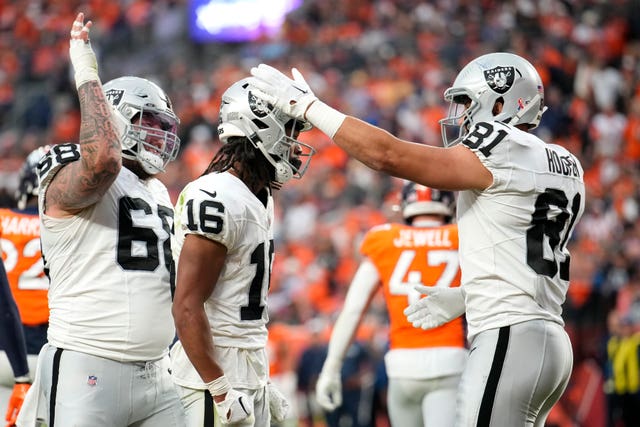 Elsewhere in Sunday's slate of games, the Raiders started their 2023/24 campaign with a one point win over the Denver Broncos in Las Vegas with Denver's new coach Sean Payton failing to open his tenure with a win.
Penalties and missed opportunities hurt the Broncos, who are desperate to put themselves into playoff contention this year after seven seasons without qualification.
A last quarter touchdown gave Raiders wide-receiver Jakobi Meyers his second for the game and a 17-16 victory for his team.
In Chicago, the Green Bay Packers defeated the Bears 38-20 with four touchdowns in the second half, pushing their first half lead of four points out to 18 by the game's end.
Two of those touchdowns from Aaron Jones in the third quarter to give the Packers an unassailable lead.
The Miami Dolphins took victory out of the grasp of the LA Chargers' hands with a late touchdown to Tyreek Hill earning them a two-point win.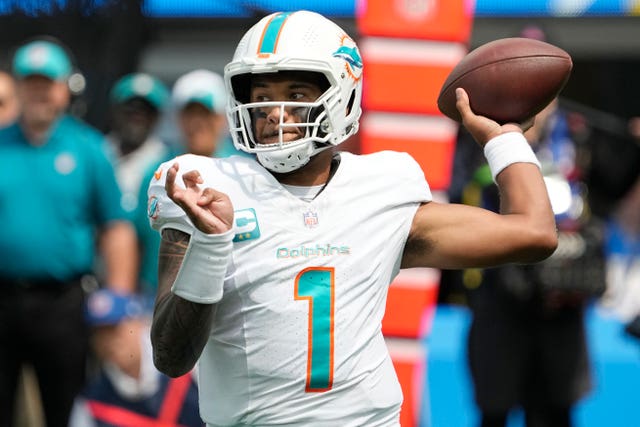 Quarterback Tua Tagovailoa threw for 466 yards with three touchdowns and one interception, leading his team to a 36-34 victory.
The LA Rams had more success, defeating the Seahawks 30-13 in Seattle.
The Rams were trailing at half-time but scored 13 unanswered points in the second half to start their season in the winning column.
The Philadelphia Eagles opened their season with a 25-20 victory over the New England Patriots in Boston, while the New Orleans Saints beat the Tennessee Titans 16-15 at home.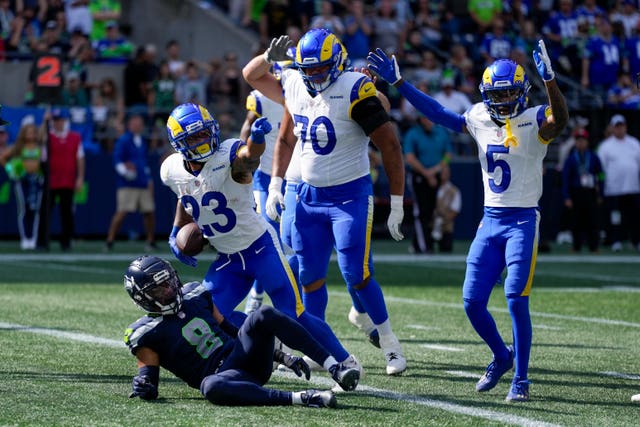 The San Francisco 49ers put on a dominant 30-7 display against the Pittsburgh Steelers, with the Jacksonville Jaguars getting the win over the Indianapolis Colts 31-21.
The Washington Commanders beat the Arizona Cardinals by four points, while the Atlanta Falcons scored two touchdowns in the last quarter to beat the Carolina Panthers 24-10.
The Cleveland Browns beat the Cincinnati Bengals, the Tampa Bay Buccaneers won against the Minnesota Vikings and the Baltimore Ravens made easy work over the Houston Texans with a 25-9 win.
Aaron Rodgers and the New York Jets will close out the first round against the Buffalo Bills in the season's first instalment of Monday Night Football.