US President Joe Biden has closed a visit to Vietnam by highlighting new business deals and partnerships between the two countries and paying respects at a memorial honouring the late American senator John McCain, who endured a lengthy incarceration during the Vietnam War.
Mr Biden met with Prime Minister Phạm Minh Chinh, who also accompanied the President as he dropped by a meeting of American and Vietnamese business leaders.
Mr Biden also sat down with President Vo Van Thuong, who hosted the US leader for a state luncheon.
The US President spoke about strengthening Vietnam's semiconductor industry and his administration's commitment to an open Pacific.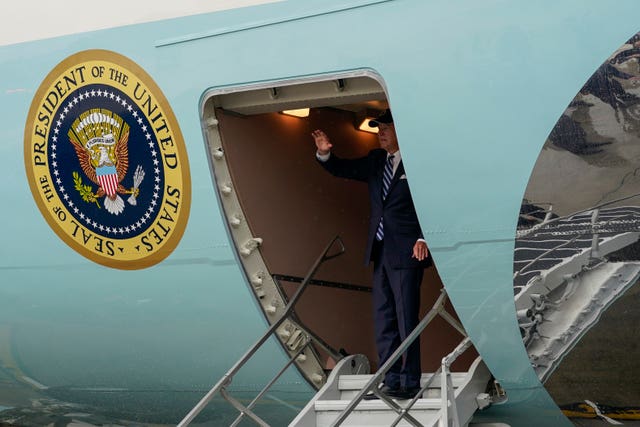 Mr Biden told the CEOs: "My message today is quite simple. Let's keep it up.
"We need to develop and drive our collaboration, We need to forge new partnerships."
The Vietnamese Prime Minister also stressed the need to improve cooperation and said "the sky is the limit" for the expanding US-Vietnam relationship.
"We truly wish to receive strong political commitment from the US government including you, Mr President, who has had great affection for Vietnam," the Prime Minister said.
Highlights of the major deals announced by the White House during Biden's first-ever visit to Vietnam include US-based Boeing's 7.5 billion dollar (£6 billion) deal with Vietnam Airlines to buy about 50 aircraft and Arizona-based Amkor Technology's plans for a 1.6 billion dollar (£1.2 billion) factory in Bac Ninh Province.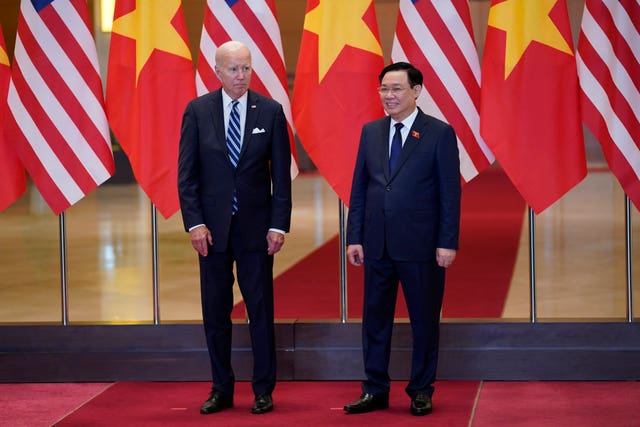 The White House also said the administration would help "build Vietnamese capacity to fight regional and international transnational crime", including targeting illegal, unreported and unregulated fishing.
China has been locked in long-running territorial conflicts with Vietnam, along with the Philippines, Malaysia and Brunei, as Beijing claims waters in the other nations' exclusive economic zone.
Mr Biden arrived in Vietnam on Sunday and met Nguyen Phu Trong, general secretary of the Communist Party of Vietnam.
Mr Trong formally announced Vietnam had elevated the US to its highest diplomatic status, comprehensive strategic partner. Mr Biden said the shift demonstrated how far bilateral relations had evolved from the "bitter past" of the Vietnam War.
At the same time, Mr Biden insisted that his roughly 24-hour visit was not about trying to start a "cold war" with China but was part of a broader effort to improve global stability by building relationships throughout Asia, including with Vietnam, at a time of tensions with Beijing.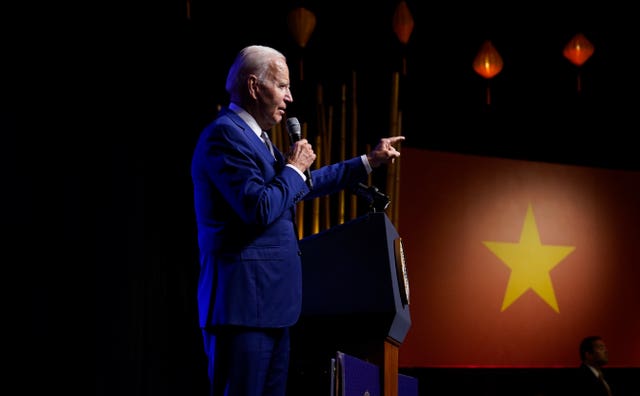 Before departing, Mr Biden visited the John Sidney McCain III Memorial near the site where, as a 31-year-old Navy lieutenant commander, Mr McCain's Skyhawk dive bomber was shot down by the North Vietnamese.
Both sides exchanged documents on unaccounted US service members and Vietnamese soldiers. Mr Biden left one of his commemorative coins at the memorial, the White House said.
Mr McCain parachuted out of the plane and landed in a lake in Hanoi, North Vietnam. He broke both arms and a leg in the fall, was dragged from the water by an angry crowd, and was beaten and bayoneted.
The harrowing 1967 incident began a more than five-year ordeal that became the defining moment for the future Republican senator from Arizona and two-time presidential candidate.
After six weeks in the hospital, Mr McCain, who had lost about one-third of his weight, was transferred to a prison cell.
After a brief time with cellmates, McCain, the son and grandson of four-star admirals, began two years in solitary confinement in a 10-by-10ft room.
At one point, Mr McCain's captors asked if he wanted to go home, but it was a trick question. The US military's code of conduct required prisoners to be released in the order they were detained.
The North Vietnamese wanted to make a show of releasing McCain early as his father assumed command over the Pacific. Mr McCain refused.
For four days after he refused release, Mr McCain was beaten every two to three hours by 10 guards. Filled with thoughts of suicide, Mr McCain broke and agreed to sign an anti-US propaganda statement confessing to "black crimes". He later wrote: "I had learned what we all learned over there: Every man has his breaking point. I had reached mine."
It was the last time Mr McCain would break. He refused to sign any other statements or meet with visiting American anti-war activists.
Eventually, Mr McCain was removed from solitary confinement and mingled with other US prisoners of war. He was released on March 14 1973.
Mr McCain returned home, retired from the Navy in 1981, moved to Arizona and launched a political career.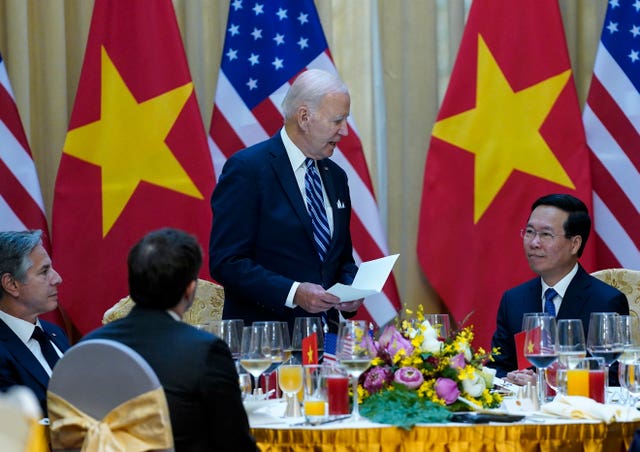 He was elected to the House in 1982 and, in 1986, to the senate, where he and Mr Biden were colleagues. Despite his experience in Vietnam, Mr McCain was a strong advocate of restoring diplomatic relations with the country that had so badly mistreated him.
He was the Republican presidential nominee in 2008, but lost to Democrat Barack Obama. He died of brain cancer in 2018.
Mr Biden delivered an emotional eulogy at Mr McCain's funeral in Arizona.
At the luncheon, Biden said he missed McCain. He praised McCain and John Kerry — another Vietnam War veteran and former Democratic senator, secretary of state in the Obama administration and Biden's climate envoy — for playing critical roles in the two nations' "50-year arc of progress".
"Where there was darkness you all found light," Mr Biden said.