One person was killed and tens of thousands were left without power as Atlantic Storm Lee pummelled an parts of New England and eastern Canada.
The centre of the post-tropical cyclone made landfall on Saturday with near-hurricane strength winds of 70mph about 135 miles west of Halifax, Nova Scotia, according to the US National Hurricane Centre.
Weakening as it headed north to New Brunswick and the Gulf of St Lawrence, Lee flooded coastal roads in Novia Scotia with ferries and all flights out of Halifax Stanfield International Airport cancelled.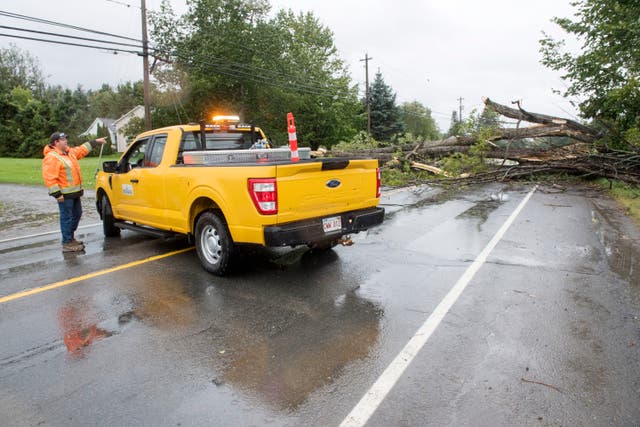 A 51-year-old motorist died in Searsport, Maine, died after a large branch fell on his vehicle on US Highway 1. The tree limb brought down live power lines and utility workers had to cut power before the man could be removed said Police Chief Brian Lunt. He died later in hospital.
Hurricane-force winds extended as far as 140 miles from Lee's centre with tropical storm-force winds extending as far as 320 miles — enough to cover all of Maine and much of Maritime Canada with power outages covering several hundred miles.
At noon on Saturday, 11% of electricity customers in Maine lacked power, along with 27% of Nova Scotia, 8% of New Brunswick and 3% of Prince Edward Island.
A tropical storm warning remained in effect from Stonington, Maine, north to the US-Canada border.
Authorities at Bar Harbour, the touristy gateway to Acadia National Park, worked to offload 1,800 gallons of diesel from a whale watch vessel which broke free of its mooring and crashed ashore.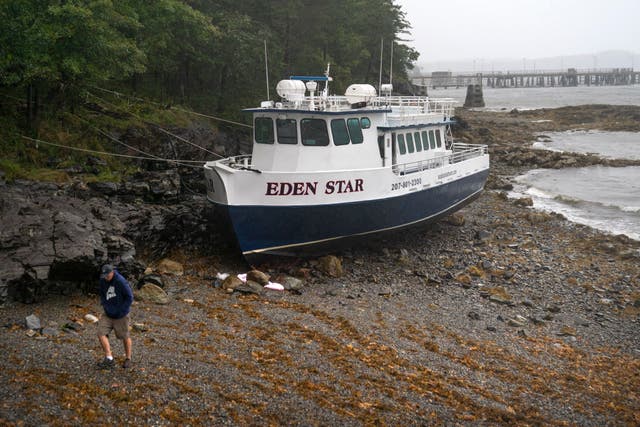 The storm skirted some of the most waterlogged areas of Massachusetts which experienced severe flash flooding days earlier, when fast water washed out roads, caused sinkholes, damaged homes and flooded vehicles.
In eastern Maine, winds died down enough by late afternoon for utility workers to begin using their bucket trucks to make repairs.
Cruise ships found refuge at berths in Portland, while lobstermen in Bar Harbour and elsewhere pulled traps from the water and hauled boats inland.
Billy Bob Faulkingham, House Republican leader of the Maine Legislature, and another lobsterman survived after their boat overturned while hauling traps ahead of the storm Friday, officials said.
The boat's emergency locator beacon alerted authorities, and the two clung to the hull until help arrived, said Winter Harbour Police Chief Danny Mitchell. The 42-foot boat sank.
Lee shared some characteristics with 2012's Superstorm Sandy.
Both were once-strong hurricanes that became post-tropical cyclones — cyclonic storms that have lost most of their tropical characteristics — before landfall. Lee was not expected to be nearly as destructive as Sandy, which caused billions of dollars in damage and was blamed for dozens of deaths in New York and New Jersey.