North Korean leader Kim Jong Un has held discussions with Russia's defence minister on strengthening "strategic and tactical co-ordination" between the two countries, according to state media.
The Korean Central News Agency (KCNA) said the talks with Sergei Shoigu took place during Mr Kim's visit to Russia which has seen him visit some of Russia's most advanced weapons systems, including nuclear-capable bombers and hypersonic missiles, and a key warship from the Pacific fleet.
Mr Kim also appears to be using his trip to encourage broader exchanges between the countries as he tries to break out of diplomatic isolation.
Russia's RIA Novosti state news agency released a video of Mr Kim visiting the Far Eastern Federal University on Russky Island.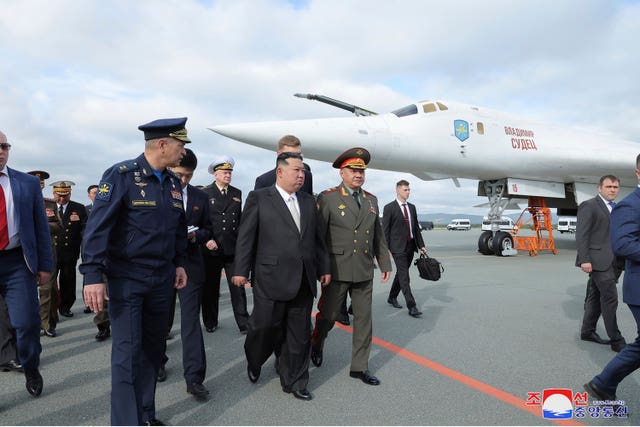 The governor of Russia's Primorye region, which includes Vladivostok, said he plans to meet with Mr Kim on Sunday to discuss exchange programs for schoolchildren and other ways to cooperate in sports, tourism and culture.
Russian media said the Korean leader may also visit food industry businesses in Primorye.
A day after visiting an aircraft plant in Komsomolsk-on-Amur, Mr Kim was given a tour of an airport near Vladivostok containing warplanes which have seen active use in the war in Ukraine.
Mr Kim and Mr Shoigu later inspected the Admiral Shaposhnikov frigate where Russia's navy commander, Admiral Nikolai Yevmenov, briefed Korean leader on the ship's capabilities and weapons, which include long-range Kalibr cruise missiles which Russian warships have regularly fired at targets in Ukraine.
KCNA, which has reported on the trip a day late, said Mr Kim was accompanied on Saturday's visits by his top military officials.
At a performance of Tchaikovsky's Sleeping Beauty ballet performance, KCNA said Mr Kim received a rousing ovation and expressed "deep thanks to the performers and the theatre for their impressive and elegant ballet of high artistic value."
RIA Novosti said he left after the first act.