Atlantic storm Lee has made landfall at near-hurricane strength, bringing destructive winds, rough surf and torrential rains to New England and Maritime Canada.
But the US National Hurricane Centre discontinued a tropical storm warning for the coast of Maine, while Environment Canada ended its tropical storm warning in New Brunswick as Lee weakened.
A 51-year-old motorist was killed in Maine when a tree limb fell on his vehicle – the first fatality attributed to the storm. The post-tropical cyclone also cut power to tens of thousands of customers.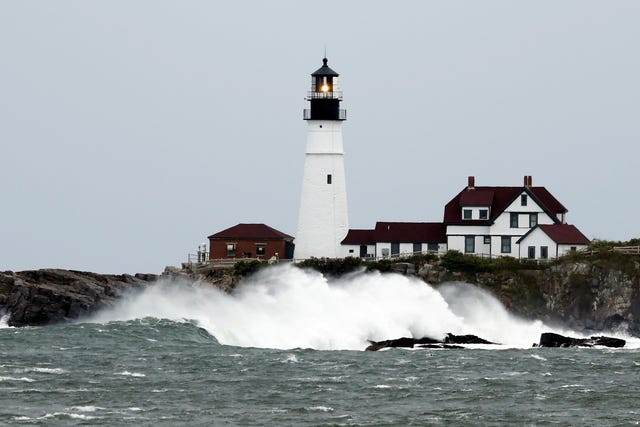 The hurricane centre reported late Saturday that the storm was about 105 miles west of Halifax, Nova Scotia, and about 80 miles east of Eastport, Maine. The top sustained wind speed had dropped to 60mph.
The storm was tracked as moving around 14mph and expected to proceed north-east in the coming days, taking the weather system across the Canadian Maritimes.
A tropical storm warning remains in effect for parts of New Brunswick, Nova Scotia, Prince Edward Island and the Magdalen Islands.
Lee flooded coastal roads in Nova Scotia and took ferries out of service while fanning anxiety in a region still reeling from wildfires and severe flooding this summer. The province's largest airport, Halifax Stanfield International, cancelled all flights.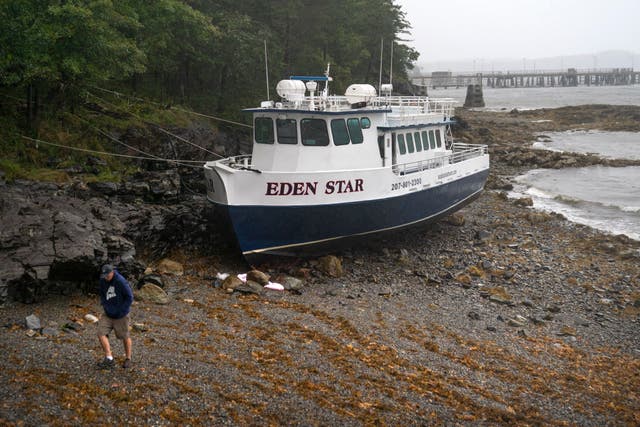 "People are exhausted," said Pam Lovelace, a councillor in Halifax. "It's so much in such a small time period."
Hurricane-force winds extended as far as 140 miles from Lee's centre, with tropical storm-force winds extending as far as 320 miles – enough to cover all of Maine and much of Maritime Canada.
The storm was large and strong enough to cause power outages several hundred miles from its centre. At midday on Saturday, 11% of electricity customers in Maine were without power, along with 27% of Nova Scotia, 8% of New Brunswick and 3% of Prince Edward Island.
Storm surges of up to 3ft were expected along coastal areas, accompanied by large and destructive waves, the hurricane centre said.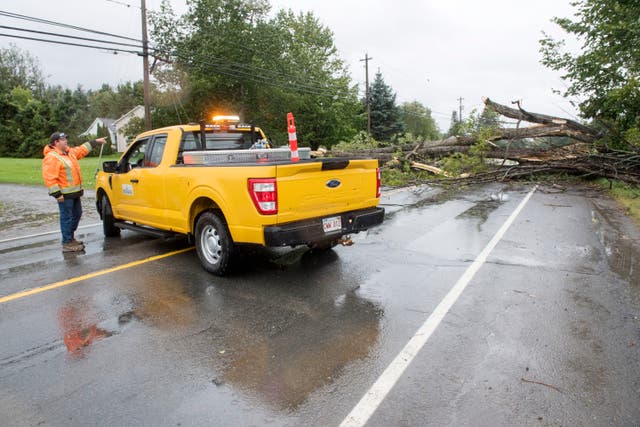 The storm skirted some of the most waterlogged areas of Massachusetts that experienced severe flash flooding days earlier, when fast water washed out roads, caused sinkholes, damaged homes and flooded vehicles.
In eastern Maine, winds died down enough by late afternoon on Saturday for utility workers to begin to make repairs. Central Maine Power and Versant Power had hundreds of workers, including out-of-state crews, assisting the effort.
"At this point, the storm is resembling a nor'easter," said Sarah Thunberg, a National Weather Service meteorologist, referring to the autumn and winter storms that often plague the region and are so named because their winds blow from the north-east. They typically have a much wider wind field than tropical systems with winds remaining closer to a storm's centre.
The entire region has experienced an especially wet summer, ranking second in the number of rainy days in Portland, Maine – and Lee's high winds toppled trees stressed by the rain-soaked ground in Maine, the nation's most heavily wooded state.
Cruise ships found refuge at berths in Portland, Maine, while lobstermen in Bar Harbour and elsewhere pulled traps from the water and hauled boats inland.
Forecasters urged residents to stay at home, but many ventured out anyway.
Betsy Follansbee and her husband Fred jogged to Higgins Beach in Scarborough, Maine, to watch surfers – some wearing helmets – paddling out to catch waves reaching 12ft. They were the biggest waves the couple have seen in 10 years of living there.
"We're impressed that they're bold enough to try," Mrs Follansbee said.
On Maine's Bailey Island, a slender spit jutting into the Gulf of Maine, Ren Renton watched the ocean roil. "It comes and goes and takes what it wants, but hopefully not too much," she said.
Lee shared some characteristics with 2012's Superstorm Sandy. Both storms were once-strong hurricanes that became post-tropical cyclones – cyclonic storms that have lost most of their tropical characteristics – before landfall. Lee was not expected to be nearly as destructive as Sandy, which caused billions of dollars in damage and was blamed for dozens of deaths in New York and New Jersey.