North Korean leader Kim Jong Un is on his way home from Russia, ending a six-day trip that triggered global concerns about weapons transfer deals between the two countries locked in separate standoffs with the West.
Mr Kim began his journey back to North Korea aboard his armoured train from the Primorye region in Russia's Far East, following a farewell ceremony at a train station, Russia's state news agency RIA said.
Since entering Russia last Tuesday in his first overseas trip in more than four year, Mr Kim has met President Vladimir Putin and visited key military and technology sites.
Earlier on Sunday, his visit had a lighter mode, as he toured a university and watched a walrus show at a Russian aquarium.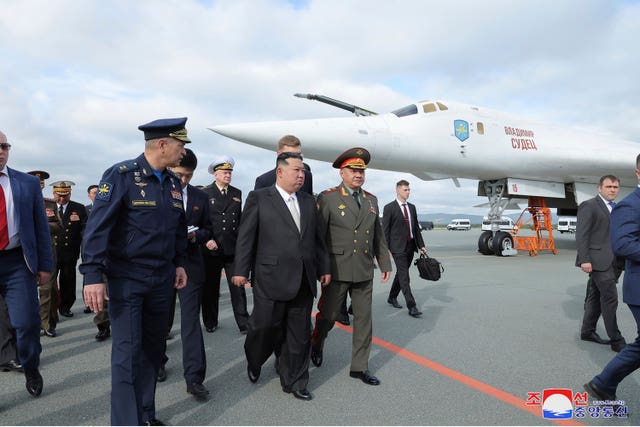 Russia's state media released videos of Mr Kim – dressed in a black suit and accompanied by his top officials – talking with Russian officials through translators as he walked through the campus of the Far Eastern Federal University in Russky Island.
He was later seen at the island's Primorsky Aquarium, Russia's largest, where he watched performances featuring beluga whales, bottlenose dolphins, fur seals and "Misha" the walrus, which he seemed to particularly enjoy, according to Russian media.
Mr Kim's trip, highlighted by a summit with Mr Putin on Wednesday, has underscored how their interests are aligning in the face of separate, intensifying confrontations with the West.
US and South Korean officials have said North Korea could provide badly needed munitions for Moscow's war on Ukraine in exchange for sophisticated Russian weapons technology that would advance Mr Kim's nuclear ambitions.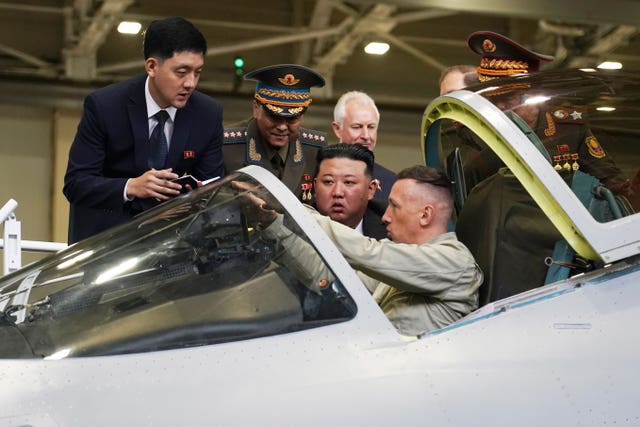 On Saturday, Mr Kim travelled to an airport near Vladivostok, where Russian defence minister Sergei Shoigu and other senior military officials gave him an up-close look at Russia's strategic bombers and other warplanes.
All the Russian warplanes shown to Mr Kim were among the types that have seen active use in the war in Ukraine, including the Tu-160, Tu-95 and Tu-22 bombers that have regularly launched cruise missiles.
During the visit, Mr Shoigu and Lt Gen Sergei Kobylash, the commander of the Russian long-range bomber force, confirmed for the first time that the Tu-160 had recently received new cruise missiles with a range of more than 4,040 miles.
Mr Kim and Mr Shoigu later on Saturday travelled to Vladivostok, where they inspected the Admiral Shaposhnikov frigate. Russia's navy commander, Admiral Nikolai Yevmenov, briefed Mr Kim on the ship's capabilities and weapons, which include long-range Kalibr cruise missiles that Russian warships have regularly fired at targets in Ukraine.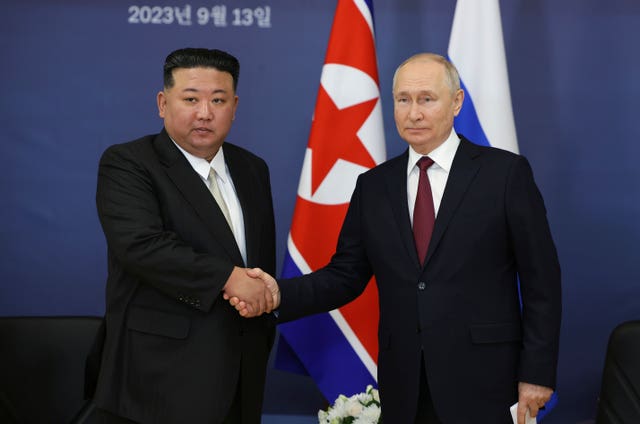 North Korea's state media reported Mr Kim was accompanied on Saturday's visits by his top military officials, including his defence minister and the top commanders of his air force and navy.
Following lunch, Mr Kim and Mr Shoigu talked about the regional security environment and exchanged views on "practical issues arising in further strengthening the strategic and tactical co-ordination, co-operation and mutual exchange between the armed forces of the two countries", the North's official Korean Central News Agency said.
Mr Kim's visits to military and technology sites this week possibly hint at what he wants from Russia, perhaps in exchange for supplying munitions to refill Mr Putin's declining reserves as his invasion of Ukraine becomes a drawn-out war of attrition.
Mr Kim's meeting with Mr Putin was held at Russia's main spaceport, a location that pointed to his desire for Russian assistance in his efforts to acquire space-based reconnaissance assets and missile technologies.
Experts have said potential military co-operation between the countries could include efforts to modernise North Korea's outdated air force, which relies on warplanes sent from the Soviet Union in the 1980s.