The Nun 2 and A Haunting In Venice virtually tied for the number one spot in US and Canadian cinemas over the weekend – with a slight edge carrying the horror sequel over the Hercule Poirot mystery, according to studio estimates.
In its second weekend of release, Warner Bros' The Nun 2, a spinoff from the studio's lucrative Conjuring franchise, grossed 14.7 million US dollars (£11.9 million).
If numbers hold, that will give The Nun 2 (up to 56.5 million dollars (£45.6 million) total and 158.8 million dollars (£128 million) worldwide) – the top spot at the box office for a second straight week.
Very close behind was A Haunting In Venice, Sir Kenneth Branagh's third Agatha Christie adaptation, following 2017's Murder On The Orient Express and 2022's Death On The Nile.
It opened with 14.5 million dollars (£11.7 million).
Final box office figures will be released on Monday.
After the successful run of Murder On The Orient Express" (352.8 million dollars (£284.8 million) worldwide against a production budget of 55 million dollars (£44.4 million)) and the less-stellar global haul of Death On The Nile (137.3 million dollars (£110.9 million against a 90 million dollar (£72.7 million) budget), the sluggish start for A Haunting In Venice may have signalled the death knell for Sir Kenneth's detective.
The 20th Century Studios film, released by Disney, grossed 22.7 million dollars (£18.3 million) internationally.
And it cost less than its predecessor, carrying a production budget of about 60 million dollars (£48.4 million).
The Equalizer 3, starring Denzel Washington, dropped to third place with 7.2 million dollars (£5.8 million).
In three weeks, it has grossed 73.7 million dollars (£59.5 million) domestically and 132.4 million dollars (£106.9 million) worldwide.
Fourth place went to My Big Fat Greek Wedding 3 with 4.7 million dollars (£3.8 million) in its second weekend of release.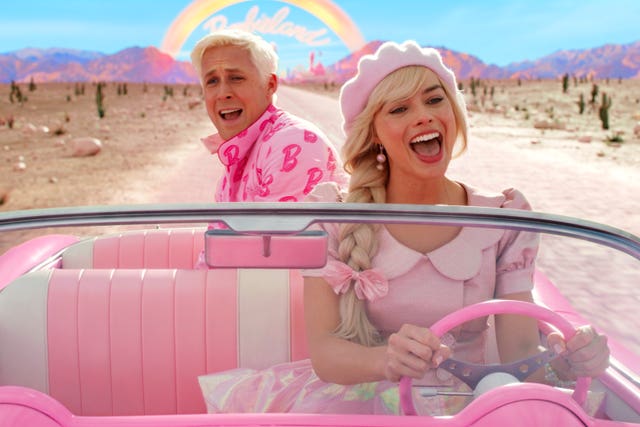 It has grossed 18.5 million dollars (£15 million) domestically.
It was one of the quietest weekend in cinemas this year, as Hollywood — which has spent much of the last two weeks promoting its films at the Venice, Telluride and Toronto film festivals — treads water in between the summer smashes of Barbie and Oppenheimer and awaits its top autumn movies.
Some of those, like Dune: Part Two, have already been postponed until next year due to the Sag-Aftra and WGA strikes.
One anticipated autumn film, Sony's Dumb Money, opted for a platform release, debuting in eight cinemas over the weekend before expanding next weekend and going wide on September 29.
The film, a rollicking dramatisation of the GameStop stock frenzy, grossed 217,000 dollars (£175,198), for a per-location average of about 27,000 dollars (£21,799).
Barbie also remains in the picture.
For the ninth straight weekend, Greta Gerwig's box-office sensation ranked in the top five films.
It added four million dollars (£3.2 million) to bring its domestic total to 625 million dollars (£504.6 million) and its global haul to 1.42 billion dollars (£1.15 billion).
Meanwhile, Oppenheimer has reached 912.7 million dollars (£737 million), making it the highest grossing biopic ever, passing Bohemian Rhapsody.