Beating Jude Bellingham at FIFA and two hours of German lessons a day have helped Jamie Bynoe-Gittens settle in at Borussia Dortmund.
The unassuming 19-year-old sits in St George's Park explaining how his life in the German city has helped him grow.
The last of Dortmund's English trio, the former Chelsea youngster has developed while Bellingham and Jadon Sancho shone to earn their mega-money moves.
Bynoe-Gittens made his debut less than 18 months ago but has settled well. His lessons, having joined from Manchester City in 2020, have left him "near fluent" as he matures away from the Premier League spotlight.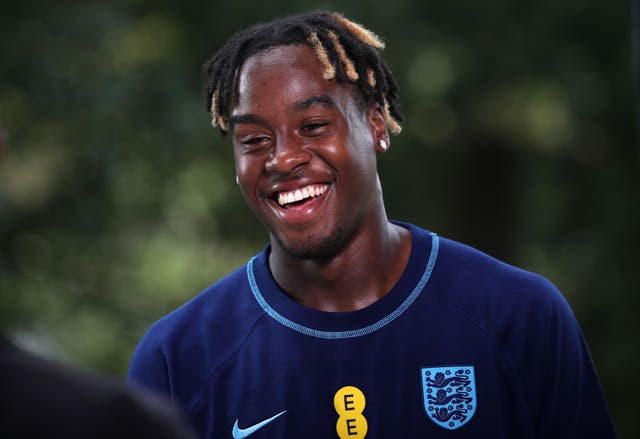 "Not everybody spoke English when I arrived. That was very hard for me because, at the time, I only spoke English. I had to learn German quickly," he says.
"I remember looking for something like shampoo in the supermarket and you've got to find where it is and you might need to ask someone. It's hard, you know.
"The word is the same, so maybe that's an easy one to find! But maybe if you were going to the shops or getting the bus to town and having to find the right way to go…
"At school I tried to speak French and that didn't really work. German is difficult – it's really hard to learn and it takes time. But when you live here, you pick it up.
"I was a very shy person back then, so I had to learn to speak more and to ask for things that I might not ordinarily have asked for.
"The first year was tough, because Covid meant that there were no games. Then when we came back in 2021 I was injured for four months.
"After Christmas, I started playing more games and then that's when I broke into the senior team.
"Seeing other players before me doing it persuaded me I could try it as well and try to progress like Jude has done right now or Jadon did."
Now he is the only Englishman left at Dortmund after Bellingham's initial £88.5million move to Real Madrid this summer.
Thankfully the new England Under-21 international can ask for a little more than shampoo – along with a cheeky offer of giving lessons to Bayern Munich new boy Harry Kane while at St George's Park – although he misses his friends.
"Jude would take me out into Dortmund sometimes. Or when Jadon was there, we would go to get a haircut together or something or go to his house for three or four hours, maybe play FIFA," said the Under-19 European champion, who remains close with team-mate Gio Reyna.
"They took me in as their little brother…I'd beat Jude at FIFA all the time.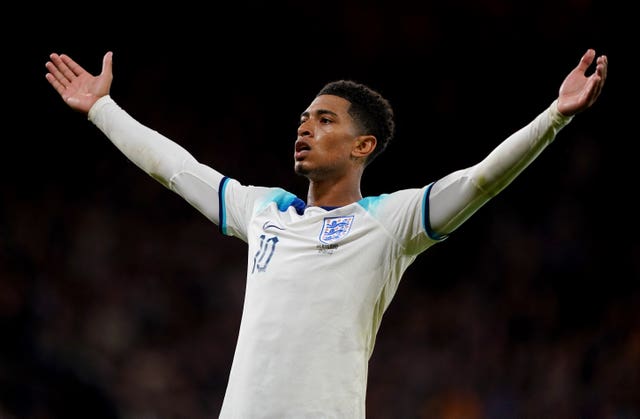 "It's great to see him do it. I knew he was going to be like this. It wasn't a surprise to me. How he prepares for games, how he prepares for training. He's just so professional. He's a great person too."
In May, on his final appearance, Bellingham sat devasted on the Signal Iduna Park pitch after a 2-2 draw with Mainz on the final day of last season handed Bayern the title.
Going into the game top, Dortmund were expected to end their 11-year Bundesliga drought, capping Bellingham's three starring years in Germany.
Yet, it was to end in heartbreak as injured Bynoe-Gittens watched from the sidelines as the title slipped away.
"It was very hard," he said, having made 20 appearances, scoring three times. "I couldn't play in the last two games because of injury and watching it was just really sad, we had worked so hard to get there.
"There are are almost no words to describe it. We had no emotion, just numb.
"We're always focused on winning or pushing for the title, like last season. We have to start quick, now, and hopefully be clear.
"We want to win the Bundesliga. Dortmund is a big club. You can't just go for second, third or fourth. We want to push for first, the DFB Cup too and then go far in the Champions League."
Dortmund, the 1997 winners, have not got past the quarter-finals since losing the final to Bayern in 2013 but European success is always an objective.
Edin Terzic's side open their Champions League campaign at PSG on Tuesday and also face AC Milan and Newcastle, travelling to St James' Park in December.
The luck of the draw allows Bynoe-Gittens, who came through at Reading before moving to Chelsea and then Manchester, to return to England outside international duty. Quiet but confident, he is ready to show what he has learnt.
"It was always my dream to play in the Champions League as a kid, watching it on TV. Playing in it was a big achievement for me," he said.
"It gives me added fuel to play in England and to show everybody what I can do."