Rescuers have found more bodies as they dug through slushy debris and ice-cold water in a hunt for survivors after a glacial lake burst through a dam in India's Himalayan north-east.
The water washed away houses and bridges and forced thousands to flee.
Officials said the hundreds of rescuers recovered six more bodies early Saturday, taking the death toll to 47.
At least 150 people are still missing.
The flood began shortly after midnight on Wednesday, when the waters of a glacial lake overflowed, cracking open the biggest hydroelectric dam in the state of Sikkim.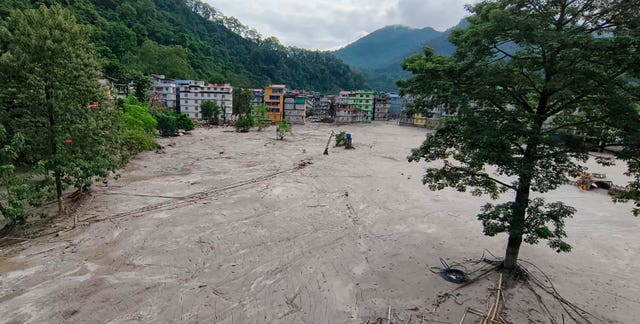 The icy waters then cascaded through towns in the valley below, where they killed scores of people and carried some bodies miles away.
Bad weather has made rescue efforts more challenging.
Police said nearly 4,000 tourists were stranded in two locations, Lachung and Lachen in the northern part of the state, where access was severely restricted as the floods had washed away roads.
Some 3,900 people were currently in 26 relief camps set up by the state, chief minister Prem Singh Tamang said on Saturday. He added that seven out of the 22 Indian army soldiers who were reported missing had died.
It was not clear what triggered the deadly flood in the mountainous state, the latest to hit north-east India in a year of unusually heavy monsoon rains.
Nearly 50 people died in flash floods and landslides in August in the nearby state of Himachal Pradesh. In July, record rains killed more than 100 people over two weeks in northern India.
Experts pointed to intense rain, and a 6.2 magnitude earthquake that struck nearby Nepal on Tuesday afternoon, as possible contributors.
But the disaster also underscores a climate dilemma that pits local environmental activists who say dams in the Himalayas are too dangerous against authorities pursuing a national green energy agenda.