Israelis in the country's south near the volatile frontier with Gaza have grown so used to rounds of fighting between Israel and Hamas militants that the wail of air raid sirens has taken on a grim routine.
But this time, Hamas has shaken their steely nerves. Residents of southern Israel described Saturday's unprecedented ground assault, with fighters entering their communities in lorries, on boats and by hang-gliders, as a nightmare come true.
For Israelis working and living within range of Gaza, the sight of Hamas militants roaming outside their homes Saturday, and reports that Hamas had taken dozens of civilians and soldiers captive, marked a terrifying turn of events unlike anything residents had experienced before.
"This was always the nightmare. We told ourselves that one day, the terrorists will come inside here," said Jehan Berman, 42, in the small community of Avshalom near Gaza.
It took eight hours, he said, for the Israeli military to arrive at his kibbutz and start fending off the Hamas fighters.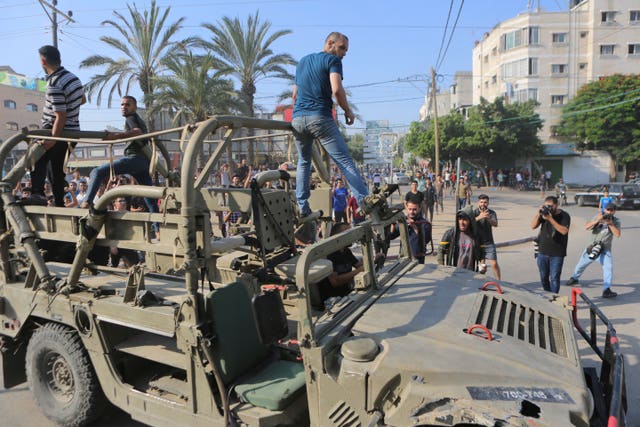 Mr Berman, who suffers from multiple wounds and disabilities inflicted by the past four wars and countless other skirmishes between Israel and Hamas over the years, said that Israeli authorities had notified him that Hamas had kidnapped his 75-year-old mother-in-law, along with several friends in their 30s and their small children.
The last time he heard from his mother-in-law was 10.30am, he said, when she called him, panicked and distraught, to say that Hamas militants had shot and killed her husband.
While the Israeli military's iron dome anti-rocket defence system intercepts some 90% of Gaza rockets heading for populated areas, there was nothing protecting Israelis from armed militants opening fire and entering their homes.
A fortified border fence, equipped with sophisticated sensors, proved no match for the heavy explosives unleashed by Hamas militants as they burst into Israel.
This time, few residents had their usual sanguine slogans to offer about Israeli resilience and defiance. They were clearly rattled and emotional.
"I feel so incredibly violated," said Adele Raemer, 68, from a safe room in the southern kibbutz of Nir Am after discovering that Palestinian militants had smashed her windows while trying to break into her house.
"This is so tough for us, I don't even have the words," she said.
Israel's Channel 12 aired a string of harrowing phone call recordings by civilians trapped inside their homes as militants closed in. The callers used hushed tones to describe terrifying scenes to their loved ones.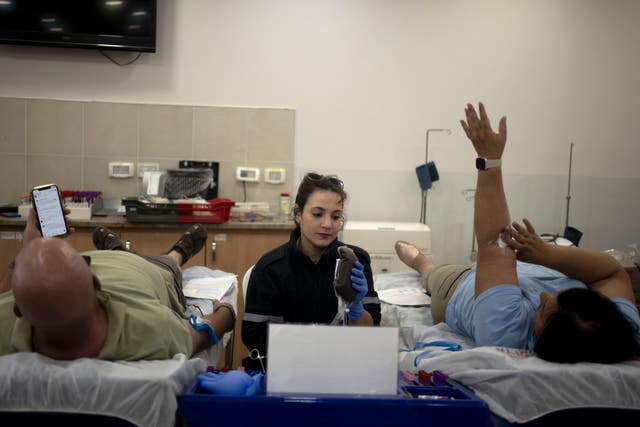 "We can hear them, they're breaking in through the windows and there's no one here to help us," one caller said.
A son whispered to his mother that he could hear gunshots. She pleaded with him to find somewhere secure to hide. Another caller told her relative she was not sure whether she would get out safely. "I love you, I love you," she said.
News of the invasion, with its haunting echoes of the 1973 Mideast War, sent millions of Israelis rushing to bomb shelters. Some in hard-hit communities were evacuated to protected spaces further north.
Families who were huddled in their basements had little idea what was unfolding above them but heard deeply disturbing sounds – not just the usual shriek of rockets and muffled bangs of explosions, they said, but the loud crackling of gunfire that indicated fighters were on the ground, and getting closer.
"We are too scared to go out (from the shelter) even for a second to get water or food or use the bathroom because we know they are still fighting out there," said Janet Cwaigenbaum, 57, in the southern kibbutz of Nir Yitzhak.
She said her neighbours had shared photos of bodies lying in the streets and their homes trashed by militants, the walls covered in red graffiti of Hamas slogans.
"I've lived here for so long that I know what to do within 15 seconds of hearing an alarm," she said. "But today was different. It was the hardest day of my life."
The biggest shock of all, residents said, came from footage on social media that showed fighters taking Israeli soldiers and civilians captive.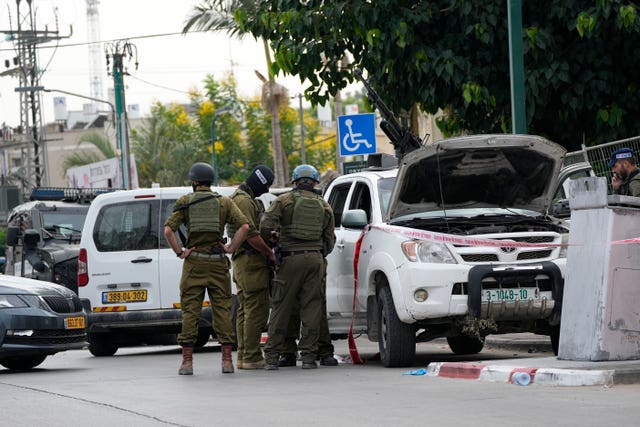 The military confirmed Hamas' claims that it had captured a number of Israelis, declining to comment on how many but saying it was "significant".
One blurred-out video showed Hamas fighters shouting at an Israeli family, including terrified young children, held hostage in their own living room. "I will not kill you," the fighter could be heard yelling in broken English while gunfire rang out.
Other footage captured moments of terror and desperation: Hamas fighters paraded a disoriented-looking elderly woman in a golf buggy down a dusty Gaza street while Palestinian crowds cheered.
Israeli civilians were led into Gaza, crammed into the back of a pick-up lorry with their heads down and hands tied.
A grey-haired Israeli woman was sandwiched on a motorbike between a driver in a flak jacket and a man with a rifle.
An Israeli captive swaddled in a sheet like a mummy cowered among militants on a golf buggy.
Some Israelis found out from videos on social media that their loved ones were missing. Such was the case for Moshe Or, who discovered his brother was captured by Hamas after seeing footage of him being led into Gaza alongside his wailing girlfriend.
In an interview with Channel 12, Mr Or expressed anger at Israeli authorities, who he said never contacted his family about the kidnapping.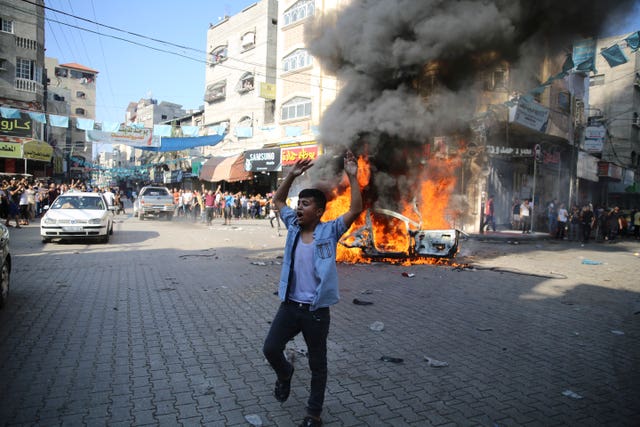 The awful realisation of the attack came at different times for Israelis.
Some 3,000 Israelis at a desert rave came under attack.
Witnesses told Israeli media that Hamas militants sprayed bullets into the crowd of revellers who, just moments earlier, had been drinking, laughing and dancing.
Videos showed scores of Israelis racing for their lives through vast open fields and taking cover in orchards. Channel 12 said that the bodies of dozens of party-goers had been recovered.
In the kibbutz of Kfar Azza near the Gaza frontier, at least six young people lay lifeless in pools of blood, according videos captured shortly after Palestinian militants left the area.
At a bus shelter in the south, at least nine bloodied bodies were sprawled out on stretchers.
Mr Berman, the war-wounded resident of Avshalom, said he was still struggling to grasp the attack's staggering toll.
While reaching out to his loved ones to find out if they were safe and trying to distract his son in the bomb shelter, he said felt a deep grief – not only for his missing mother-in-law and friends, but for Israelis and Palestinians.
"I'm sad because I know there is no hope," he said. "There is no hope for us, or kids in Palestine or this whole region."