Thousands of Palestinians are fleeing south on foot after running out of food and water, a UN agency said, as Israeli troops battle Hamas militants deep inside Gaza City.
More than 70% of Gaza's population of 2.3 million have already left their homes, but the growing numbers making their way south point to an increasingly desperate situation in and around Gaza's largest city, which has come under heavy Israeli bombardment.
The war triggered by Hamas' October 7 assault inside Israel has entered its second month, with no end in sight to an increasingly dire humanitarian situation inside the besieged Palestinian enclave.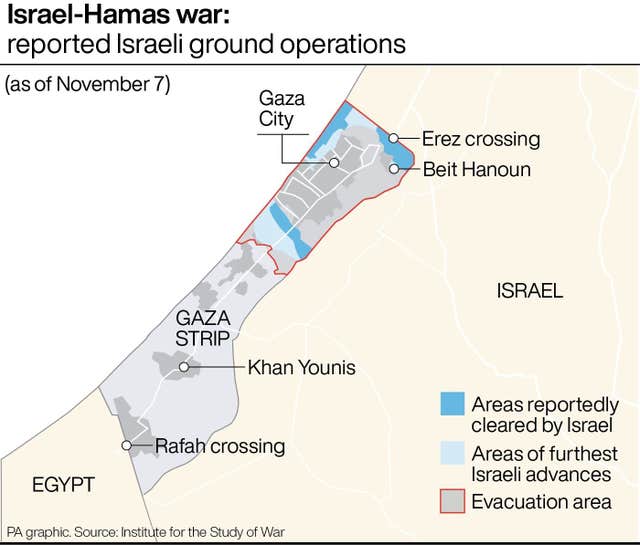 Israeli officials have said the war to end Hamas' rule and crush its military capabilities will be long and difficult, and that Israel will maintain some form of control over the coastal enclave indefinitely.
Support for the war remains strong inside Israel, where the focus has been on the plight of more than 240 hostages held by Hamas and other militant groups.
About 15,000 people fled northern Gaza on Tuesday – triple the number that left on Monday – according to the UN Office for the Coordination of Humanitarian Affairs. They are using Gaza's main north-south highway during a daily four-hour window announced by Israel.
Those fleeing include children, older people and people with disabilities, and most walked with minimal belongings, the UN agency said.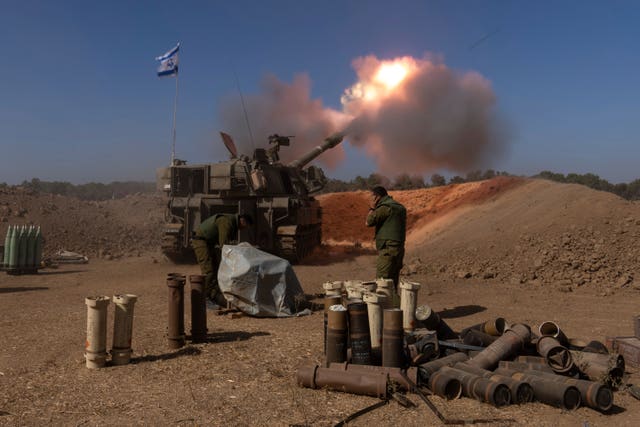 Some say they had to cross Israeli checkpoints, where they saw people being arrested, while others held their hands in the air and raised white flags while passing Israeli tanks.
Residents reported loud explosions overnight into Wednesday across Gaza City and in its Shati refugee camp, which houses Palestinian families who fled from or were driven out of what is now Israel during the 1948 war surrounding its establishment.
The Israeli military said it killed one of Hamas' leading developers of rockets and other weapons, without saying where he was killed.
Hamas has denied that Israeli troops have made any significant gains or entered Gaza City. It was not possible to independently confirm battlefield claims from either side.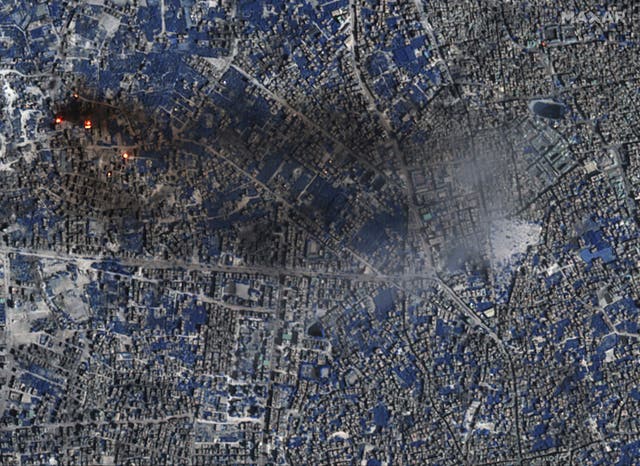 Israel is focusing its operations on Gaza City, which was home to some 650,000 people before the war and where the military says Hamas has its central command and a vast labyrinth of tunnels.
Hundreds of thousands of people have heeded Israeli orders to flee the north in recent weeks, even though Israel also routinely strikes what it says are militant targets in the south, often killing civilians.
Tens of thousands of Palestinians remain in the north, many sheltering at hospitals or UN schools.
The north has been without running water for weeks, and the UN agency said the last functioning bakeries shut down on Tuesday for lack of fuel, water and flour.
Hospitals running low on supplies are performing surgeries – including amputations – without anaesthetic, it said.
The situation is little better in the south, where hundreds of thousands of displaced people are packed into UN-run schools and other facilities. At one packed shelter, 600 people must share a single toilet, according to the UN office.
A month of relentless bombardment in Gaza since the Hamas attack has killed more than 10,300 Palestinians – two-thirds of them women and minors, according to the health ministry in the Hamas-run territory, whose figures have largely held up under scrutiny after previous wars.
More than 2,300 are believed to have been buried by strikes that in some cases have demolished entire city blocks.
Hamas militants killed over 1,400 people, mostly civilians, and mostly during the October 7 incursion in which they captured 242, including children and older adults.
Israel says 30 of its soldiers have been killed in Gaza since the ground offensive began, and Palestinian militants have continued to fire rockets into Israel on a daily basis.
The death toll on both sides is without precedent in decades of Israeli-Palestinian violence.
Israeli officials say thousands of Palestinian militants have been killed, and blame civilian deaths on Hamas because it operates in residential areas. Gaza's health ministry does not distinguish between civilians and combatants in its casualty reports.
Prime Minister Benjamin Netanyahu said Israel would maintain "overall security responsibility" in Gaza for an "indefinite period" after defeating Hamas.
Israel's main ally, the United States, is opposed to any reoccupation of the territory, from which Israel removed soldiers and settlers in 2005.
The US has suggested that a revitalized Palestinian Authority could govern Gaza. But the
internationally recognised PA, whose forces were driven out of Gaza by Hamas 16 years ago, says it would only do so as part of a solution that creates a Palestinian state in Gaza, the West Bank and east Jerusalem – territories Israel seized in the 1967 Middle East war.
Israel's government was staunchly opposed to Palestinian statehood even before the October 7 attack.
Along with Egypt, it has maintained a stifling blockade on Gaza since Hamas seized power in 2007.
Hundreds of trucks carrying aid have been allowed to enter Gaza from Egypt since October 21. But humanitarian workers say the aid is far short of mounting needs. Egypt's Rafah crossing has also opened to allow hundreds of foreign passport holders and medical patients to leave Gaza.
The war has stoked wider tensions, with Israel and Lebanon's Hezbollah militant group trading fire along the border. More than 160 Palestinians have been killed in the Israeli-occupied West Bank since the war began, mainly during violent protests and gun battles with Israeli forces during arrest raids.
Some 250,000 Israelis have been forced to evacuate from communities along the borders with Gaza and Lebanon.