Israel has come under mounting pressure over the plight of civilians in Gaza from some of its closest allies, as thousands of Palestinians streamed out of the enclave's north on foot because of dwindling food and water and the fear of approaching Israeli forces.
More than 70% of Gaza's population of 2.3 million have already left their homes, but the number making their way south has risen recently as Israeli troops battle militants inside Gaza City and the humanitarian situation grows increasingly dire.
The G7 nations called for the "unimpeded" delivery of food, water, medicine and fuel, and for "humanitarian pauses" in the fighting.
Israeli Prime Minister Benjamin Netanyahu has so far resisted such calls, while leaving open the possibility of smaller breaks.
But there remains no real end in sight to the war, which was triggered by Hamas' October 7 assault inside Israel and is now in its second month.
Israel has said the battle to end Hamas' rule and crush its military capabilities will be long and difficult, and that it will maintain some form of control over the coastal enclave indefinitely — though how it will achieve that remains unclear.
Support for the war remains strong inside Israel, where the focus has been on the fate of more than 240 hostages held by Hamas and other militant groups.
About 15,000 people fled northern Gaza on Tuesday — triple the number that left Monday — according to the UN Office for the Coordination of Humanitarian Affairs. They are using Gaza's main north-south highway during a daily four-hour window announced by Israel.
Those fleeing include children, older people and people with disabilities, and most walked with minimal belongings, the UN agency said. Some say they had to cross Israeli checkpoints, where they saw people being arrested, while others held their hands in the air and raised white flags while passing Israeli tanks.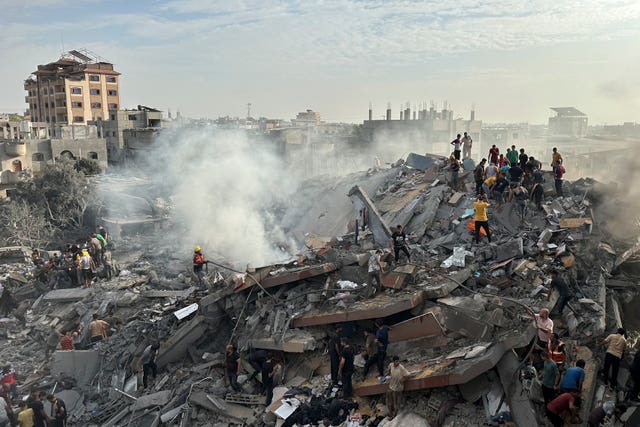 Hundreds of trucks carrying aid have been allowed to enter Gaza from Egypt since October 21. But humanitarian workers say that is nowhere near enough.
Dominic Allen of the United Nations Population Fund, UNFPA, speaking in the West Bank, said: "There is an ocean of needs in Gaza right now, and what's been getting in is a drop in the ocean. We need fuel, we need water, we need food, and we need medical supplies."
Residents reported loud explosions overnight into Wednesday across Gaza City and in its Shati refugee camp, which houses Palestinian families who fled from or were driven out of what is now Israel during the 1948 war surrounding its establishment.
The army's chief spokesperson, Rear Admiral Daniel Hagari, said late Tuesday that Israeli ground forces had reached "the depths of Gaza City".
The Israeli military said on Wednesday that it killed one of Hamas' leading developers of rockets and other weapons, without saying where he was killed.
Hamas has denied that Israeli troops have made any significant gains or entered Gaza City. It is not possible to independently confirm battlefield claims from either side.
Israel is focusing its operations on the city, which was home to some 650,000 people before the war and where the military says Hamas has its central command and a vast labyrinth of tunnels.
Hundreds of thousands have heeded Israeli orders to flee the north, where the city is located, in recent weeks, even though Israel also routinely strikes what it says are militant targets in the south, often killing civilians.
Tens of thousands of Palestinians remain in the north, however, many sheltering at hospitals or UN schools.
The north has been without running water for weeks, and the UN aid office said the last functioning bakeries shut down Tuesday for lack of fuel, water and flour.
Hospitals running low on supplies are performing surgeries – including amputations – without anaesthetic, it said.
In the south, the situation is little better, with hundreds of thousands of displaced people packed into makeshift shelters.
At one such place, 600 people must share a single toilet, according to the UN office.
An Israeli air strike hit a family house in the Nuseirat refugee camp in central Gaza on Wednesday, killing at least 18 people and wounding dozens of others, according to Iyad Abu Zaher, director of the nearby Al-Aqsa Martyrs Hospital, where the dead and wounded were brought in.
He said the toll could rise as medics and first responders are still searching the rubble.
A month of relentless bombardment in Gaza since the Hamas attack has killed more than 10,500 Palestinians – two-thirds of them women and minors, according to the Health Ministry in the Hamas-run territory. More than 2,300 are believed to have been buried by strikes that in some cases have demolished entire city blocks.
More than 1,400 people have died in Israel since the start of the war, most of them civilians killed by Hamas militants during the October 7 incursion. Scores of hostages were also taken that day.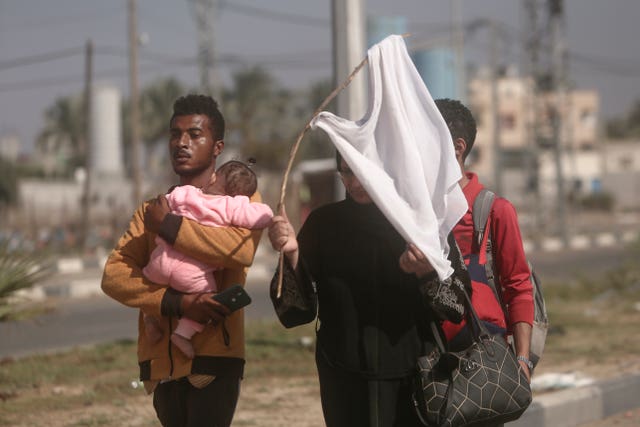 Israel says 32 of its soldiers have been killed in Gaza since the ground offensive began, and Palestinian militants have continued to fire rockets into Israel on a daily basis.
Israeli officials say thousands of Palestinian militants have been killed, and blame civilian deaths on Hamas, accusing it of putting civilians at risk by operating in residential areas. Gaza's health ministry does not distinguish between civilians and combatants in its casualty reports.
The war has stoked wider tensions, with Israel and Lebanon's Hezbollah militant group trading fire along the border.
More than 160 Palestinians have been killed in the Israeli-occupied West Bank since the war began, mainly during violent protests and gun battles with Israeli forces during arrest raids. Some 250,000 Israelis have been forced to evacuate from communities along the borders with Gaza and Lebanon.