Thousands of Taylor Swift fans queuing up for the singer's first concert in Argentina saw posters urging them not to vote for populist Javier Milei in next week's presidential election.
"A Swiftie Doesn't Vote Milei" read one of the posters, using the term commonly used to describe fans of the 12-time Grammy winner.
"Taylor defends lots of positions and things that Milei doesn't represent," said 17-year-old Julieta Bracamontes. "That sign is right and I agree with it."
At the bottom of the poster a hashtag read "Milei Is Trump".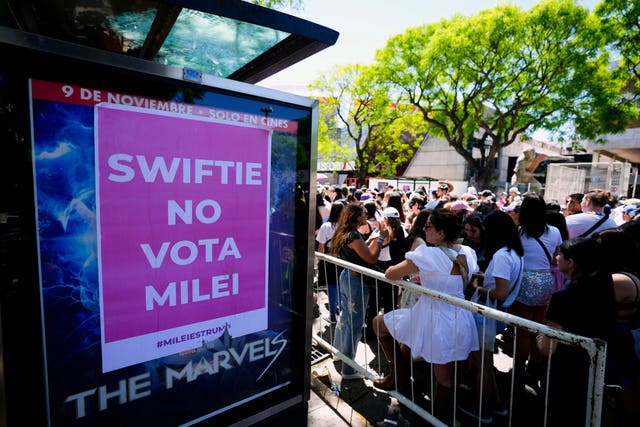 Mr Milei, a self-described anarcho-capitalist who holds lots of socially conservative positions including opposition to abortion, has often been described as Argentina's Donald Trump.
"I think Trump is very similar to Milei," said Constanza Trunsky, a psychology student, noting the points in common between Argentina's current political climate and the views Swift has expressed in the past, particularly her support for the LGBT community.
Mr Milei has said he supports marriage equality, which has been the law in Argentina since 2010, but has spoken up against sex education in schools and is opposed to the state devoting funds to assist the trans community as well as other minority groups.
Another poster that suddenly appeared in numerous locations around the Monumental Stadium in Buenos Aires showed a stylised stencil portrait of Swift holding a tray of cookies of different shapes that read, "Massa 2023" in reference to economy minister Sergio Massa, Mr Milei's opponent in the November 19 presidential run-off.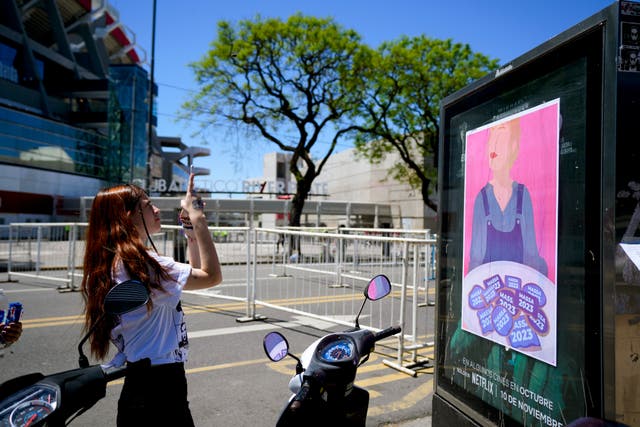 The most hardcore Swifties immediately knew the image made reference to a famous photo of an overalls-wearing Swift holding cookies in favour of US President Joe Biden's 2020 candidacy.
Politics first burst into the South American country's Swift fandom late last month, when a fan club issued a news release calling on fans of the singer to vote against Mr Milei.
Mr Milei "represents the antidemocratic right that comes to take away all our acquired rights," the fan club said in a news release.
The group spoke up shortly after Mr Massa received the most votes in the election on October 22, obtaining 37% of the total, almost seven points more than Mr Milei but not enough to avoid a run-off.
But not all Swifties agreed with the fan club meddling in politics.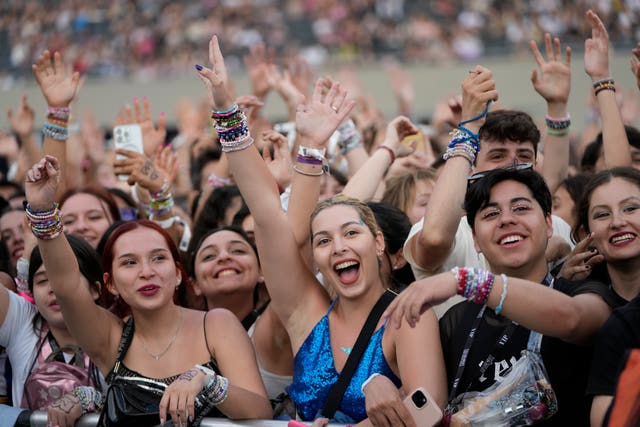 "I don't think it's something they should get involved in and say that Swifties won't vote (for Mr Milei) because everyone has their personal opinion, and they can't generalise like that," Lucila Losinno, 28, said while waiting to get into the concert.
Others who had been impatiently waiting for the Eras Tour to arrive in South America were eager to shake off any talk of politics.
"I don't sympathise with any of the politicians, but I don't know, I feel that putting the face of the artist on something political isn't very good," said Malena Garachena, 19. But "it's OK, I don't think she'll see it."