One of the signature broad, black bicorne hats that Napoleon Bonaparte wore when he ruled 19th-century France and waged war in Europe is expected to fetch upwards of 600,000 euros (£525,000) at an auction.
Other history-laden items in the sale on Sunday of industrialist Jean-Louis Noisiez's collection of Napoleonic memorabilia include a silver plate looted from Napoleon's carriage after his defeat at the Battle of Waterloo in 1815.
They also include a wooden vanity case he owned, with razors, a silver toothbrush, scissors and other personal belongings.
The faded black felt hat is the star piece, valued at between 600,000 and 800,000 euros (£525,000 to £700,000).
While other officers customarily wore their hats with the wings facing front to back, Napoleon wore his with the ends pointing towards his shoulders.
That style – known as "en battaille", in battle, in French – made it easier for his troops to spot the military general and statesman in combat.
"For people who are into Napoleonic souvenirs, it's the holy grail to have a hat," said Jean-Pierre Osenat, head of the Osenat auction house.
"There's about 20 left that are authentic and about 15 of them are kept in museums, so there's about four or five that are in collectors' hands."
The hat on sale was first recovered by Colonel Pierre Baillon, a quartermaster under Napoleon and one of his comrades in arms in many battles, including Waterloo, according to the auctioneers.
The hat then passed through many hands before Mr Noisiez acquired it.
The entrepreneur spent more than half a century assembling his collection of Napoleonic memorabilia, firearms, swords and coins before his death in 2022.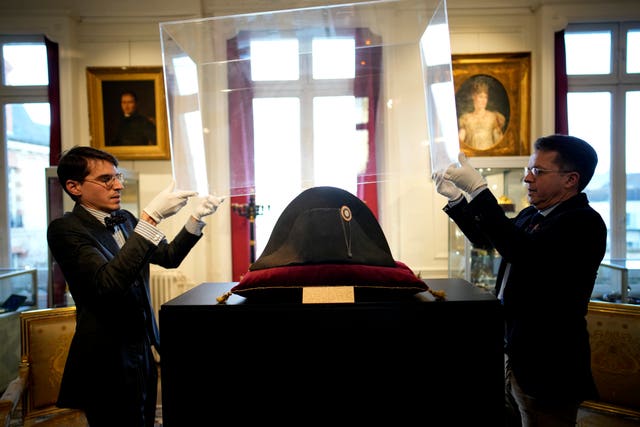 An engraving on the circular silver plate valued at 20,000 to 30,000 euros (£17,500 to £26,250) says it was taken from Napoleon's carriage at Waterloo.
The auctioneers say it was part of a haul of 180 kilograms (400lbs) of silverware that was looted during the French retreat and shared among soldiers on the winning side.
The mahogany vanity case bearing Napoleon's imperial coat of arms contains tools he would have needed to keep up appearances while campaigning, including a mirror, combs, tweezers, a shaving brush and other items.
Its estimated sale price is 40,000 to 60,000 euros (£35,000 to £52,500).