K-pop superstar Rose has spoken at a mental health awareness event hosted by US first lady Jill Biden, saying it is important for the world to understand that famous people grapple with emotional struggles, too.
"I think that would be very great, for everybody who works under the public eye," she said at the Apple Park campus in Cupertino, California, after hugging the first lady.
Rose, a part of the supergroup BLACKPINK, said having a large social media following makes her feel vulnerable, particularly when people are critical.
"I do feel like some of the things I do are just never enough, and no matter how hard I work on something, there's always gonna be somebody who has their own opinion or who enjoy taking control of the narrative," she said.
"And so, that comes to me as a sense of loneliness."
Rose said it was important to talk about such things, however difficult it may be.
"Just as we feed ourselves for better health and fitness, mental health can only be maintained equally – if not more intentionally – as our physical wellbeing."
The discussion was part of several events hosted by Ms Biden for the spouses of Asia-Pacific leaders in California this week for the annual Asia-Pacific Economic Co-operation forum.
"People who are older – we never, ever spoke about mental health," Ms Biden said.
"There was shame attached to it. But what I find as a teacher – and having my own younger grandchildren in their 20s – I think they're much more open to talking to one another, I think there's far less shame."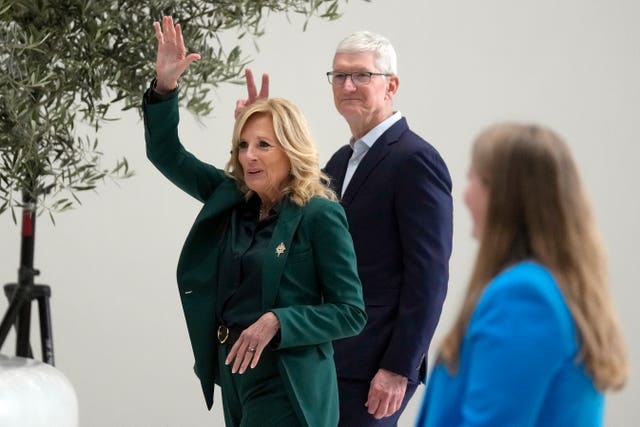 The event was moderated by surgeon general Vivek Murthy.
Apple chief executive Tim Cook opened the event but blanked briefly when the teleprompter went out.
"Don't you hate that. I hate that," Ms Biden said.
Mr Cook recovered, telling the crowd he would "go ahead and ad lib", then thanked everyone for coming and introduced the first lady.
He later defended his tech company's privacy standards when Wan Azizah binti Wan Ismail of Malaysia mentioned how artificial intelligence and manipulation can affect mental health, asking the CEO about protections on technology to protect people's private information.
"If you've ever had an Apple watch, you are being watched all the time," she said.
"Absolutely not actually," Mr Cook responded.
"We believe that privacy is a fundamental human right."