Argentina's economy minister Sergio Massa has conceded defeat to populist Javier Milei in a fiercely polarised presidential runoff, even before the country's electoral authority released official results.
Mr Massa congratulated his opponent, a right-wing economist who has promised a dramatic shake-up for many of the nation's institutions and welcomed frequent comparisons to former US president Donald Trump.
Immediately after Mr Massa's concession speech, the electoral authority released partial results. With 86.6% of votes tallied, Mr Milei had 55.95% and Mr Massa 44.04%.
With a Milei victory, the country will swing to the right amid discontent over soaring inflation and rising poverty, and empower a rookie legislator who describes himself as an anarcho-capitalist and got his start as a television talking head criticising what he called the "political caste".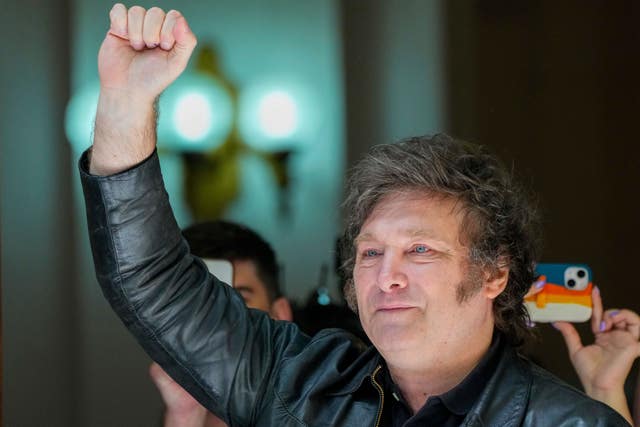 Inflation has soared above 140% and poverty has worsened while Mr Massa has held his post. Mr Milei has proposed to slash the size of the state and rein in inflation, while the government minister he was running against warned people about the negative impacts of such policies.
Mr Milei's policies resonated widely with Argentines angered by their struggle to make ends meet, particularly young men.
Mr Massa, as one of the most prominent figures in a deeply unpopular administration, was once seen to have little chance of victory, but he managed to mobilise the networks of his Peronist party and clinched a decisive first-place finish in the first round of voting.
His campaign cautioned Argentines that his libertarian opponent's plan to eliminate key ministries and sharply curtail the state would threaten public services, including health and education, and welfare programmes many rely on.
He also drew attention to his opponent's often aggressive rhetoric and openly questioned his mental acuity. Before the first round, Mr Milei sometimes carried a revving chainsaw at rallies.
Mr Milei accused Mr Massa and his allies of running a "campaign of fear" and he walked back some of his most controversial proposals, such as loosening gun control. In his final campaign ad, he looked at the camera and assured voters he had no plans to privatise education or health care.
"We did a great job despite the fear campaign and all the dirty tactics they used against us," he told journalists after he voted amid a large security operation as dozens of supporters and journalists gathered at his polling place.