Rescuers blocked from reaching 41 trapped construction workers have shifted to an attempt to dig towards them vertically after the nine-day effort in mountainous northern India was stymied by debris and technical glitches.
The trapped workers are healthy and receiving food like nuts, roasted chickpeas and popcorn though a pipe, government spokesperson Deepa Gaur said.
Oxygen is being supplied to them through a separate pipe.
The rescuers are creating an access road to the top of the hill from where the vertical drilling will start on Monday evening, said Devendra Patwal, a disaster management official overseeing the rescue efforts at the site in Uttarakhand state.
From the vertical direction, drilling to the tunnel will take a few days and debris could fall during the digging.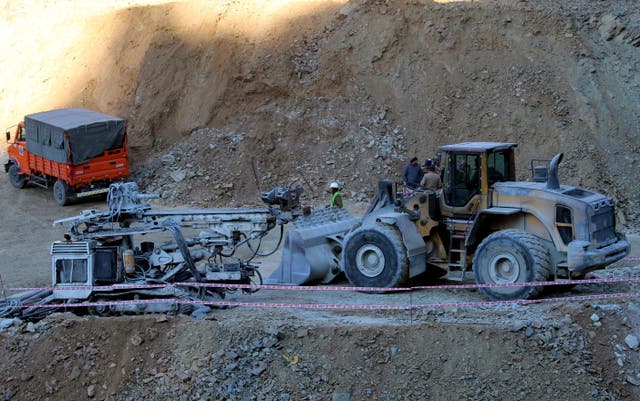 The workers have been trapped since November 12, when a landslide caused a portion of the 2.8-mile tunnel they were building to collapse about 650ft from the entrance.
Uttarakhand is dotted with Hindu temples, and highway and building construction has been constant to accommodate the influx of pilgrims and tourists. The tunnel is part of the Chardham all-weather road, a flagship federal project connecting various Hindu pilgrimage sites.
About 200 disaster relief personnel have been at the site using drilling equipment and excavators in the rescue operation.
The horizontal drilling effort involved a machine breaking through rocks and debris to create a space to insert pipes through which the trapped workers could crawl out, but it was halted after the machine was damaged. The machine's high-intensity vibrations also caused more debris to fall.
Drilling vertically from the top of the hill could also cause debris, but officials said they would use a technique designed for unstable ground.
The rescuers will need to dig 338ft to reach the trapped workers – nearly double than if they carried on digging from the front.
Officials said the efforts to reach the workers from the horizontal tunnel would continue.