Yemen's Houthi rebels have seized an Israeli-linked cargo ship in the southern Red Sea and taken its 25 crew members hostage.
The moves have raised fears that regional tensions heightened by the war are spilling into the seas.
The Iran-backed rebel group said it would continue to target ships connected to Israel.
No Israelis were aboard the Bahamas-flagged Galaxy Leader, which was operated by a Japanese company with crew members from the Philippines, Bulgaria, Romania, Ukraine and Mexico.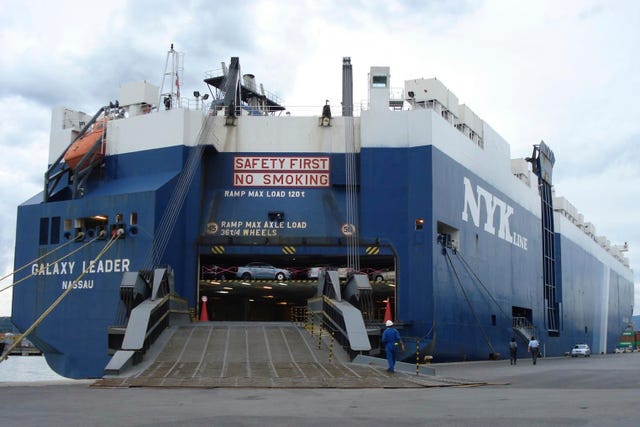 Public shipping databases associated the ship's owners with Ray Car Carriers, a company founded by Abraham Ungar, who is known as one of the richest people in Israel.
Mr Ungar told The Associated Press he was aware of the incident but could not comment as he awaits further details.
A ship linked to him experienced an explosion in 2021 in the Gulf of Oman. Israeli media blamed this on Iran at the time.
The Galaxy Leader was taken to Yemen's port city of Hodeida, according to the UK military's United Kingdom Maritime Trade Operations.
Japanese officials are negotiating with the rebels for the release of the ship and its crew, according to the country's chief cabinet secretary Hirokazu Matsuno.