Israel's cabinet was to convene Tuesday to consider a possible deal for the release of some of the hostages held by Hamas, as troops battled Palestinian militants in an urban refugee camp in northern Gaza and around hospitals overcrowded with patients and sheltering families.
Details of any deal, worked out through international mediators, were not immediately known.
Talks over the past weeks have cantered on a swap of some of the estimated 240 people taken hostage by militants in their October 7 attack into Israel for Palestinians held in Israeli prisons, accompanied by a temporary cease-fire in Gaza.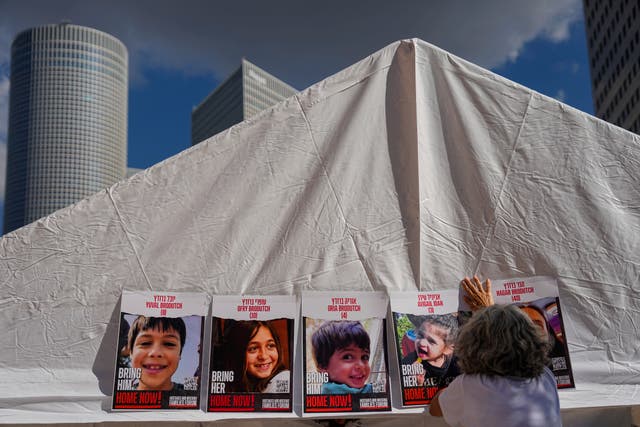 Senior Hamas officials said an agreement was near but talks have repeatedly stalled and past predictions of a breakthrough proved premature.
Israel announced that its War Cabinet, and then the full Cabinet – whose approval is needed on any deal – would convene on Tuesday evening to discuss "the issue of the release of hostages".
Commenting on the return of hostages, Israeli Prime Minister Benjamin Netanyahu said: "We are currently advancing. I do not think that it is necessary to belabour the point, not even now, but I hope there will be good news soon."
Israel's war cabinet met with representatives of the hostages' families on Monday evening.
Mr Netanyahu told families that the government considers the release of hostages and the defeat of Hamas to be equally important, according to a relative who attended.
Udi Goren, whose cousin Tal Chaimi is in captivity in Gaza, said that was "incredibly disappointing," as Israel has said it could take months to dismantle the militant group.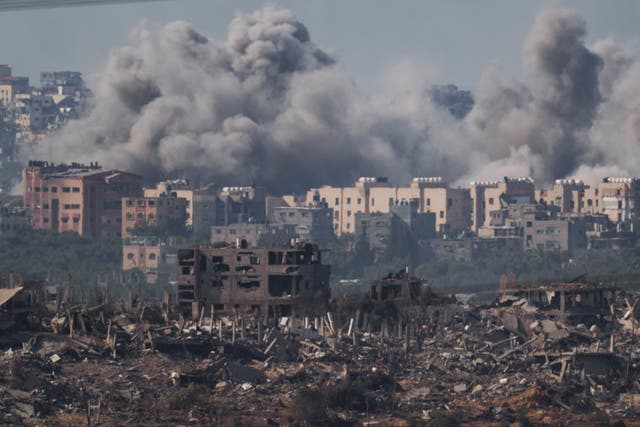 Meanwhile, inside Gaza, the front line of the war, now in its seventh week, shifted to the Jabaliya refugee camp, a dense warren of concrete buildings near Gaza City that houses families displaced in the 1948 war surrounding Israel's creation.
Israel has bombarded the area for weeks, and the military said Hamas fighters have regrouped there and in other eastern districts after being pushed out of much of Gaza City.
The fighting in Jabaliya raged around two nearby hospitals, trapping hundreds of patients and displaced people sheltering inside with dwindling supplies.
A strike on Tuesday hit inside one of the facilities, al-Awda, killing four people, including three doctors, the hospital director told Al-Jazeera TV.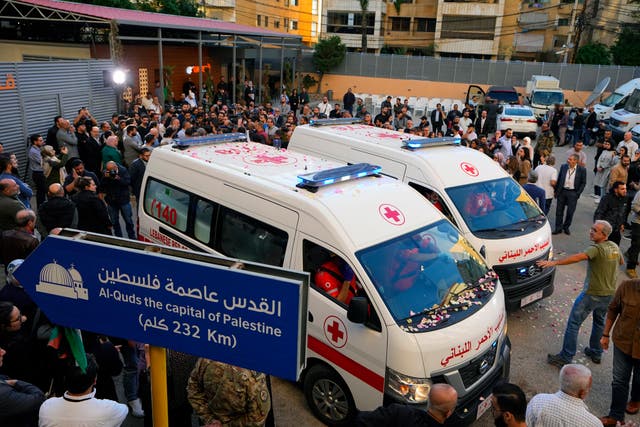 The director, Ahmed Mahna, blamed the strike on Israel, but this claim could not be independently confirmed by AP.
In southern Lebanon, an Israeli strike killed two journalists with Al-Mayadeen TV, according to the Pan-Arab network and Lebanese officials.
There was no immediate comment from the Israeli military. A separate Israeli drone strike in Lebanon killed four Hamas members, a Palestinian official and a Lebanon security official said.
The Israeli military has been trading fire almost daily across the border with Lebanon's Hezbollah group and Palestinian militants since the outbreak of the war.