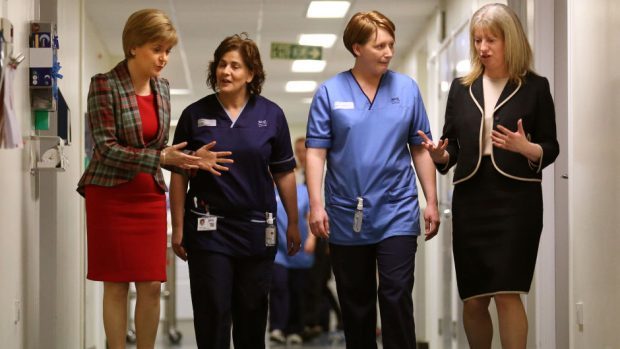 Vacancy rates for NHS consultants, nursing and midwifery staff in across Scotland continue to increase, according to new figures.
The number of nursing and midwifery posts lying vacant – given as a whole-time equivalent to account for part-time workers – has risen by 16% in the three months from March to June 2016, according to statistics released by ISD Scotland.
Of the 2,566 empty posts in June this year, 598 were vacant for three months or more, a 35% increase from March 2016 but a 5.1% drop year on year.
The nursing and midwifery vacancy rate in June stood at 4.2%, a 13.5% increase in the past year.
A total of 59,188 whole-time equivalent nurses and midwives were in post in June 2016, a 0.3% drop from March but a 0.2% increase since June 2015.
The number of NHS whole-time equivalent consultancy vacancies also increased in the three months from March to June 2016 from 355 to 414 – a 16.6% jump and 13.6% increase in the vacancy rate.
However, the yearly trend shows consultancy vacancies falling for the first time in the last five years, with a 7.4% drop year on year to June 2016 – a 9.1% fall in the vacancy rate.
The number of posts lying vacant for three months or more has increased 13% between March and June 2016, but shows just an 0.4% increase year on year.
In June there were 5,077 whole-time equivalent consultants in post, down 0.8% since March but up 2.7% in the past year.
The total number of NHS staff in Scotland has fallen slightly by 0.2% in the three months from March to June 2016 but shows an overall increase of 0.5% year on year, with a total of 138,125 whole-time equivalent staff in June 2016.
Health Secretary Shona Robison stressed the Scottish Government will work with health boards to reduce long-term vacancies.
She said: "Under this government, NHS staff numbers have risen significantly, with more consultants, nurses and midwives now delivering care for the people of Scotland.
"This demonstrates that, to give people the high-quality healthcare they deserve, we are investing in and supporting a highly-skilled NHS Scotland workforce.
"As we increase the workforce, we expect to see vacancy levels fluctuate given the natural turnover of staff in an organisation of this size.
"Fluctuations are also caused by increased number of posts available. However, we are committed to working with health boards to help them minimise long-term vacancies."
Ms Robison said Scotland is focused on the future of the NHS by developing mandatory workload and workforce planning tools for nurses and midwives, continuing to increase student intake in the sector and investing £450,000 over the next three years to reintroduce a national return to practice scheme for nurses and midwives.
The vacancy rates were criticised by opposition politicians.
Scottish Conservative health spokesman Donald Cameron said: "Ministers have been warned repeatedly for many years about vacancy levels among consultants and a lack of nurses and doctors coming through.
"These concerns have been ignored by the Scottish Government and patients and over-stretched employees are now paying the price."
Liberal Democrat health spokesman Alex Cole-Hamilton said: "Nurses and midwives are the foundation on which many NHS services are built. Health boards are clearly struggling to fill these vacancies.
"Ministers must ensure that they get the support they need to deliver a sustainable workforce that does not leave nurses and midwives overstretched."