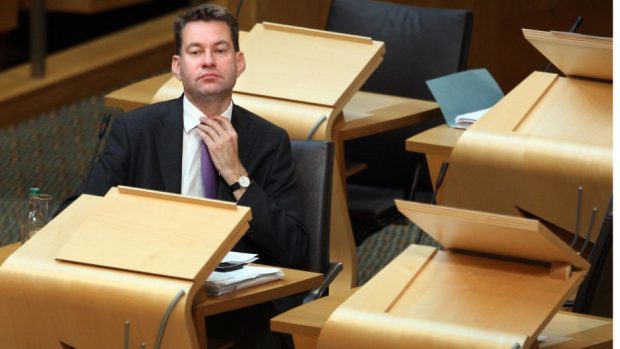 Businesses facing large increases in rates after a controversial revaluation have been urged to lodge appeals.
The Scottish Conservatives said formal objections would "send a very clear message" to the SNP on the changes, due to take effect on April 1.
Opposition parties and trade groups, including the Scottish Licensed Trade Association and Scottish Tourism Alliance, have called on ministers to intervene amid warnings some businesses could be forced to close.
Tory finance spokesman Murdo Fraser said: "By formally appealing these increases, Finance Secretary Derek Mackay would soon realise just how severe a problem this is.
"He's refusing to listen to opposition parties and experts, but he might listen to the individuals affected.
"Latest employment figures again show Scotland is trailing behind the rest of the UK and this is becoming a stubborn and worrying trend.
"If the Scottish Government doesn't heed warnings about firms going out of business as a result of these rises, the unemployment queues are only going to get longer north of the border.
"Derek Mackay seemed able to find tens of millions squirrelled away for budget negotiations, so perhaps he could find some extra cash for hard-up businesses too."
Independent assessors are carrying out the first revaluation of the rateable value of businesses since 2010, based on the estimated rental value of the premises.
Bills are then calculated by multiplying the rateable value by a "poundage rate" set by the Scottish Government and due to fall from 48.4p to 46.6p in 2017/18.
At the same time, the threshold for large businesses to pay an extra 2.6p supplement is set to rise from £35,000 to £51,000.
It has emerged the changes will cut the rateable value of the SNP's headquarters in Jackson's Entry in Edinburgh from £38,100 to £27,700, reducing the party's bill by about a third, from £19,431 to just over £12,908.
The Scottish Liberal Democrats said the revelation would leave a "bitter taste in the mouth" of firms facing large increases while the Tories described it as a "financial fillip" for the party.
A spokesman for the SNP said: "Rating valuation is undertaken by independent assessors and neither the Scottish Government – nor the SNP – has any locus or input in this process.
"The SNP's actions in government mean that from April 1st half of all businesses in Scotland will pay absolutely no business rates and seven out of 10 businesses will pay either nothing or less than they did last year."
Meanwhile, the Scottish Property Federation (SPF) has launched a campaign urging businesses to check how their rates are going to change.
Director David Melhuish said: " While some ratepayers in the retail sector are seeing their valuations reduced, hospitality and licensed trade ratepayers in particular are in some instances facing significant increases.
"Many businesses still don't realise how much or even whether the revaluation will increase their rates, so we are trying to get the message out and encourage people to check now before the new rates bills come into effect from April."
A Scottish Government spokeswoman said: "Our package of measures delivers a tax cut of £155 million, which will help those who might be impacted by a revaluation.
"It will also mean that from April 1 more than half of businesses will pay no rates, seven out of ten will pay either no or less rates than they do currently and the total package of reliefs we are offering will increase to more than £600 million.
"The first step open to all those businesses who are concerned is to contact the assessor and discuss how they worked out the provisional value.
"Final valuations will be published in March and businesses have until September to appeal. That process is entirely independent and we would encourage firms take up those opportunities."