Grant Shapps has been appointed Defence Secretary in Rishi Sunak's mini-reshuffle prompted by Ben Wallace's formal resignation.
The Prime Minister handed the role overseeing British support to Ukraine during its resistance against the Russian invasion to the energy secretary on Thursday.
Mr Shapps has never held a role in the Ministry of Defence before but is taking on his fifth role in the Cabinet in the last year by becoming its Secretary of State.
Claire Coutinho, another Tory MP seen as being close to Mr Sunak, was promoted from education minister to replace Mr Shapps as Energy Secretary.
Mr Shapps said he was "honoured" to take on the role "continuing the UK's support for Ukraine in their fight against Putin's barbaric invasion".
In Westminster, Mr Shapps is seen as an effective communicator and will be key for Mr Sunak as he leads the Tories towards a general election, expected next year.
The war in Ukraine had been a prominent feature of Mr Shapps' tenure as energy secretary, as he sought to mitigate the effects on fossil fuel availability.
He visited Kyiv last week and his family has hosted Ukrainian refugees in their home after Vladimir Putin launched his invasion last year.
Mr Sunak first appointed Mr Shapps to the role of business secretary after entering No 10. He served as Liz Truss's home secretary for six days and Boris Johnson's transport secretary until September.
Mr Wallace confirmed his departure as defence secretary on Thursday morning after announcing last month that he would bring an end to his four years in the job.
In a letter to the Prime Minister, Mr Wallace said: "The Ministry of Defence is back on the path to being once again world class with world-class people.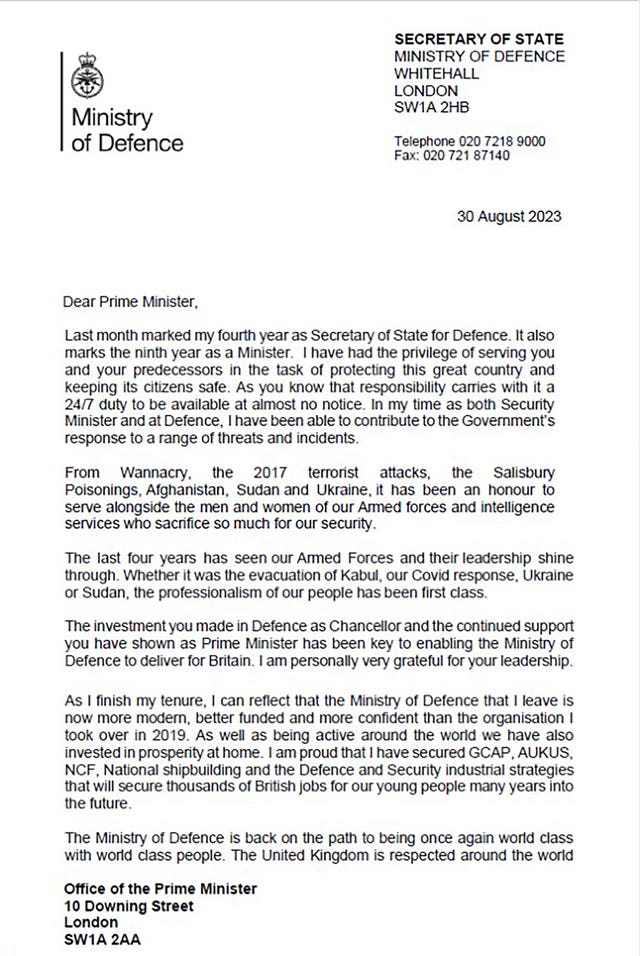 "The United Kingdom is respected around the world for our armed forces and that respect has only grown more since the war in Ukraine.
"I know you agree with me that we must not return to the days where defence was viewed as a discretionary spend by Government and savings were achieved by hollowing out."
Mr Sunak had been expected to launch a full reshuffle ahead of the Tory party conference in October but now appears to be holding off on the more wide-ranging move.
Conservative MP David Johnston was given his first ministerial role as he steps up from the backbench to replace Ms Coutinho as education minister.
Shadow defence secretary John Healey congratulated Mr Shapps at being appointed Defence Secretary but hit out at "13 years of Tory defence failures", arguing that "a change at the top will not change this record".
The Liberal Democrats accused Mr Sunak of appointing a "yes-man" to the key role, calling for an end to the ministerial "merry-go-round" under the Tories.
Mr Wallace, who served as defence secretary under three prime ministers, had made little secret of his desire to boost the defence forces budget and repeated his case for investment in his resignation letter.
"I genuinely believe that over the next decade the world will get more insecure and more unstable," he told the Prime Minister.
"We both share the belief that now is the time to invest."
Mr Sunak praised Mr Wallace, who was a captain in the Scots Guards before entering politics, for having "served our country with distinction".