Teaching suicide prevention in schools, better support for middle-aged men and a national alert system to highlight new methods of suicide could all help to bring down suicide rates in England, according to a new Government document.
Ministers pledged to reduce suicide rates in England within two and a half years as it launched a new prevention strategy.
The document highlighted how reductions in deaths by suicide have stalled since 2018.
The last prevention strategy was published more than a decade ago and the new one sees ministers set out more than 100 actions to reduce suicides in England.
Initiatives outlined in the document include:
– A national alert system to highlight new methods of suicide to schools, universities and charities and give instruction on how to react and safeguard people who could be affected.
– Medical experts to review whether reducing the number of paracetamol people can buy in shops could help bring down suicide rates.
– The Department for Education (DfE) to examine whether suicide and self-harm prevention should be part of the school curriculum.
– Half of schools in England to have mental health support teams in place by April 2025. The DfE will also offer all state schools and colleges funding to train a senior mental health lead by 2025.
– More support for bespoke services to help middle-aged men, who are at a higher risk of suicide, including support and sport groups. Ministers are also encouraging construction and manufacturing businesses to take extra steps to support workers, saying these male-dominated industries could do more to help employees.
– Ensuring pregnant women and new mothers get support at "every contact" with health professionals, who will be required to update a risk assessment at each appointment.
– Crisis text lines to be rolled out in all areas of England.
– A consultation on a potential tax for betting companies to fund "research, education and treatment of gambling harms".
– More support for bereaved families.
In 2021 there were 5,583 suicides in England and Wales, with three-quarters being men.
The document said: "While overall, the current suicide rate is not significantly higher than in 2012, the rate is not falling. We must do all we can to prevent more suicides, save many
more lives and ultimately reduce suicide rates."
It highlighted how rates of suicide among children and young people have increased in recent years, despite being low overall, adding: "Urgent attention is needed to address and reverse these trends".
Self harm rates have also been rising among children and young people, it added.
Ministers have also pledged to provide "tailored and targeted support" to "priority groups" including those at higher risk of suicide, including middle-aged men, children and young people, those who have self-harmed, mental health service users, autistic people, pregnant women and new mothers, and those "in contact with the justice system".
Others thought to be at higher risk include gambling addicts, victims of domestic abuse, substance addicts, people in financial difficulties, people who have a physical illness, and those who are isolated or lonely.
The document said early intervention is "vital" and more needs to be done to prevent people from reaching a crisis point in the first place.
It also set out ambitions for a "no wrong door" approach, which means people who seek help for suicidal thoughts will receive support no matter which service they initially access.
Health and Social Care Secretary Steve Barclay said: "It's imperative we support people earlier to prevent them reaching the lowest point, while tackling emerging methods of suicide, and eradicating harmful material online.
"We're working at pace to achieve this, and we continue to invest billions of pounds to transform and improve our nation's mental health services and, most importantly, save lives."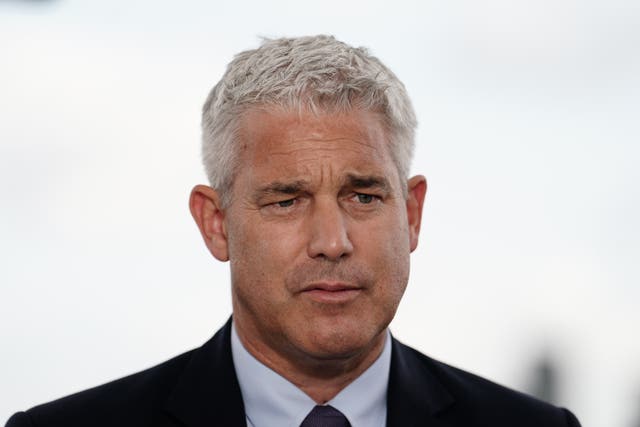 Mental health minister Maria Caulfield said: "The impact of suicide on individuals and loved ones is devastating.
"This strategy will bolster the work this Government is already undertaking to reduce the number of suicides, and help us intervene where needed as early as possible."
Samaritans chief executive Julie Bentley said: "It is great to see that the Government has responded to our calls for a new national suicide prevention strategy in England.
"However a plan without proper funding is like a car with no petrol – it may look great but it's not going to get you where you need to be.
"At Samaritans we want to get to the point of achieving the lowest suicide rates ever recorded in this country but this takes both money and ambition."
Dr Sarah Hughes, chief executive of the charity Mind, said: "Focusing on driving down suicide is welcome, and we look forward to hearing how the UK Government will fund the plans in this strategy."
Andy Bell, chief executive of the Centre for Mental Health, said: "The strategy must be fully funded, with sufficient resources for local councils to take action in their communities to prevent tragic losses of life."
Mark Winstanley, chief executive of Rethink Mental Illness, said: "We welcome efforts from Government to tackle suicide, and within this there is of course a need to prevent access to methods for taking your own life.
"But we must invest the bulk of our resources and energy into supporting people before they reach crisis point. Suicide is complex but preventable, and Government can have a significant impact if it works across its departments to tackle the root causes.
"Additionally, we know that local authorities face significant challenges with resources at present, and so we're keen to see whether more funds are provided to help them reduce suicide in their local areas."
– Samaritans can be called on 116 123, or emailed at jo@samaritans.org