Sir Keir Starmer has said it is "complete garbage" to suggest Labour planned to join an EU-wide migrant quota scheme as part of efforts to tackle small boats crossings in the Channel.
It comes in a week that saw Prime Minister Rishi Sunak and Home Secretary Suella Braverman accuse Labour of planning to let the UK become a "dumping ground" for 100,000 migrants from the EU each year.
The political row emerged after the Labour leader indicated he could be prepared to do a deal with Brussels which would involve the UK taking a quota of asylum seekers who arrive in the bloc in exchange for the ability to return people who cross the English Channel.
That indication came during a week that saw Sir Keir travel to The Hague, in the Netherlands, for talks with the EU's Europol law enforcement agency.
Labour has proposed speeding up data and intelligence sharing with Europe as part of a new post-Brexit security pact and strengthening powers to restrict the movement of those suspected of organised immigration crime.
But the Tories seized on any suggestion that he would be prepared to negotiate with Brussels on the possibility of accepting a migrant quota as part of an EU deal.
Speaking to Sunday Morning with Trevor Phillips on Sky News, Sir Keir called Conservative claims "complete nonsense".
He said: "Let me be absolutely crystal clear about this, because the Government has been pumping out complete garbage this week in terms of the numbers that they are suggesting.
"There is obviously an EU quota system for EU members. Well, it's obvious we are not an EU member.
"We will not be part of that. We are not an EU member. This is why what the Government's saying, it's been complete garbage.
"Even that scheme within the EU is not working.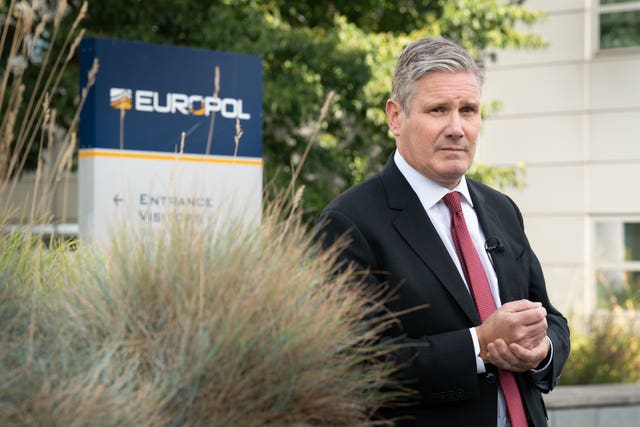 "I've been discussing that with EU leaders up here. That scheme itself isn't really working very well. So the idea that we're going to join the EU scheme on quotas is complete nonsense. We're not an EU member and that wasn't what I was talking about."
Facing questions on whether a Labour government would put a limit on the number of migrants it would accept in any returns deal, shadow chancellor of the Duchy of Lancaster Pat McFadden told BBC One's Sunday With Laura Kuenssberg: "I don't think it's going to be an allocation of numbers, we're talking about individual cases where a child may have strong family links here.
"It's not 'we'll take this many, you take that many' – that's not the kind of negotiation we want to have."
In the same Sky News interview, Sir Keir also faced questions about whether he could guarantee the tax burden – currently the largest since the Second World War – would not be higher under Labour.
The Labour leader, alongside shadow chancellor Rachel Reeves, have sought to stress the party's plans for fiscal prudence in recent months amid a difficult economic landscape.
"I want it to come down for working people.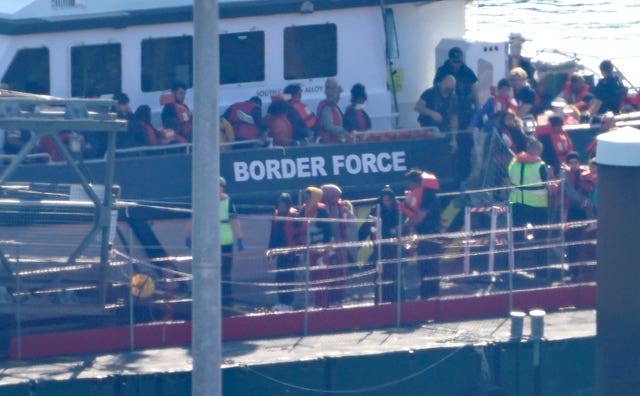 He said he was also "absolutely focused on growing the economy".
"If the economy in the last 13 years had grown at the same rate as the last Labour government, we'd have tens of billions of pounds to spend on our public services without raising a penny more in tax. And that's where I want that laser focus," he said.
He also brushed off Commons Leader Penny Mordaunt's Barbie-based jibe that like Beach Ken Sir Keir has "zero balls".
"I just think when a government has completely run out of energy and ideas and the ability to shape or change anything, they go down this rabbit hole of ridiculous insults. It's water off a duck's back to me," he said.
The Conservatives hit back at Sir Keir after his interview and repeated their claims.
Immigration minister Robert Jenrick said the Labour leader's policy is "completely falling apart".
He said: "The only certainty is his short-term fix would mean 100,000 more illegal migrants in Britain every year.
"Starmer doesn't have the backbone to be honest about his real position (as) soon as he comes under political pressure.
"He's still refusing to rule out a bespoke EU deal in which he'd open the door to Europe's illegal migrants. He's taking the British people for fools if he thinks they can't see through him."