More than three-quarters of Scots support assisted dying, according to a survey.
The poll was carried out for a new report called Time For Choice, which will be launched by the Dignity in Dying Scotland charity at a parliamentary event on Tuesday.
The survey by YouGov of 1,084 adults found 58% had seen someone suffering at the end of their life and 77% support assisted dying, while 12% of respondents are opposed to a proposed Bill on the issue.
Dignity in Dying Scotland estimates up to 650 people who are dying end their own lives every year, and it described the suicides of terminally ill people as "often lonely and violent".
Liberal Democrat MSP Liam McArthur has put forward an Assisted Dying Bill which would allow a terminally ill adult of sound mind to legally seek assistance to end their life through approved medication, following the approval of two doctors.
It has been opposed by the Catholic Church in Scotland and the Scottish Association of Mosques. The Church of Scotland has pledged to review its initial opposition to the Bill due to "very deep and meaningful" conversations.
Assisted dying legislation is already in use in Australia, New Zealand and 10 US states.
The charity claimed 79% of disabled Scots and 73% of Church of Scotland members are in favour of the Assisted Dying Bill.
Its report highlights the case of Robert Easton, 69, a retired firefighter from Hamilton, South Lanarkshire, who researched suicide before his death from pancreatic cancer.
His daughter Joanne described the methods he considered as "brutal".
Ms Easton said: "All he wanted was the chance and control to end his own life when he wanted to."
Ally Thomson, director of Dignity in Dying Scotland, said: "The evidence is overwhelming that the current blanket ban forces dying people to make increasingly desperate decisions.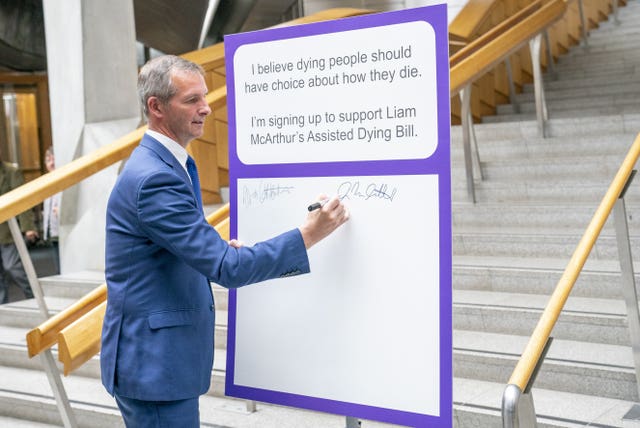 "There is nothing compassionate, safe, transparent or regulated about dying people taking matters into their own hands or trying desperately to scrape together £15,000 to have a peaceful death abroad.
"This suffering is a reality for dying Scots right now and I call on MSPs to listen to what the majority of us want, what terminally ill people are telling us they need and vote to consign these harms to history."
Mr McArthur said: "While I welcome the report's findings and their contribution to the evidence that backs my member's Bill, I am greatly concerned about the situation on the ground for dying people facing a bad death.
"The evidence uncovered as regards the extent of suffering and what the lack of a safeguarded assisted dying law is driving terminally ill Scots to consider is in line with the experiences that people from all across Scotland are getting in touch to tell me about.
"We know that excellent palliative care is the right path for the majority of dying people but for those who need more choice, right now they are being failed by a bad law.
"I am particularly struck by the fact that support for my proposals is so high amongst disabled Scots and those who attend the Church of Scotland.
"I think this is significant in light of some of the concerns that have been raised in the context of the debate about my proposals.
"In truth, we know that the evidence shows that tightly safeguarded and compassionate assisted dying laws work not only in giving dying people what they need but in providing protections for all groups as well."