Cross-party politicians have joined forces to write to First Minister Humza Yousaf demanding answers for 175,000 people with long Covid.
Scottish Liberal Democrat leader Alex Cole-Hamilton, Scottish Labour health spokeswoman Dame Jackie Baillie and Scottish Conservative health spokesman Sandesh Gulhane demanded evidence of what actions have been taken to help patients.
The MSPs claimed 52 times as much cash has been spent in England on long Covid than in Scotland, and they warned many people are being forced to turn to private healthcare or risk unlicensed treatments.
In June last year, Mr Yousaf met families of children with long Covid, including some who had paid for private treatment out of desperation for help.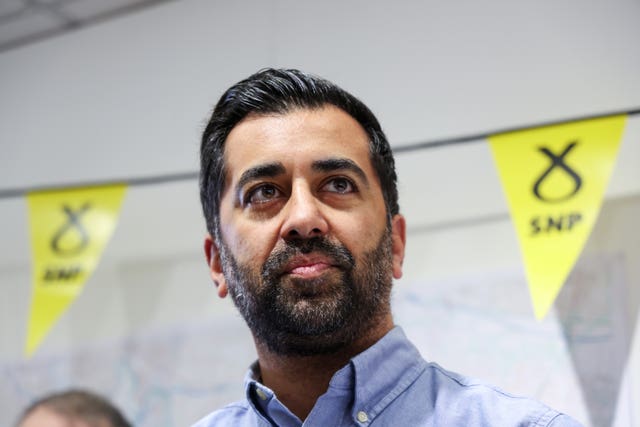 Afterwards, Mr Yousaf, then the health secretary, penned a letter to one family saying he took the issues they had highlighted "very seriously".
But a mother who attended, Helen Goss, said nothing has changed to support her daughter Anna, who is in a wheelchair.
Mrs Goss said: "When we, and other families, met Humza Yousaf in June 2022, we were encouraged by his words and seemingly determined commitment to help our children by funding long Covid services in Scotland.
"Over a year later and we still have no paediatric support, diagnostics or treatment. We have to spend thousands of pounds that we don't have on private health and social care.
"If families cannot afford private healthcare, they are isolated and forgotten, often with worsening health. This is not good enough."
The MSPs behind the letter to Mr Yousaf describe long Covid as "the largest mass disabling event since the end of the First World War".
Their letter said: "Our research has shown that the Scottish Government has so far either spent or allocated just £6 million of its £10 million long Covid support fund, in comparison to England's £314 million.
"This lack of funding is having a significant impact on the ability of health boards to provide clinicians with training and updated learning that would allow them to diagnose and treat long Covid.
"Many have been forced to fund their own treatment through private clinics or put themselves at risk with unlicensed medications.
"We are writing to ask how much funding you plan to provide for long Covid services, when you plan to make funds available, and how you plan to allocate to include diagnostics tests, licensed medication and treatments that are only available privately.
"Are you satisfied that the actions you have taken, both during your time as cabinet secretary for health and now as First Minister, to fund and develop effective treatment pathways for long Covid have been satisfactory?"
A Scottish Government spokesperson said: "We recognise the significant impact that long Covid can have on the health and wellbeing of those most severely affected, and assessment and support is being provided across Scotland.
"We are making available £3 million from our £10 million long Covid support fund over this financial year to support NHS boards to increase the capacity of existing services, develop these into more clearly defined local pathways and provide a more co-ordinated experience.
"This is in addition to what our healthcare system – supported by record funding of more than £19 billion – is already delivering in caring for people with long Covid across our full range of NHS services.
"Assessment and initial investigation for children and young people with symptoms consistent with long Covid is being provided by local primary care teams, who can give advice and guidance about the management of symptoms and any potential treatment options.
"Primary care clinicians can refer to occupational therapy and/or physiotherapy for further support where appropriate. Where referral to secondary care is required, children and young people may be referred to general paediatric services for investigation and management."