Police would be asked to use counter-terror style tactics to monitor the 1,000 most dangerous abusers and sex offenders in England and Wales under a Labour government.
Shadow home secretary Yvette Cooper said officers would be told to "relentlessly pursue" perpetrators who pose the greatest risk to women and girls using "all the tools at their disposal".
Under the plans, forces would use data and intelligence on named suspects and repeat offenders of rape, stalking and domestic abuse to devise a matrix of the most dangerous perpetrators in their area.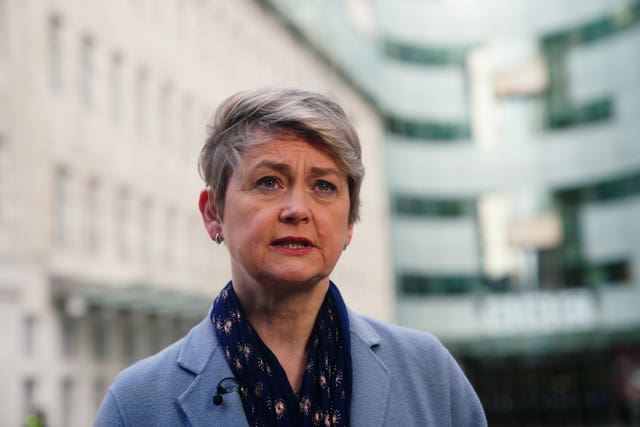 It forms part of Labour's mission to halve incidents of violence against women and girls in a decade.
The party believes this would enable police across England and Wales to identify the 1,000 most dangerous alleged perpetrators, including those accused of murder or attempted murder.
The new approach would be designed to encourage policing and criminal justice systems to look more at wider patterns of behaviour rather than individual incidents, Labour said.
"Despite the seriousness of the multiple allegations and intelligence against them, too often no further action is taken, leaving them free to abuse or rape again," the party said.
Ms Cooper will lay out the proposals in more detail at Labour's annual conference in Liverpool, where MPs, delegates and lobbyists are gathering this weekend for five days of policy debate, rallies and networking.
Forces will be asked to systematically rank high-risk suspects according to the frequency, recency and severity of allegations made against them.
Once identified, Labour says those perpetrators should be targeted with the full armoury of police resources, including the tactics and tools normally reserved for counter-terror and organised crime.
These include covert and surveillance operations and most-wanted manhunts, as well as working with victims to revisit cases and compile new evidence and witness statements in order to get prosecutions over the line.
In some ways, the plans echo the party's proposed strategy to tackle people-smuggling, which it has also said it would put on a footing alongside counter-terrorism and fighting organised crime.
Labour has also vowed to strengthen powers to restrict the movement of people smugglers by making it quicker and easier to obtain civil orders, known as serious crime prevention orders, which are used to target offenders such as terrorists and drug traffickers.
The party pointed to a suspect-led programme being piloted by the Metropolitan Police as an example of its approach towards tackling violence against women and girls, which it says could form a blueprint for other forces.
The Met says that the 100 dangerous individuals identified in their V100 programme are 1,000 times more harmful than most other offenders, suggesting positive early results.
Labour says it would work with policing bodies such as His Majesty's Inspectorate of Constabulary and the College of Policing to devise national guidance for the strategy.
An independent monitoring and oversight mechanism to ensure that data-led approaches are routinely and rigorously tested would also be used, it said.
Ms Cooper said: "Violence against women and girls is endemic in our society and under the Conservatives it has remained shamefully and persistently high. Enough is enough.
"Under Labour, the police will be asked to relentlessly pursue the perpetrators who pose the greatest risk to women, and use all the tools at their disposal to protect victims and get dangerous offenders off the streets.
"The police should be exhausting every opportunity for enforcement, prevention and protection – too often failure to do so has had devastating and fatal consequences.
"For far too long, dangerous criminals have been let off and victims have been let down. Labour will be unrelenting in its mission to halve incidents of violence against women and girls in a decade".