Sir Keir Starmer has said Labour must not become "giddy" at the prospect of power as he unveiled plans to create an extra 2.2 million NHS appointments a year.
The party leader told the Observer that winning a likely general election next year would require "go(ing) up another gear" to convince swing voters the Opposition can be trusted in government, as he warned against complacency.
Meanwhile in an interview with the Sunday Mirror, he set out proposals to pay doctors and nurses overtime to carry out more procedures like scans and operations on the weekend.
The plan, which the party estimates would create more than two million extra appointments a year, would be backed by £1.5 billion which Labour says would come from scrapping the non-dom tax status.
Abolishing the regime is how the party plans to fund the largest ever workforce expansion in the NHS.
"I think everybody knows someone who's on the NHS waiting list. And I'm certainly not immune from that. This is a period of high anxiety for individuals – huge personal discomfort in many cases," he said.
It comes as MPs, delegates and lobbyists gather this weekend for policy debate, rallies and networking at what could be Labour's last conference before the election.
Sir Keir has arrived at the annual event buoyed by a sustained double-digit lead in the polls and a resounding by-election victory over the SNP in Scotland's Rutherglen and Hamilton West seat.
In another major coup for Labour, leading barrister and former wife of Boris Johnson, Marina Wheeler KC, is reportedly set to be appointed the party's "whistleblowing tsar" to advise on reforms to women's employment rights.
The changes would see women who are bullied and sexually harassed in the workplace given new protections as whistleblowers, The Independent reported.
Ms Wheeler's appointment would follow the hiring of former senior civil servant Sue Gray, who oversaw the report into pandemic-era rule-breaking in Downing Street during Mr Johnson's tenure, to Labour's team.
But the party leadership is cautious not to appear overconfident, with his deputy Angela Rayner also insisting it was "certainly not taking anything for granted" despite the "seismic" win north of the border.
Shadow chancellor Rachel Reeves will take to the main stage on Monday to detail Labour's plans for economic growth, before Sir Keir's keynote address on Tuesday.
In an interview with The Sunday Times, she suggested the party could offer incentives to so-called "nimbys" to allow green development in their area.
This could mean cutting energy bills for people who live near onshore wind farms or electricity pylons.
"I think that people deserve something in return," she told the paper. "It's the same with housing."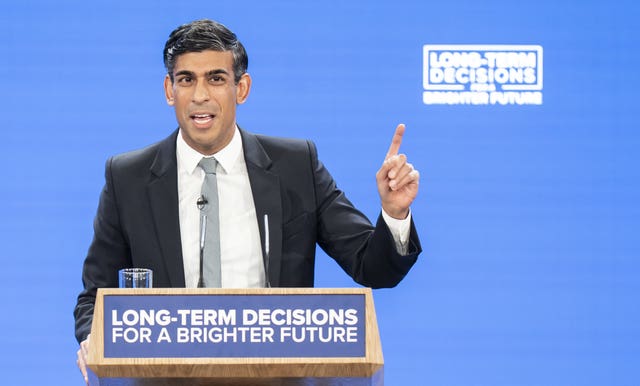 Elsewhere, shadow justice secretary Shabana Mahmood told The Sun on Sunday Labour must not be too "queasy" about concerns over high immigration figures.
But she denounced Home Secretary Suella Braverman for claiming a "hurricane" of migration was coming, describing the rhetoric as "the lowest kind of politics".
Labour also pledged on Friday to double the number diagnostic scanners in hospitals and get tough on property developers as it sets out its stall on health and housing ahead of the five-day conference.
The gathering follows the Conservatives' conference in Manchester, which was overshadowed by the fate of HS2.
Mr Sunak defied senior Tories and business leaders to scrap the rail line from Birmingham to Manchester, saying "the facts have changed" and the cost of the high-speed rail scheme had "more than doubled".
Sir Keir has said Labour cannot commit to reversing the decision if it wins the next general election due to the "damage" done by the Government.
The Tories urged him to clarify his position on HS2, as well as his support for a raft of transport schemes announced by Mr Sunak in place of the cancelled leg.
Conservative Party chairman Greg Hands said: "We all know Keir Starmer won't tell us his plans if he becomes prime minister because he's afraid of losing votes, and he changes his position to whatever he thinks people want to hear.
"Our country faces an important choice: Rishi Sunak, who will make the hard but necessary long-term decisions to get the country on the right path for the future, or Sir Keir Starmer, who is just like the same old politicians that have come before – always focused on the short-term and lacking the backbone to make the big changes Britain needs."