The Royal Navy aircraft carrier HMS Prince of Wales has been carrying out flight trials with F-35B Lightning stealth jet fighters during exercises in the US.
The £3 billion warship left its home base of Portsmouth last month – a year late after suffering a broken propeller shaft on a previous trip in August 2022, leading to months of repairs costing millions of pounds.
Test pilots from the Naval Air Warfare Centre Aircraft Division (Nawcad) Air Test and Evaluation Squadron Two Three (VX-23), Naval Air Station Patuxent River (Nas Pax River), Maryland, joined the carrier for the flight trials, which took place after the carrier sailed from Norfolk Naval Station in Virginia.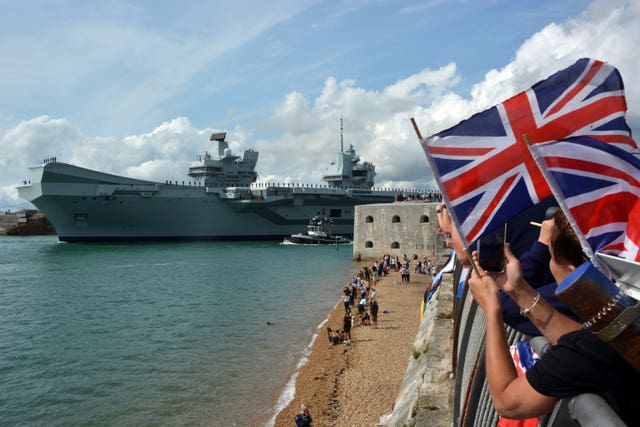 A Navy spokesman said: "HMS Prince of Wales will chase bad weather and heavy seas while the jets themselves will take-off and land with various weapons and fuel loads, experiment returning from 'missions' still carrying missiles/bombs – rather than ditching them in the ocean – and practice landing by rolling to a stop on the flight deck rather than touching down vertically."
Commanding officer Captain Richard Hewitt said: "This is why we are here. Over the next few weeks we will work together with the F-35 programme to increase the capability of the world's most advanced fifth-generation stealth fighter alongside the UK's fifth-generation aircraft carrier.
"During this phase of our deployment we will see the jet develop advanced landing and take-off techniques, allowing it to recover heavier, turn around faster and launch with more weapons."
The carrier's sister ship HMS Queen Elizabeth is operating in northern European waters with a planned visit to Sweden this weekend before resuming its autumn deployment with Nato and Joint Expeditionary Force allies.