The Prime Minister's wife Akshata Murty has met a group of Chelsea Pensioners in Downing Street where she hosted a reception ahead of Armistice Day.
The group, which also included minister for veterans' affairs Johnny Mercer, posed outside No 10 wearing Royal British Legion (RBL) poppies.
Ms Murty chatted with the uniformed Chelsea Pensioners, and held the hands of one of them as they spoke.
Ross Martin, Regimental Sergeant Major at the Royal Hospital Chelsea said: "The Chelsea Pensioners, staff and volunteers from the Royal Hospital were delighted to visit Downing Street today.
"As we approach Remembrance Sunday, those who have served their country are in the thoughts of the nation as we remember those who have fought in conflicts in the past.
"The Chelsea Pensioners are always proud to represent the Army veteran community."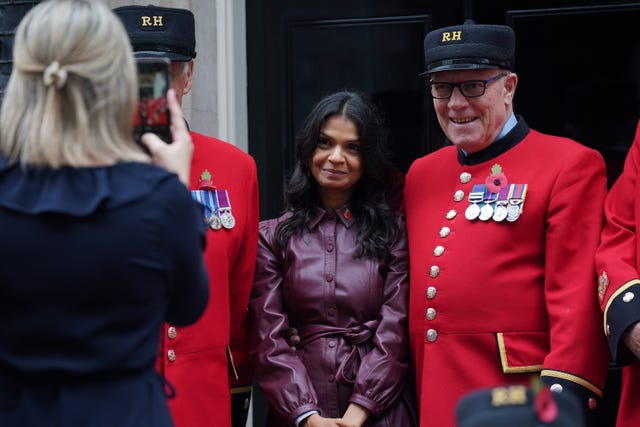 The Chelsea Pensioners sported poppies above their medals or on their hats while Ms Murty had a poppy pin attached to her lapel.
For the 2023 Poppy Appeal, the RBL introduced a plastic-free poppy made entirely from paper in the first new poppy development in 28 years, according to the charity's website.
Talking about the new design on X, formerly Twitter, the RBL said: "As we approach #RemembranceSunday, please wear a poppy to show the Armed Forces community you care, and help us raise vital funds to support Serving personnel, veterans, and their families all year round."