India and Georgia are to be added to a list of "safe states" where people who arrive in the UK on small boats could be sent under Government plans.
Draft legislation was laid on Wednesday to include the two countries in the list, meaning that if an individual travels to Britain from either nation without permission they will not be able to claim asylum, the Home Office said.
Campaigners criticised the move, telling the Government to stop focusing on "evermore unworkable and unprincipled policies" and start working on running an asylum system "that gives people a fair hearing" and makes decisions "in months not years".
Prime Minister Rishi Sunak has made stopping small boats of asylum seekers from crossing the Channel one of the five key priorities of his leadership.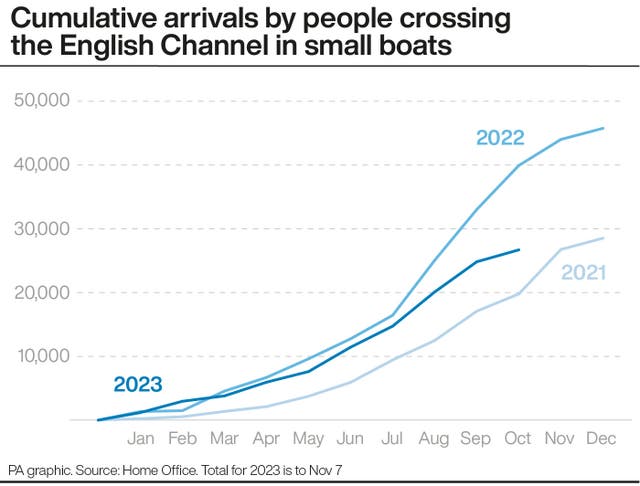 But since the year started, more than 26,000 migrants have arrived via the dangerous journey, according to the latest UK Government figures.
The Illegal Migration Act brought into law the Government's policy of sending some asylum seekers to Rwanda.
Ministers are currently awaiting a Supreme Court judgment on whether the plan is lawful, with a deportation flight yet to take off for the east African nation.
Home Secretary Suella Braverman, who last week visited the Greek island of Samos to "learn" from the country's "policy of deterrence" and "tough measures" on migration, said expanding the list "sends a clear message that if you come here illegally, you cannot stay".
"We remain committed to delivering the measures in our Illegal Migration Act, which will play a part in the fight against illegal migration," she said.
Jon Featonby, chief policy analyst at the Refugee Council, said: "Rather than put in place a functioning process, the Government is trying to exclude more and more people from the UK's asylum system. Most of the Illegal Migration Act hasn't even come into force yet, and the Government are already trying to make it even more draconian.
"Instead of evermore unworkable and unprincipled policies, the Government should be focusing on running an asylum system that gives people a fair hearing in the UK, making decisions in months not years."