Home Secretary Suella Braverman accused police of "double standards" and "playing favourites" with protesters as a pro-Palestinian march on Armistice Day appeared set to go ahead despite Government objections.
Mrs Braverman claimed that "pro-Palestinian mobs" are "largely ignored, even when clearly breaking the law".
Prime Minister Rishi Sunak hauled in Metropolitan Police chief Sir Mark Rowley for an emergency meeting about the march planned in London, saying he would hold the Scotland Yard boss "accountable" if there was trouble.
Sir Mark has faced pressure from senior Tories to ban Saturday's march in London, but has said the law would only allow him to do so only in "extreme cases".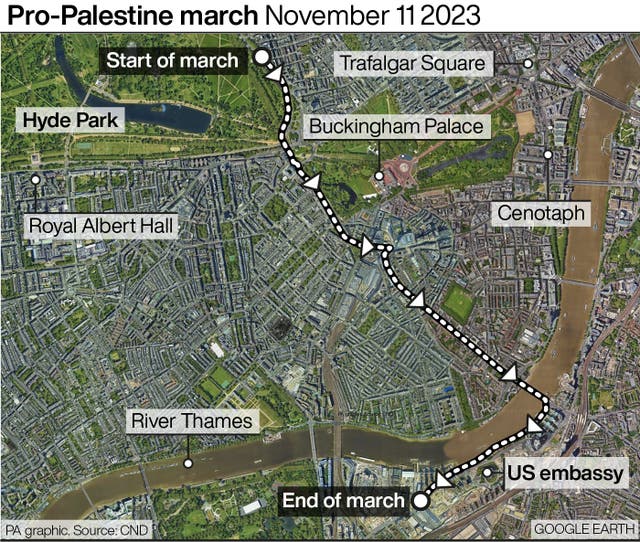 Following their talks on Wednesday, Mr Sunak said the planned protest on Armistice Day is "not just disrespectful but offends our heartfelt gratitude to the memory of those who gave so much so that we may live in freedom and peace today" and "part of that freedom is the right to peacefully protest".
But writing in The Times, Mrs Braverman said: "I do not believe that these marches are merely a cry for help for Gaza.
"They are an assertion of primacy by certain groups — particularly Islamists — of the kind we are more used to seeing in Northern Ireland. Also disturbingly reminiscent of Ulster are the reports that some of Saturday's march group organisers have links to terrorist groups, including Hamas."
Mrs Braverman claimed "there is a perception that senior police officers play favourites when it comes to protesters".
She said: "Right-wing and nationalist protesters who engage in aggression are rightly met with a stern response yet pro-Palestinian mobs displaying almost identical behaviour are largely ignored, even when clearly breaking the law?
"I have spoken to serving and former police officers who have noted this double standard.
"Football fans are even more vocal about the tough way they are policed as compared to politically connected minority groups favoured by the left.
"It may be that senior officers are more concerned with how much flak they are likely to get than whether this perceived unfairness alienates the majority. The Government has a duty to take a broader view."
Mrs Braverman's article is her latest high-profile intervention, with ministers in recent days seeking to distance themselves from some of her comments.
She has described the protests as "hate marches" and also claimed some people were homeless as a "lifestyle choice".
Mr Sunak's meeting with Sir Mark had appeared to ease some of the tension between the Government and the Met, before Mrs Braverman's broadside.
Following his meeting with Sir Mark, Mr Sunak said police had confirmed the march will not be near the Cenotaph on Whitehall and timings will not conflict with remembrance events.
But the Prime Minister added: "There remains the risk of those who seek to divide society using this weekend as a platform to do so.
"That is what I discussed with the Metropolitan Police Commissioner in our meeting.
"The commissioner has committed to keep the Met Police's posture under constant review based on the latest intelligence about the nature of the protests."
There have been fears that breakaway groups from the main march and counter-protests by far-right groups could lead to violence.
Earlier, the Prime Minister said the Met chief had insisted he could "ensure that we safeguard remembrance for the country this weekend as well as keep the public safe".
"Now, my job is to hold him accountable for that," Mr Sunak said ahead of the meeting with Sir Mark.
Tory peer Lord Greenhalgh, a former deputy mayor for policing in London, suggested Mrs Braverman's comments had crossed a line.
"I just don't think that's a reasonable way for a home secretary to behave," he told BBC's Newsnight.
He said she should "have the row in private" with the Met, rather than in the media.
Shadow home secretary Yvette Cooper said: "Suella Braverman is out of control."
Writing on social media, she said Mrs Braverman's article "is a highly irresponsible, dangerous attempt to undermine respect for police at a sensitive time, to rip up operational independence & to inflame community tensions".
"No other Home Secretary of any party would ever do this."
London Mayor Sadiq Khan said Mrs Braverman's words were "inaccurate, inflammatory and irresponsible".
Liberal Democrat home affairs spokesman Alistair Carmichael said: "Suella Braverman is running a Conservative party leadership campaign, not the Home Office.
"The Home Secretary's desire to stoke divisions and ramp up tensions in this way is irresponsible and dangerous."
The Met had urged march organisers to "urgently reconsider" the event on Saturday because of a growing risk of violence, but the pro-Palestinian coalition behind it have refused to call it off.
The force could request the power to ban the event under Section 13 of the Public Order Act 1986, but that would only apply if there was the threat of serious public disorder which could not be controlled by other measures.
The secretary of one of the groups behind the march, the Palestine Solidarity Campaign, was working for Labour until this week, The Sun reported.
Ben Soffa had been the party's head of digital organising, but he said he was now "off to explore new opportunities".
A Labour source said: "We're grateful to Ben for all his work for the party and wish him all the best for the future."
The planned route for the London march goes from Hyde Park – about a mile from the war memorial in Whitehall – to the US embassy in Vauxhall, south of the Thames.
The Festival of Remembrance at the Royal Albert Hall, which will be attended by the King and Queen and other members of the royal family, will take place on Saturday.
Remembrance Sunday events will take place at the Cenotaph in Westminster the following day.
In an indication of the challenges faced by police, the Met said that since the Hamas massacre in Israel on October 7, there have been 188 arrests involving hate crimes or linked to protests in London.
Commander Paul Trevers said: "This is a challenging time for communities in London.
"We continue to see a very concerning rise in both antisemitic and Islamophobic hate crime. This is absolutely unacceptable."