The Scottish Government is set to unveil an "alternative direction" for the country in plans for European Union membership in an independent Scotland.
Constitution Secretary Angus Robertson will publish the plans on Friday in the seventh in a serious of independence prospectus papers.
Ahead of its publication, Mr Robertson said regaining EU membership will have its "challenges", which include a potentially lengthy accession process.
However, he said the plans would demonstrate the "immense value" EU membership would bring to Scotland.
The latest paper in the Building a New Scotland series states the Scottish Government would use the "tried and tested" route to membership, which is through the Article 49 process.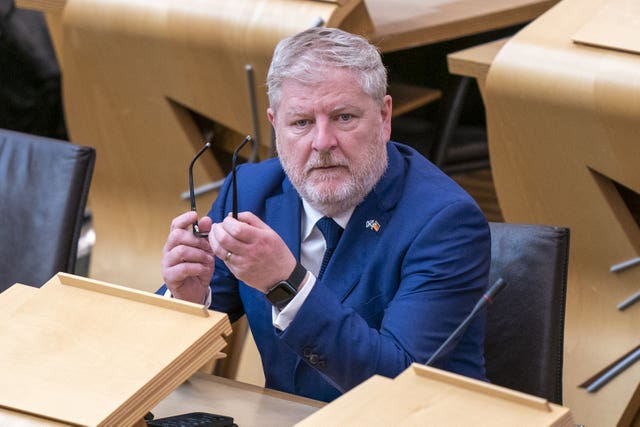 It would require Scotland to commit to promoting EU values and meeting the Copenhagen criteria – which states democracy, law and human rights be respected, while prospective countries must also meet the criteria of a "functioning" market economy that can cope with competition and market forces in the EU.
In his argument, Mr Robertson will say "disastrous" Westminster decisions on Brexit have failed Scotland and driven down living standards.
Speaking ahead of the publication, he said: "Independent countries like Scotland are wealthier and fairer than the UK, so with all our resources and talents why not Scotland?
"Both Labour and the Tories are happy to impose a disastrous hard Brexit on Scotland which the UK Government's own fiscal watchdog thinks will cut national income by 4% compared with EU membership – wiping around £100 billion from the UK economy and leaving people on average earnings £1,300 worse off.
"Today the Scottish Government is setting out an alternative direction for Scotland which will detail our shared European values, how we will trade with the rest of the UK and the EU, the immense value to Scotland of being a European Union member state, and the contribution we would make to achieving the EU's goals.
"There will of course be challenges, and the tried and tested accession process to go through, but we can escape the costs of Brexit and build a new and better relationship with our friends on these islands: taking advantage of new opportunities as part of the EU and the world's largest single market, which is seven times the size of the UK."
A UK Government spokesperson said: "People in Scotland want both their governments to be concentrating on the issues that matter most to them, like growing our economy, halving inflation and improving public services.
"We want to work constructively with the Scottish Government to tackle our shared challenges because that is what families and businesses in Scotland expect.
"This is not the time to be talking about distracting constitutional change."