The Prime Minister has said "working people are paying the price" for Labour councils' "financial mismanagement" after Nottingham City Council said it faced a £23 million in-year budget gap.
Rishi Sunak spoke days after the Labour-run city council said it could declare effective bankruptcy if an assessment found it could not feasibly balance its books.
The council has previously said that despite the £23.3m forecasted overspend, it is not insolvent or bankrupt and can meet its current financial obligations, but said increased demand for social care, rising homelessness and inflation had all had an impact.
Speaking to the Nottingham Post at The Bolsover School in Chesterfield, Derbyshire, on Friday, Mr Sunak said: "This year, because of the decisions the government has made, local councils across the country will have on average about 10% more cash to spend on local services than they did last year.
"Indeed, days after, weeks after I became Prime Minister, we announced billions of pounds of extra funding, particularly for social care, which is the most acute pressure that local councils face, and there are now record sums going into social care as a result of my decision.
"What you are seeing here is financial mismanagement. You have seen it in Birmingham City Council, run by the Labour Party, you are seeing it in Nottingham (City Council), run by the Labour Party, because of the decisions that they have made.
"I think local people do deserve better than that and I think it's an example of what you get when Labour are in power.
"With the Conservatives, you get strong economic management and that is good for people and this is the week in which we delivered on my pledge to halve inflation."
He added: "That is the contrast you get.
"A Conservative government that this week has halved inflation, easing the pressure on the cost of living, and Labour councils, whether it's in Birmingham or Nottingham, facing enormous difficulty because of their mismanagement and working people are paying the price."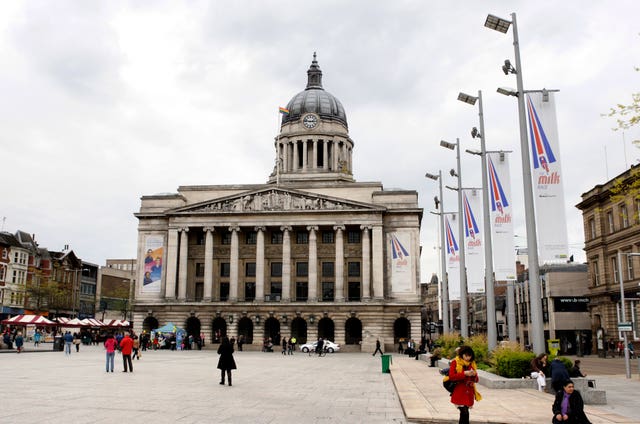 Mr Sunak's comments come after Birmingham City Council, which is also Labour-led, issued a section 114 notice earlier this year and government commissioners were sent in to help tackle its financial challenges.
Elsewhere in the East Midlands, the Conservative-run Derbyshire County Council introduced multiple cost control measures to reduce its forecasted in-year overspend from £46.4m to £33m, but the authority warned "serious challenges still lie ahead".
Meanwhile, the leader of the Labour-led Leicester City Council, Mayor Sir Peter Soulsby, said last month that it was "rapidly running out of options" to avoid bankruptcy ahead of its budget for 2025-26 without further government support.
While Nottingham City Council has said a section 114 could be issued, Mr Sunak said it "would not be right to speculate" on whether commissioners would be sent to the authority if that happened, as they were in Birmingham.
Nottingham City Council has been approached for comment, but in a statement issued on Tuesday, it said: "The council is not 'bankrupt' or insolvent, the organisation has sufficient financial resources at hand to meet all of its current obligations, to pay staff, suppliers and grant recipients.
"However, due to the forecasted overspend, the council's corporate director for finance and resources and Section 151 officer, Ross Brown, will need to consider the appropriate next steps for the authority, which will include a further assessment of the council's ability to deliver a balanced budget in-year.
"If this assessment concludes that it is not feasible for the council to balance its budget, consideration of the issuance of a report under Section 114 (3) of the Local Government Finance Act 1988 will need to be made."