The family of an Israeli-Irish girl believed to have been taken hostage by Hamas in Gaza said they are remaining positive that they will see her again.
A birthday party was held at St Stephen's Green in Dublin for Emily Hand, who turned nine on Friday.
A birthday cake and balloons bearing Emily's name were unveiled, as well as a poster saying "Bring her home now".
Emily Hand was initially thought to be dead in the aftermath of the attack on Israeli citizens on October 7, but more recent information indicates that she is now feared kidnapped in Gaza.
Emily's father, Tom, has met Taoiseach Leo Varadkar and the Hand family have appealed for the government's help in securing her release.
Anna Byrne, a cousin of Emily's father, attended the birthday party. She said it had been a horrific time for the family, but they are staying strong and positive.
She said: "We are so thankful to the organisers of today, the whole family is so thankful for keeping Emily in everybody's hearts and minds.
"Especially today. It is quite sad today because we were hoping to have her home for her birthday. We don't know what type of birthday she is having.
"I just thought I would come today to represent the family and to be here for Emily and to wish her a happy birthday."
She added: "We are trying to keep strong and positive. We worry about Tom, he is doing so much and it is hard for him to keep going.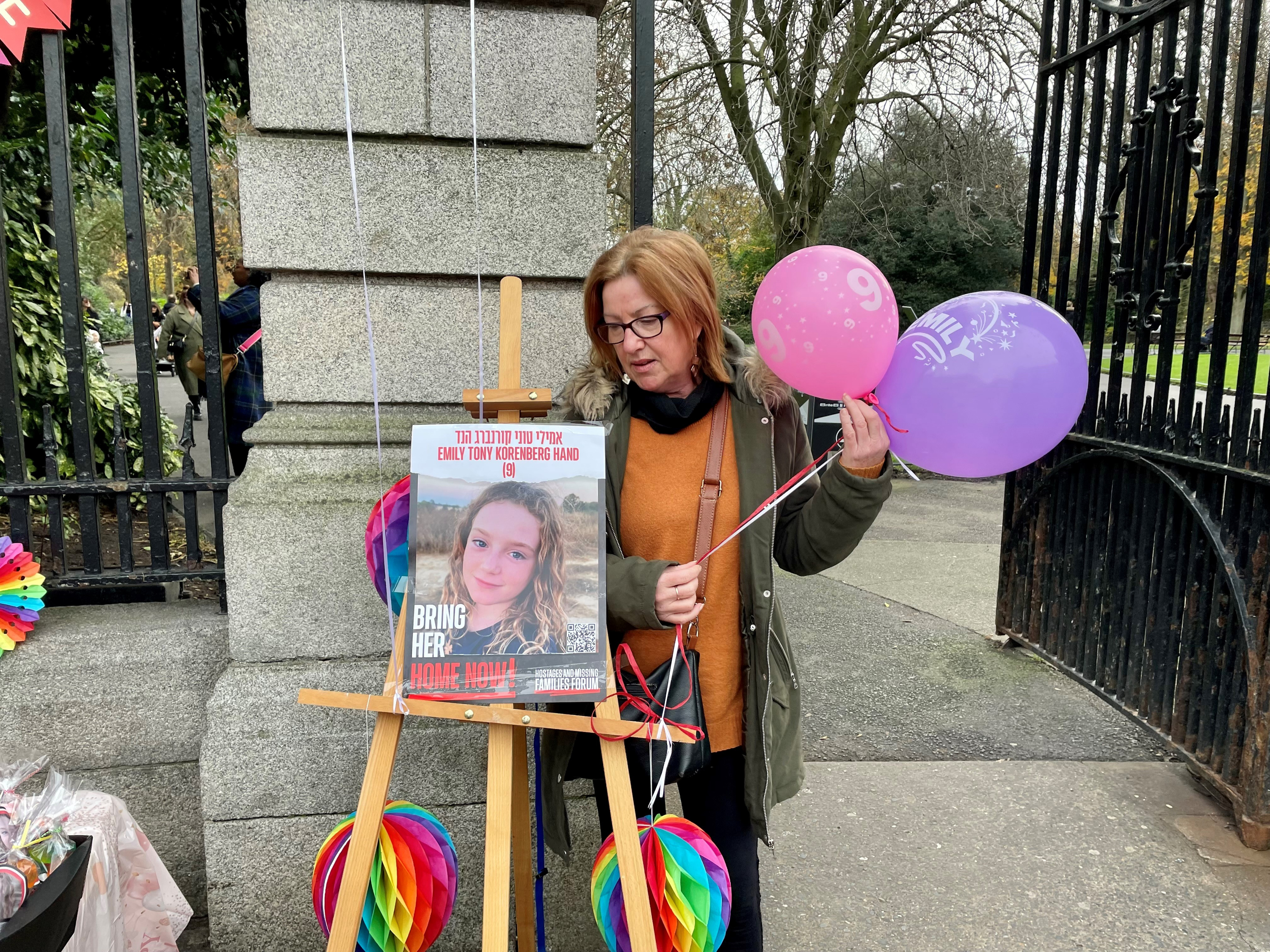 "It is a horrific time so we just try to give as much support as we can and send our love and best wishes, but it is hard.
"You feel useless, not being able to do anything and they are so far away. None of us can go to Israel so it is very hard but we are keeping positive and just praying and hoping.
"The family are so positive, that is the thing that is keeping us all going, the positivity that we are going to see Emily."
Tanaiste Micheal Martin visited two towns in southern Israel on Thursday that had been attacked by Hamas in October.
They included Kibbutz Be'eri where Emily was believed to have been taken hostage by Hamas.
Mr Martin has used his visit to the Middle East to press for the release of Emily.