Residents of a Bristol tower block that was evacuated after a report revealed structural issues have called for an independent investigation into the safety of such buildings across the city.
Around 400 people who live in Barton House, which was built in the Barton Hill area in 1958, were told to pack a bag of clothes and leave on Tuesday evening.
Bristol City Council said surveys conducted of three of the 98 flats found a "risk to the structure of the block" in the event of a fire, explosion or large impact.
Mayor Marvin Rees later revealed that the construction of the building appeared to be "sufficiently different to its blueprint", including an apparent lack of structural ties between the floors and load-bearing walls.
On Friday morning, residents and supporters of the Acorn community union gathered at Bristol's City Hall, where the city council is based.
Shaban Ali, a resident of Barton House and member of Acorn, said: "We have all been through hell in the last few days.
"We have brought everyone here today to make sure that our voices are heard.
"We are calling for an independent investigation into what happened at Barton House and the safety of tower blocks across the city."
Acorn is also asking for residents to be rehoused locally for the same rent or less if they are unable to remain in Barton House following the conclusion of council surveys.
It said November rent should be reimbursed and paused, with residents compensated for the costs of evacuating as well as any future costs associated with moving.
There should also be mental health support and help with childcare for residents of Barton House, the union said.
Father-of-two Mr Ali said he had not received information from council officials about alternative accommodation for 48 hours before being provided with a place to stay.
The protest also heard from residents who reported issues with the hotels that they had been placed in, including reports that rooms were unclean and children were not provided with appropriate food.
One mother to a one-year-old boy, who gave her name as Yasmin, said she had lived in Barton House with her mother for the past 20 years.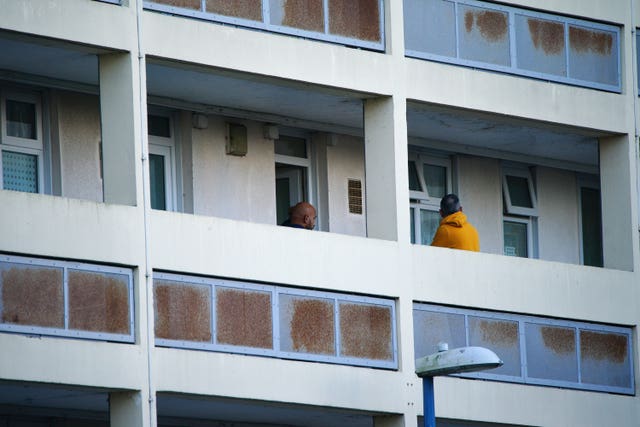 She described their hotel room as "damp" and "muggy" and said she had been able to provide food for her baby but was concerned about other children.
Nur Sharif, 42, who has lived in Barton House since 2012, said his two children have specific diets and were unable to eat the food provided by the hotel.
Rayhan Ismail, who has two children, said: "It has been a challenging time for our community."
Residents returned to Barton House following the reports, after rumours emerged that property was being removed from the flats and placed into storage.
In a statement, Bristol City Council said officers were talking to three tenants about the need to empty their properties to conduct further surveys on Barton House.
A spokeswoman added: "Those three households have kindly agreed to have their possessions put safely into storage and this will begin shortly.
"No possessions will be removed from other flats. If any further surveys are needed in other flats, we will contact those tenants and ask for permission."
In an update on Thursday evening, the council said 61 households had been placed in hotels, 14 are with family or friends, six have refused to leave and officers have been unable to contact those from 14 flats.
It added: "Surveyors are currently carrying out detailed work in Barton House to confirm earlier findings and establish the differences between how the building was built and its design.
"The findings from this work will inform decisions on what to do next and ensure we can provide residents with certainty over the future of the block."
The council said food and drink were being provided to all residents in hotels, with transport offered for work, school and hot meals, or to return to Barton House to collect items.