The Chancellor has been urged to provide emergency funding to protect crucial services after it emerged the share of council budgets spent on protecting vulnerable children has ballooned, with allocations in some of the poorest areas more than doubling over the last decade.
Amid warnings over the financial viability of many councils, research by the Special Interest Group of Municipal Authorities (Sigoma), which represents 47 urban councils in the north, the Midlands and on the south coast, highlights the dangers of rising costs and demand for support.
Sigoma's analysis, based on Government data and shared exclusively with the PA news agency, found its members on average now spend 29% of their core spending power on children's services, up from 15% in 2011/12.
While all upper-tier councils have experienced increases in demand and costs associated with children's social care, the proportion of resources spent on services varies across areas with different levels of deprivation.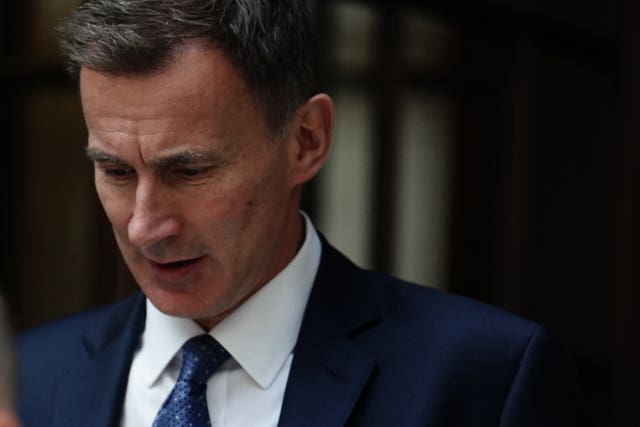 All councils with social care responsibilities in England spent an average of 27% of their budgets this year compared to 14% in 2011/12.
However Blackpool Council, serving the most deprived local authority area in the country, has trebled its spending on children's services, from 15% of its resources to 45% over the period.
The figures have emerged as the number of children looked after by councils continues to grow to record levels, with 83,840 in care in March. This is a 42% increase since 2001 and a 30% rise since 2010.
The spiralling costs of children's services is a key driver of financial struggles across local government.
Recently, one in five Sigoma members said they are considering following councils including Birmingham and Croydon in issuing a section 114 notice declaring effective bankruptcy next year.
The market for residential support is dominated by private companies which demand large and growing fees, with some specialist placements for the most vulnerable children commissioned by Sigoma members costing up to £1 million per year.
Meanwhile, the rising cost of placements is driving an expected combined £160 million overspend by councils in London on children's social care this year.
Calling on Chancellor Jeremy Hunt to provide emergency funding for children's services this year and next, Sigoma chairman Sir Stephen Houghton, who is Labour leader of Barnsley Council, said the market is "broken".
He said: "As more and more funding is being spent on social care there is less funding for the preventative services that can save money in the long term and the other services that residents value most.
"These demand-led pressures are leaving councils financially stretched and at breaking point. The King's Speech earlier this month gave no confidence or assurance as to how councils can be supported out of this desperate situation.
"The autumn statement is one of the final opportunities to give our members the support they need for the next year, and we urge the Chancellor not to miss this opportunity by providing additional funding for children's services."
Jim Hobson, Blackpool Council's Labour cabinet member for children's services, said the Government will face a crisis in critical services if it does not react soon.
He said: "Ever since the Government began to cut funding to local authorities and in particular those with significant challenges related to deprivation like Blackpool, balancing the books has been difficult.
"Each year we are expected to save tens of millions of pounds without any reduction in the demands on our most significant services like children's and adult social care.
"The Government really needs to wake up to these challenges and stop pretending that the number of local authorities that have issued a section 114 notice is just down to bad luck or bad management. A fair funding approach is long overdue and is now a matter of urgency."
Mike Short, trade union Unison's head of local government, said pressure on social care staff due to rising demand is compounding financial challenges.
He said: "Children's social care is complex, important work providing a lifeline for a generation. But the overwhelming pressure on staff means there are huge vacancy levels, causing local authorities to rely on expensive agencies to fill the gaps.
"The Chancellor must provide significant extra funding for all councils to tackle these costs, without forcing cuts to be made elsewhere, so children get the support they need."
The Government has been approached for comment.