Sir Patrick Vallance has said he was concerned over the Government's "operational response" to limiting the spread of Covid-19 during the pandemic's early months.
The former chief scientific adviser – one of the Government's most senior advisers during the pandemic – told the UK Covid-19 Inquiry it was uncertain at the end of January 2020 whether coronavirus would become a major problem for the UK.
However, as the weeks went by, it became clear that the pandemic was at a much more advanced stage than anybody had thought and swift action was needed, he said.
Andrew O'Connor KC, counsel to the inquiry, asked Sir Patrick about discussions in February 2020 about measures to prevent the NHS from being overwhelmed.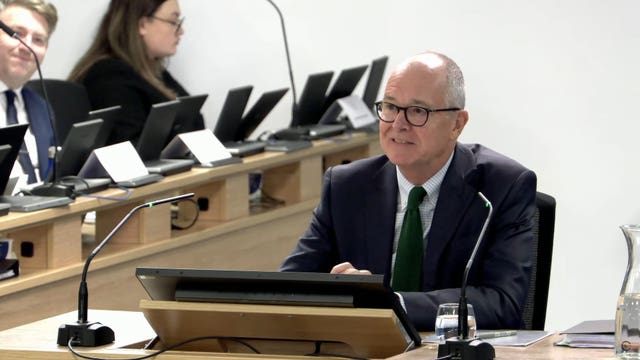 Sir Patrick said then-prime minister Boris Johnson had begun to consider lockdown options, saying: "There was lots of evidence that there were things that needed to happen in order to achieve suppressing the curve.
"I'm not convinced that there was a very effective operational response to that."
The leading scientist told the inquiry there was an "urgent recognition" in mid-March 2020 that intense measures were needed to stop the spread of coronavirus.
He said: "I think the new understanding on the weekend of the 14th and 15th of March was that we were much further ahead in the pandemic than we realised and the numbers that came in that week showed that there were many more cases, it was far more widespread and was accelerating faster than anyone had expected.
"That's what triggered an urgent recognition that this was an imminent problem of the NHS collapsing, not something that was weeks away with the possibility of introducing measures at a more leisurely rate.
"So that weekend was an intense acceleration, and indeed intensification of the measures that were required to stop this."
Sir Patrick said the focus on trying to get the timing "exactly right" on when to introduce measures to suppress Covid "was incorrect".
He added: "It was an error to think that you could be that precise. That's a really important lesson that came out of this I'm afraid – you need to go early."
Sir Patrick also told the inquiry there were "multiple emails and charts and things that were presented at Cobra meetings… talking about the combination of NPIs (non-pharmaceutical interventions) that would be required to reduce the spread and to get R below 1″.
He added: "The question was, when and how much to do it? And this, unfortunately, wasn't mirrored by an operational readiness.
"So the bit that I think is missing is whether the operational development plans to do that, at short notice, were as advanced as they should have been, and they weren't."
Sir Patrick said there was "an inadequate scale of facility" to do test and trace through Public Health England "but also the plans for introducing the NPIs… given they're described quite early on, there should have been an operational plan to have those ready to pull the trigger on as soon as they were needed.
"And what we see is it takes quite a long time to get those actually working and to get the process in place to do that. I think that is a sort of learnable lesson – that you should start earlier."
Sir Patrick highlighted how Andrew Parker, the previous head of MI5, had heeded warnings in early February and had started organising his department in response.
He added: "I'm not sure that that urgency of action was as consistent and as reliable as it should have been across Whitehall at the time."
The Covid inquiry also heard that pandemic modellers had "great difficulty in getting clarity on the NHS numbers" – the point at which the NHS would be overwhelmed.