Moeen Ali won the Bristol six-fest with England's second-fastest one-day international century as they prevailed by 124 runs to go 2-0 up in the Royal London Series against West Indies.
Moeen, whose 53-ball hundred put him behind only Jos Buttler in England's all-time list of fastest ODI centurions, went from 50 to 100 in an astonishing world-record 12 deliveries.
He completed the job with his eighth six in the space of just 14 balls in a total of 369 for nine – England's highest total against West Indies.
The tourists were in no mood to go too quietly, despite Liam Plunkett's maiden five-wicket haul, and took the match maximum count to 28 – with six, including three in succession off Moeen, down to Chris Gayle (94) alone – in their 245 all out as England put themselves one more win away from sealing the series, with two matches to come.
What they said
Moeen: "I just had a slog really, and everything just seemed to come off. I just tried to watch the ball, keep my shape and then really go for it. Obviously at the time, I'm just trying to play as many shots as I can. I really enjoyed it."
Tweet of the match
Morgan's woes
Amid the manic six-hitting from so many others, England's captain Eoin Morgan is exploring the other side of the coin – extensively. His golden duck here took his wretched sequence of low scores to 22 runs in his last nine innings in all cricket.
Stat of the day
1278 – Move over Graham Gooch, Don Bradman et al. Joe Root posted a new all-time record for runs aggregate in an international English summer when he passed this number. He has added a few more already, with two more chances to cash in still in hand. They play a few more matches these days than they did in 1990, or 1948, though.
Six mania
Anyone who loves seeing the ball clear the ropes as often as possible needed to be in Bristol, or at least tuned in from elsewhere. For the record, England led the maximum count 15-13 – thanks chiefly to Moeen, of course, with his eight in the space of 14 balls. If fours are your thing, England delivered on that count too – by 29 to a mere 21.
What next?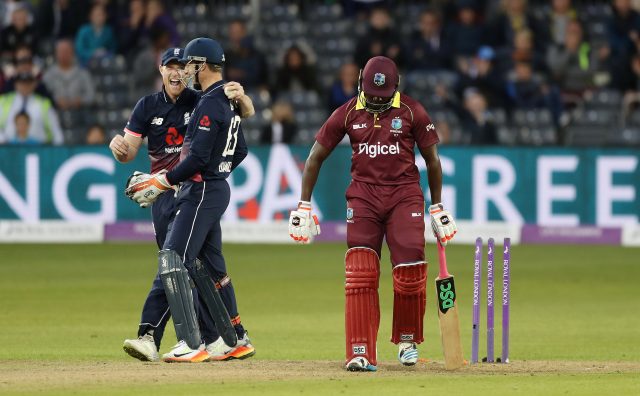 A few more sixes at The Oval perhaps, where the fourth match of five may be overshadowed by England's morning announcement of their squad for this winter's Ashes.